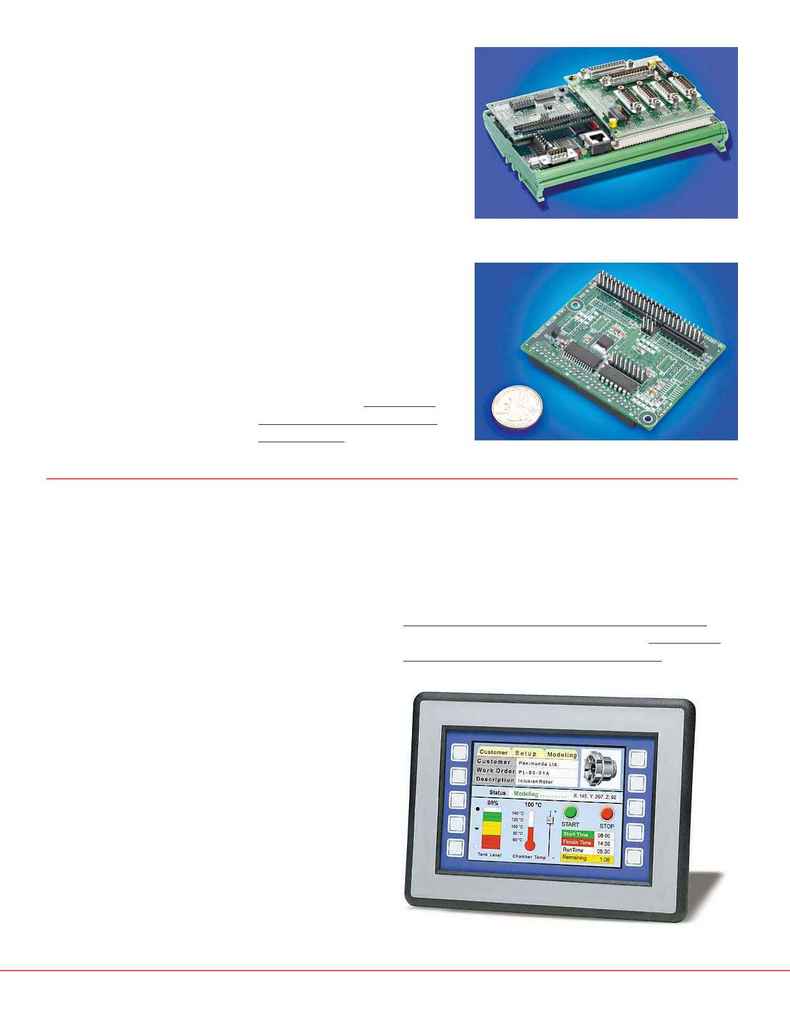 Galil Motion Control, Inc.
Galil has thoroughly tested and approved the QTERM-
G124 Ethernet-enabled, graphics operator interface terminal
from QSI Corporation for use with our Ethernet motion
controllers.
The QTERM-G124 is so easy-to-use with Galil control-
lers because of its Qlarity FoundryTM screen builder software
which includes a library of QlarityTM objects created especial-
ly for Galil. This software enables users to quickly build an
intelligent application using libraries which include buttons,
gauges, graphics and numerous input, event, communica-
tion, display and control objects. Robust applications can
be created without writing a single line of code.
The QTERM-G124 operates off 10-26 VDC and features
a 320 x 240 pixel, color graphic LCD touch screen display
along with an EIA-232 serial port, 10Base-T Ethernet con-
nection, 1 MB flash/16 MB RAM memory, processor,
speaker, real-time clock and other industrial-grade compo-
nents. The QTERM-G124 features a rugged NEMA-4, CE
Certified housing.
Priced with OEMs in mind, the QTERM-G124 sells for
$937 in single quantity and can be purchased directly from
QSI Corporation. Based in Salt Lake City, UT, QSI has
been manufacturing handheld and panel-mount terminals
since 1983. For more product and/or purchase information,
contact QSI at 801-466-8770 or www.qsicorp.com.
For details on the use of QTERM with Galil's 21x3
controllers, please see application bulletin # 5442 at
http://www.galilmc.com/literature/technotes.html
For specifications on QTERM-G124, see http://www.
galilmc.com/products/accessories/qsi.html
QTERM-G124 Operator Terminal
board provides a cost-effective
way to add forty more digital I/O
and eight analog inputs to Galil's
DMC-21x3 Ethernet motion
controller. The small, 2.55" x
3.08" I/O board mounts directly
to the 50-pin header of a DMC-
21x3 with absolutely no cable
required. Plus, the new board
does not get in the way of Galil's
ICM-20100, AMP-20340 or
SDM-20240 amplifier boards.
Priced at just $295 in single
quantity and $195 in 100 unit
quantities, the DB-28040 I/O
board can also accept feedback
from absolute encoders or SSI
encoders with a simple controller
firmware modification. Galil's
new DMC-21x3 Ethernet motion
controllers are packed with virtu-
ally the same high performance
features of comparable stand-
alone Ethernet controllers, but
are half the size and half the price
(only $995 for an 8-axis controller
in 100 unit quantities). By add-
ing the DB-28040 I/O board,
the DMC-21x3 becomes an even
greater value. See http://www.
galilmc.com/products/econo/
dmc21x2.html for details.
DMC-2143 4-axis controller with attached
DB-28040 and ICM-20100.
effective way to Add 40 Digital I/O
and 8 Analog Inputs to DMC-21x3
QSI Operator Terminal Works Easily with Galil Controllers
DB-28040 adds 40 digital I/O and 8 analog inputs.