Galil Motion Control ethernet flight Page 1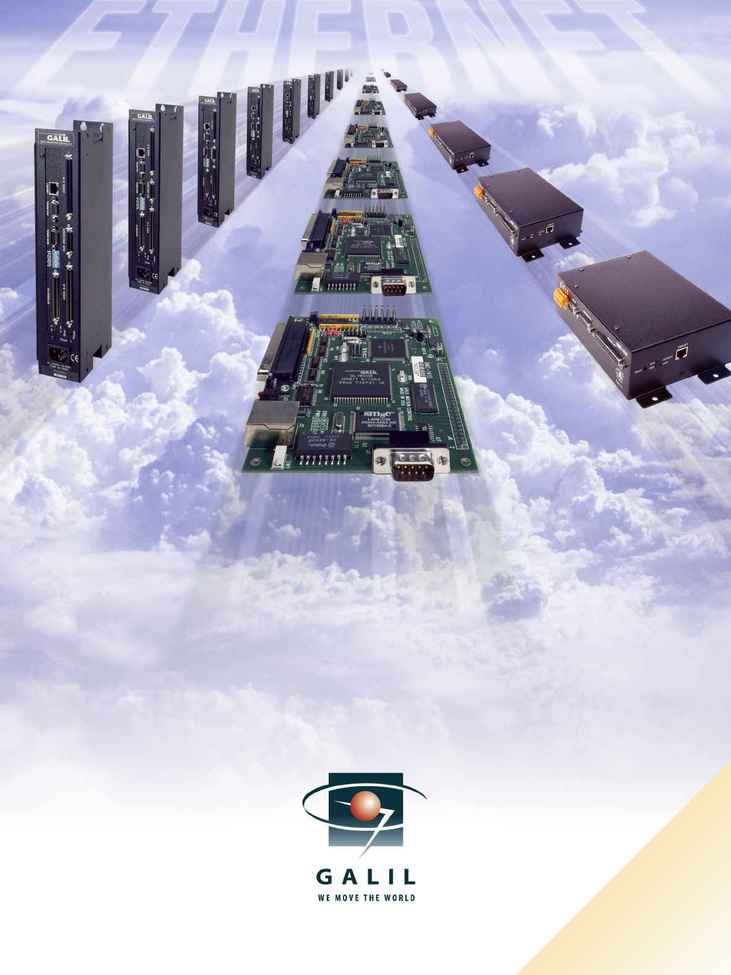 Galil Offers Ethernet-Enabled Motion Controllers.
With so many industrial automation networks taking
off toward the Ethernet, it's only natural that Galil, the
worldwide leader in motion control, is already there to
meet you.
Galil provides an array of their high-performance,
easy-to-use motion controllers with Ethernet-TCP/IP
connectivity. This results in faster, more efficient com-
munications­even from long distances. It also dramati-
cally reduces wiring and allows for expanded I/O. How?
Ethernet enhances the powerful capabilities of
Galil's controllers by linking motion con-
trollers, I/O devices, PCs, PLCs and MMIs
on a standard Ethernet LAN. And, with
multi-master and multi-slave functionality,
Galil controllers can now talk directly
with multiple computers and I/O devices.
Galil's Ethernet motion controllers already include
the compact single- and dual-axis DMC-1400 series,
and the full-featured 1-8 axes DMC-2100 series. Our
latest Ethernet solution is the two-axis DMC-3425 for
distributed motion control systems. It enables one
master DMC-3425 to command three other DMC-3425
controllers­creating a virtual 8-axis controller that
frees your host computer from the complex tasks of
motion coordination.
With over 250,000 controllers precisely
controlling step and servo motors world
wide; and with modes of motion ranging
from linear and circular interpolation to
electronic gearing and eCAM, Galil is
your final destination for Ethernet
motion control solutions.