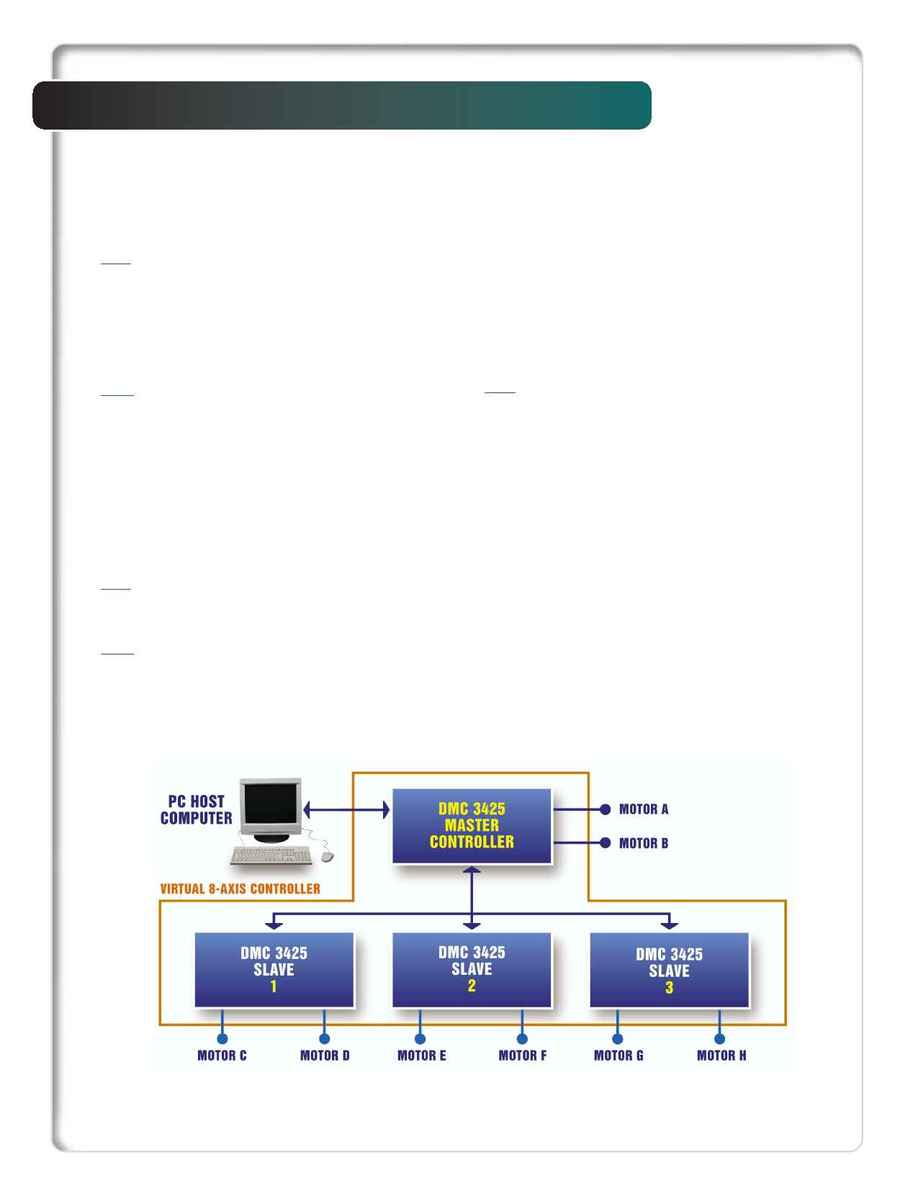 Simplified programming. Information on all the motors is present
in one bus-based controller (ISA, PCI or PC104)
Straightforward communication. Host communicates with a single
motion controller
Low controller cost per axis
Wiring complexity. Long wires must be used to connect the
central controller to the peripheral I/O devices such as ampli-
fiers, motors and encoders
Such long wiring adds to the system cost
Long wires result in noise levels that degrade the performance,
reduce the system reliability and are difficult to troubleshoot
DISTRIBUTED CONTROL SYSTEMS
Shorter wires are used by placing a single-axis controller in
close proximity to the motor
Because each controller deals with a single motor, the task of
coordination between the various controllers is the responsibility
of the system designer
Host computer program becomes increasingly complex as it
needs to communicate with each individual controller at the
required time
Increased cost of the controller per axis
Often uses costly, proprietary networks
GALIL'S E-SERIES FOR ETHERNET DISTRIBUTED CONTROL
Meets the design criteria of short wiring, program simplicity
and low cost
Wiring complexity is reduced because controllers are placed in
close proximity to the motors and I/O signals
Programming is simplified because one of the controllers acts
as the "master," becoming a "virtual central controller." In this
role, it assumes the responsibility of communicating with the
other controllers (See figure below)
Frees the host to handle other tasks
Lowers cost because each controller can operate two motors
Provides coordinated motion on local two axes
Uses commonly available Ethernet LAN resulting in lower cost
and simplified communications
Pros and Cons of Central and Distributed Motion Control Systems
Motion system designers who need to control several motors have traditionally had two design options
available: central or distributed control systems. Now, Galil's E-Series, which integrates the use of Ethernet
technology, provides a third and more cost-effective option that combines the best features of these systems.
The E-Series uses the Ethernet as the basis of the network and the system elements. One DMC-3425 is designated as the master that receives
all commands from the host computer and passes them on to the other slave DMC-3425 controllers. Each controls two axes.
VIRTUAL MULTI-AXIS CONTROL SYSTEM