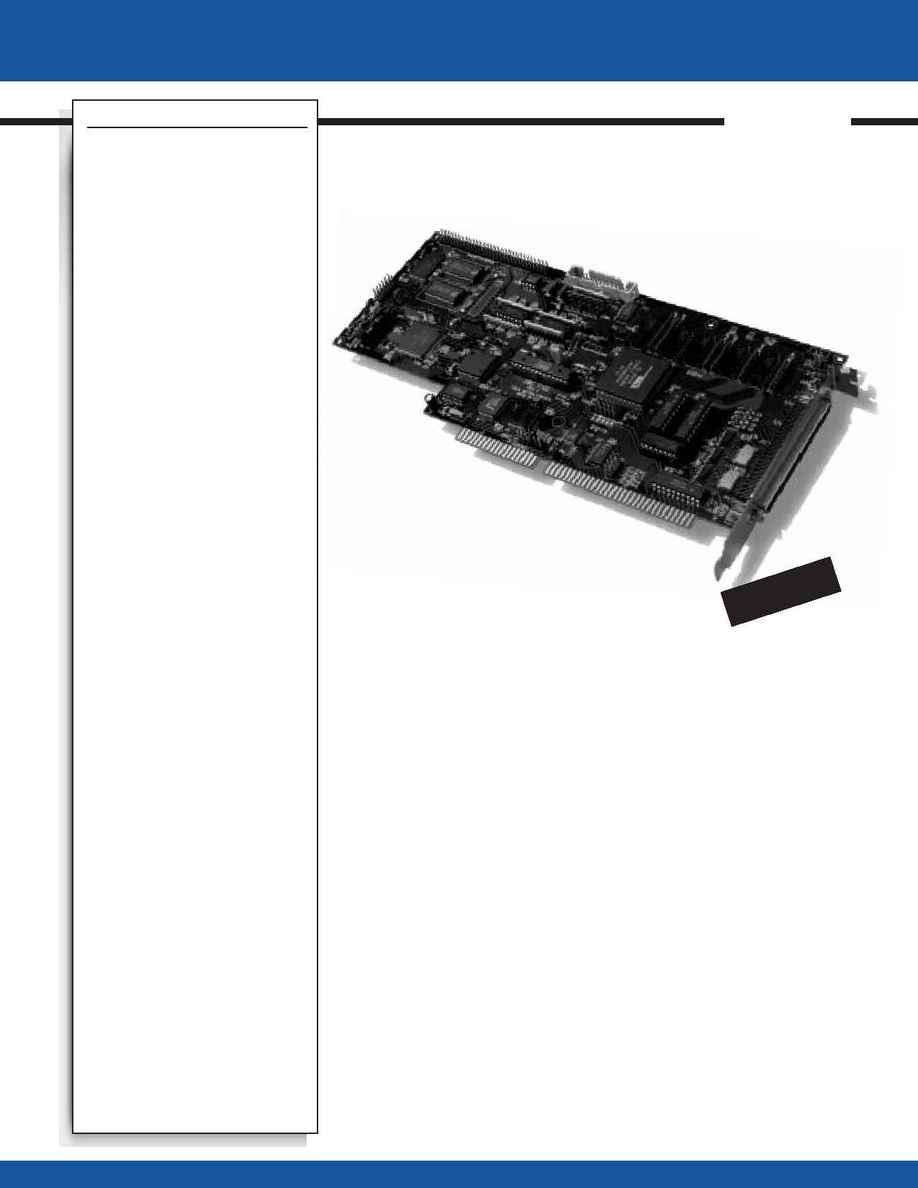 M O T I O N C O N T R O L L E R S
DMC-1700 ISA Bus Controller
The DMC-1700 Series are Galil's
newest motion control cards that
install directly into a PC. The series
offers many enhanced features includ-
ing high speed communications, non-
volatile program memory, faster
encoder speeds, and improved cabling
for EMI reduction.
The DMC-1700 provides two
communication channels: a high
speed FIFO for sending and receiving
commands and a DMA channel
which places a record directly into PC
memory. This channel gives instant
access to status and parameters.
The latest generation in ISA bus
motion control allows for high speed
servo control up to 12 million
encoder counts/sec and step motor
control up to 3 million steps per sec-
ond. Sample rates as low as 62.5
µsec per axis are available.
A 2M Flash EEPROM provides
enough non-volatile memory for stor-
ing application programs, parameters,
arrays and firmware. New firmware
revisions are easily upgraded in the
field without removing the controller
from the PC.
The DMC-1700 is available with
up to 8 axes per card. The DMC-
1700 can be used with step motors,
servo motors, and hydraulics, on any
combination of axes. Each axis is
configurable by the user for optimum
flexibility.
The DMC-1700 achieves superior
precision through use of a 16-bit
motor command output DAC and a
sophisticated PID filter that features
Kp, Ki, Kd, velocity and acceleration
feedforward, and integration limits.
Designed to solve complex
motion problems, the DMC-1700 can
N E
W
Up to 8 axes of motion control
Dual communication channels
including DMA and FIFO
62.5 µsec per axis servo update
rate
Binary or ASCII modes
Controls servo motors, step
motors, and hydraulics
16-bit motor output DAC
12,000,000 counts/sec encoder
feedback for servos
3,000,000 steps/sec for steppers
Auxiliary encoder inputs for
each axis
Non-volatile program memory,
array and variable storage
Multitasking of four independent
programs
Automatic program execution
upon power-up
Jogging, point-to point posi-
tioning, linear and circular
interpolation, electronic gear-
ing and cam, and contouring
Optoisolated inputs for home,
abort, limits
8 uncommitted, optoisolated
inputs (5-28 VDC) and 8 pro-
grammable outputs
8 analog inputs with 12-bit
ADC (16-bit optional)
High-speed position capture
High-speed encoder compare
output
Programmable event triggers,
symbolic variables and arrays
I/O functions and timers for exe-
cuting PLC tasks
Flash EEPROM for firmware
updates, program, parameter
and array storage
100-pin high density environmen-
tal connector minimizes EMI
Software tools available for servo
tuning, interface to Visual Basic,
and DOS, Windows 3.1, 95
and NT
Plug and Play for Windows 95
DMC-1700
Motion Controller