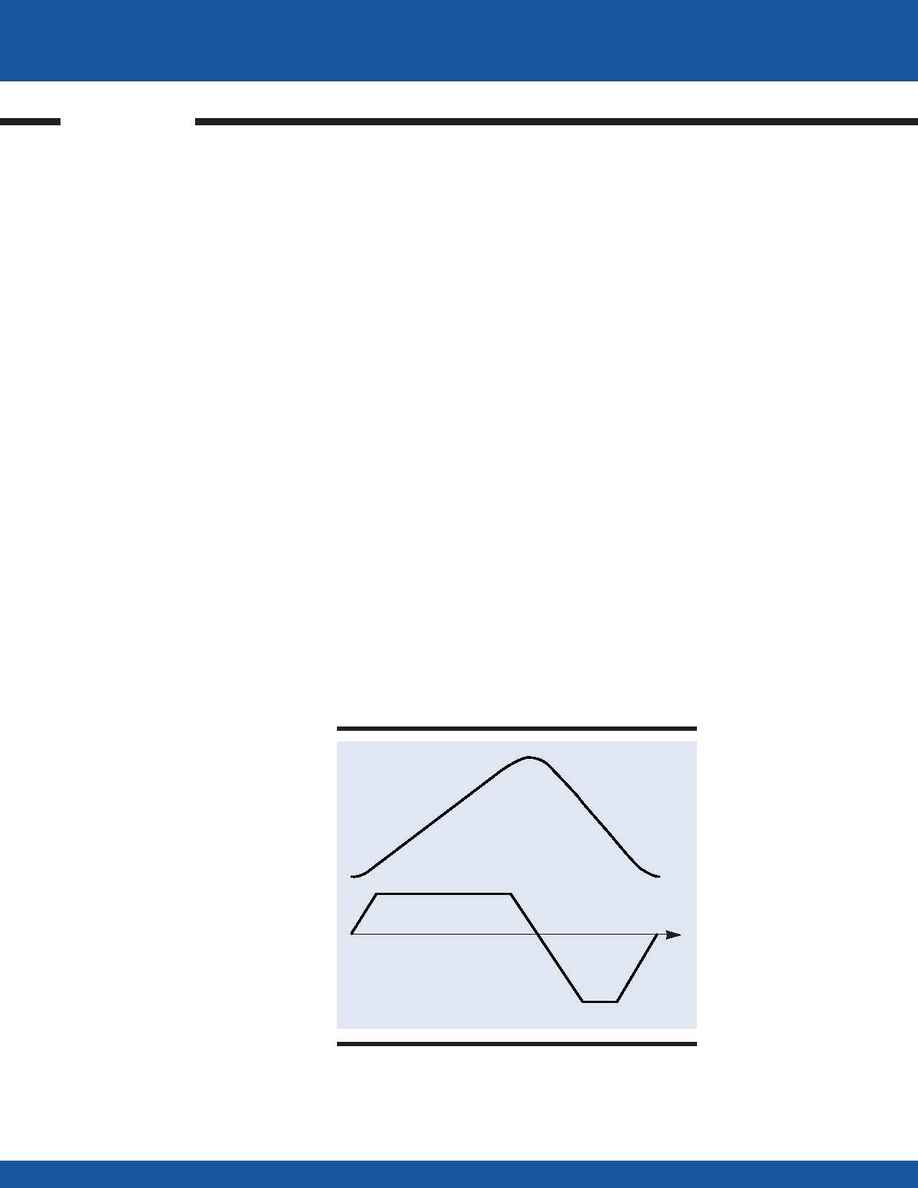 pendent moves and the VT com-
mand for coordinated moves.
Contouring: The contouring mode
allows the user to bypass the DMC-
1700 motion profiler and prescribe
any arbitrary position trajectory.
Position increments (CD) over a time
interval (DT) are specified for each
axis. The contouring mode is useful
when complex and computer-gener-
ated trajectories must be followed.
An automatic data recording feature
allows the DMC-1700 to "learn" a
path and then follow it in the con-
tour mode.
Electronic Gearing: This mode allows
up to 8 axes to be electronically geared
to up to 8 masters. The master axis
(GA) may rotate in both directions and
the geared axes will follow at the speci-
fied ratios (GR). The gear ratio can be
changed during motion. An axis can
be geared and do an independent or
vector move simultaneously. This is
useful for the precise synchronization
required in flying-shear applications.
The electronic gearing mode eliminates
mechanical gears and is also useful for
gantry applications where a special
command (GM) tightly couples the
two axes.
Electronic gearing. Example:
GR 5,,-2.5 X ratio=5, Z ratio=-2.5
PR,10000 Specify Y distance
SP,10000 Specify Y speed
AC,25000 Specify Y acceleration
DC,25000 Specify Y deceleration
BG Y
Electronic Cam: This mode allows
synchronizing up to seven axes with
a master axis according to any func-
tion. The cam functions, which are
specified by a table, define the
required position of the followers
point by point along the motion
cycle. The master axis may be a dri-
ven axis or just a master encoder. It
may rotate in either direction.
The position of the master axis
and the follower axes may be
expressed in modulo form, limiting
the value to one cycle. This simpli-
fies the description of points and
events along the cycle.
engaged or disengaged independent-
ly at specific points along a cycle.
This allows selecting the engagement
and disengagement points as those
where the speed change of the fol-
lower is most gradual.
The electronic cam is an ideal
mode for periodic operation, especial-
ly those requiring varying gear ratio
along the motion cycle. Such applica-
tions include flying shears, rotating
knives and packaging systems.
SHEAR
POSITION
SHEAR
VELOCITY
MASTER
(WEB)
POSITION
M O T I O N C O N T R O L L E R S
DMC-1700 ISA Bus Controller
·
Galil Motion Control, Inc.
·
800-377-6329