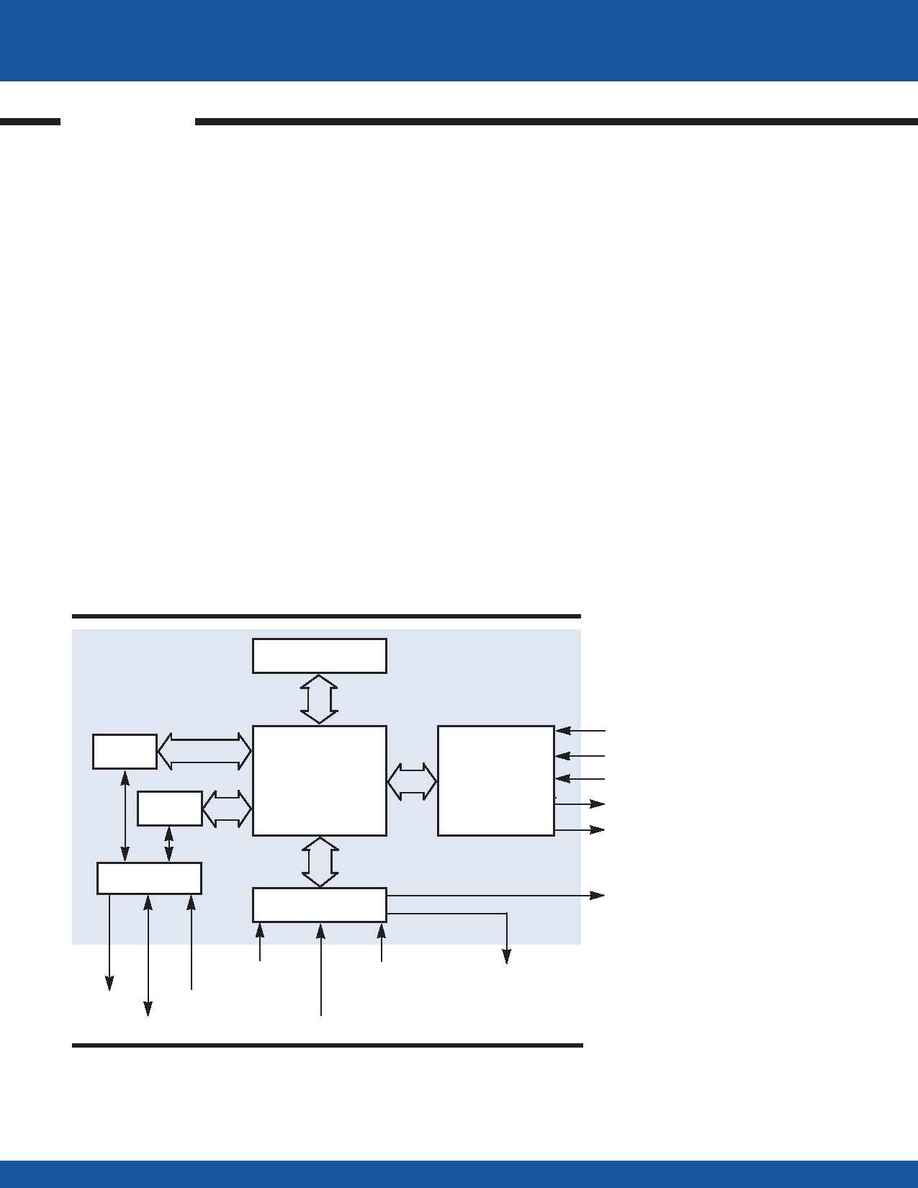 be used for applications involving
jogging, point-to-point positioning,
vector positioning, electronic gearing,
multiple move sequences, and con-
touring. The controller eliminates
jerk by programmable acceleration
and deceleration with profile
smoothing. For smooth following of
complex contours, the DMC-1700
provides continuous vector feed of
an infinite number of linear and arc
segments. The electronic gearing
mode allows for multiple masters.
WATCHDOG TIMER
PLUG & PLAY
DMA /
2ND FIFO
PRIMARY
FIFO
HIGH-SPEED
MOTOR / ENCODER
INTERFACE
FOR
X , Y, Z, W
68331
MICROCOMPUTER
WITH
256 K RAM
2M FLASH EEPROM
I/O INTERFACE
ISOLATED LIMITS AND
HOME INPUTS
MAIN ENCODERS
AUXILIARY ENCODERS
±10 VOLT OUTPUT FOR
SERVO MOTORS
PULSE/ DIRECTION OUTPUT
FOR STEP MOTORS
8 UNCOMMITTED 8 PROGRAMMABLE, 8 PROGRAMMABLE
ANALOG INPUTS
OPTOISOLATED INPUTS OUTPUTS
(24 FOR DMC-1750 (16 FOR DMC-1750
THRU DMC-1780) THRU DMC-1780)
ISA BUS
DMA BUS
HIGH-SPEED LATCH FOR EACH AXIS
DMC-1700 Functional Elements
HIGH SPEED ENCODER
COMPARE OUTPUT
INTERRUPTS
For synchronization with outside
events, the DMC-1700 provides
uncommitted I/O, including 8 opto-
isolated digital inputs, 8 digital out-
puts, and 8 analog inputs for interface
to joysticks, sensors, and pressure
transducers. Dedicated optoisolated
inputs are provided for forward and
reverse limits, abort, and home.
The DMC-1700 is Plug and Play
for Windows 95 making it easy to
set-up. Commands can be sent in
either Binary or ASCII. Additional
software is available to autotune,
view trajectories on a PC screen,
translate AutoCAD files into motion,
and create powerful, application-spe-
cific operator interfaces with Visual
Basic. Drivers for Dos, Windows
3.1, 95 and NT are available.
DMC-1700 ISA Bus Controller
·
Galil Motion Control, Inc.
·
800-377-6329
M O T I O N C O N T R O L L E R S