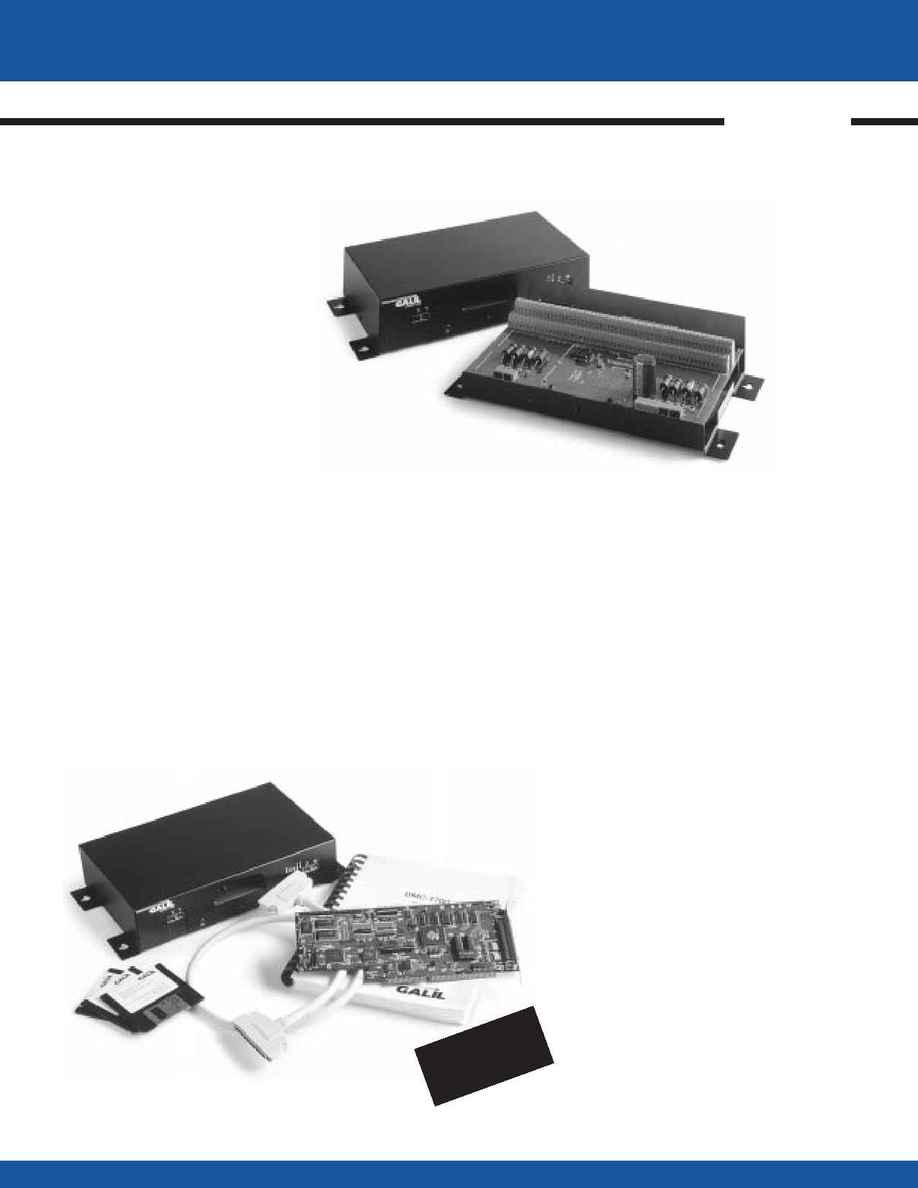 ICM-1900/AMP-19X0
INTERCONNECT
MODULE
The ICM-1900 interconnect module
provides easy connections between the
DMC-1700 series controllers and other
system elements, such as amplifiers,
encoders, and external switches. The
ICM-1900 accepts the 100-pin main
cable and 25-pin auxiliary cable and
breaks them into screw-type terminals.
Each screw terminal is labeled for
quick connection of system elements.
An ICM-1900 is required for each
set of 4 axes on the DMC-1740 and
DMC-1780. The ICM-1900 is con-
tained in a metal enclosure. A version
of the ICM-1900 is also available with
servo amplifiers, the AMP-19X0.
The AMP-1910 contains 1 amplifi-
er; the AMP-1920, 2 amplifiers; the
AMP-1930, 3 amplifiers; and the
AMP-1940, 4 amplifiers. Each amplifi-
er is rated for 7 amps continuous, 10
amps peak at up to 80 V. The gain of
the AMP-19X0 is 1 amp/V and
requires an external DC supply.
SA
VE
$1
00
M O T I O N C O N T R O L L E R S
DMC-1700 ISA Bus Controller
Complete system for quick
prototyping, including:
DMC-1700 controller
ICM-1900 interconnect
100-pin cable
WSDK servo tuning software
Utilities
Programming manual
Breaks out DMC-1700 cables into individual screw-type terminals
Clearly identifies all terminals
Provides jumper for connecting limit and input supplies to 5 V supply
from PC
Can be configured for AEN high or low
Available with optoisolated output as an option
PHYSICAL
ELECTRICAL (AMP-19X0)
7 amps continuous, 10 amps peak; 20 to 80 V
Minimum motor inductance: 1 mH
Ambient operating temperature: 0° to 70° C