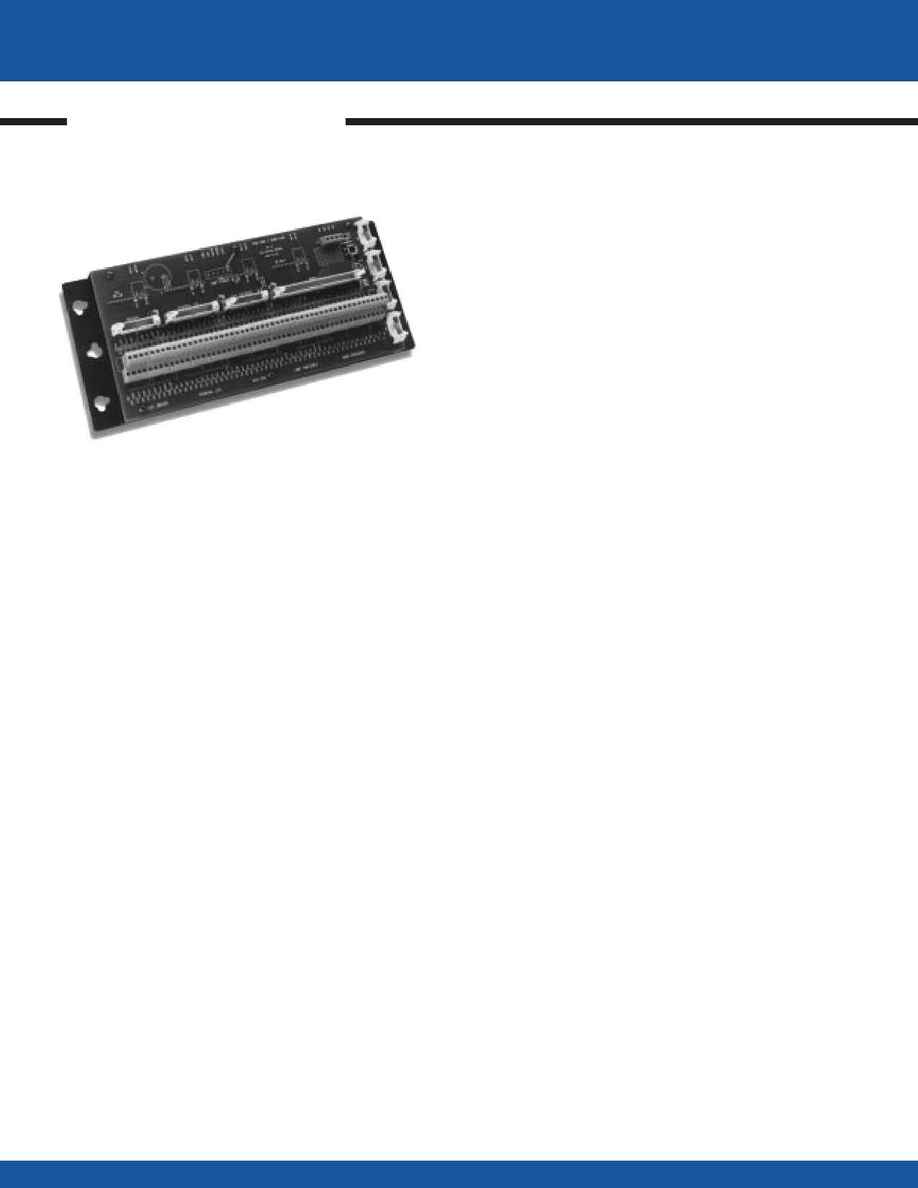 M O T I O N C O N T R O L L E R S
DMC-1500 Stand-alone RS232 Controller
·
Galil Motion Control, Inc.
·
800-377-6329
SPECIFICATIONS
SPECIFICATIONS
Minimum motor inductance: 1 mH
Ambient operating temperature: 0°
to 70° C
ICM-1100
INTERCONNECT
MODULE
The ICM-1100 interconnect module
provides easy connections between the
DMC-1500 series controllers and other
system elements, such as amplifiers,
encoders, and external switches. The
ICM-1100 accepts each DMC-1500
ribbon cable (for J2, J3, J4, and J5) and
breaks them into screw-type terminals.
Each screw terminal is labeled for
quick connection of system elements.
An ICM-1100 is required for each
set of 4 axes on the DMC-1540 and
DMC-1580.
The ICM-1100 is packaged as a
circuit board mounted to a metal
enclosure. A version of the ICM-
1100 is also available with servo
amplifiers (see AMP-11X0).
The ICM-1100 allows the AEN
logic sense to be inverted by replac-
ing the 7407 IC to 7406. Order the
ICM-1100-LAEN for 7406 intercon-
nect configuration.
AMP-11X0
MATING POWER
AMPLIFIER
The AMP-11X0 series are mating,
brush-type servo amplifiers for the
DMC-1500. The AMP-1110 contains 1
amplifier; the AMP-1120, 2 amplifiers;
the AMP-1130, 3 amplifiers; and the
AMP-1140, 4 amplifiers. Each amplifi-
er is rated for 7 amps continuous, 10
amps peak at up to 80 V. The gain of
the AMP-11X0 is 1 amp/V. The AMP-
11X0 requires an external DC supply.
The AMP-11X0 connects directly to
the DMC-1500 ribbon connectors,
and screw-type terminals are provided
for connection to motors, encoders,
and external switches.
DMC-15X0-72
OPTO EXPANSION
The DMC-15X0-72 is a version of the
DMC-1500 that offers interface to up
to 72 Opto 22TM I/O modules. The
first 24 I/O points can be configured
through software as inputs or outputs
with the software command CO. The
remaining points are always inputs.
Each group of 24 I/O points is
brought out via a separate 50-pin cable
which plugs directly into an H-style
OPTO rack.
Ouput points are set or cleared in
software with the SBn, CBn, OBn or
OP,n commands. The TIn command
is used to read input points.
Individual bits can be queried using
the @IN[n] command.
This version is available with 1-