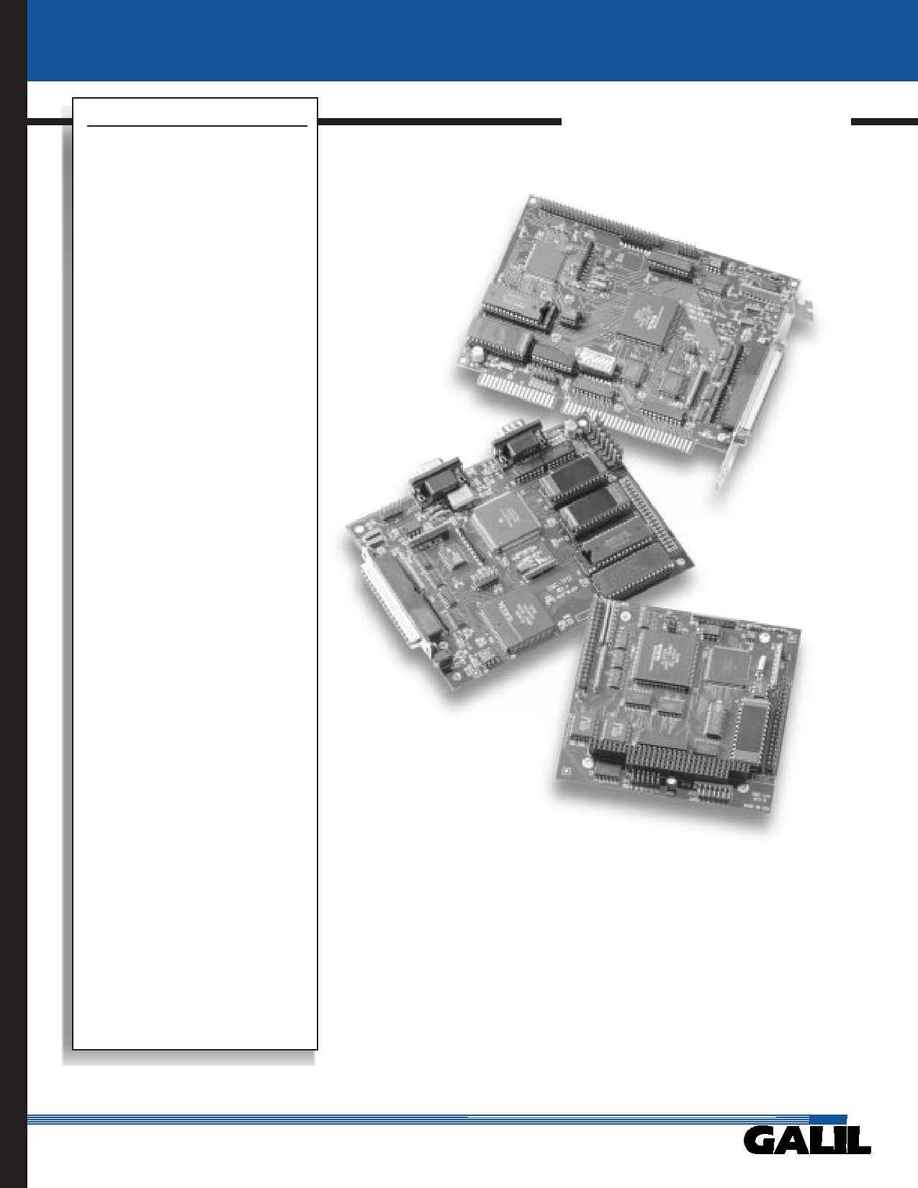 Galil Motion Control, Inc.
·
203 Ravendale Drive
·
Mountain View, CA 94043
·
415-967-1700
·
Fax: 415-967-1751
M O T I O N C O N T R O L L E R S
Half-size ISA, PC/104 bus, or
stand-alone with RS232
375 µsec servo update rate
Controls servo motors, step
motors, and hydraulics
Main and auxiliary encoder
inputs
8,000,000 counts/sec encoder
feedback
2,000,000 steps/sec for stepper
control
Multitasking of two indepen-
dent programs
Jogging, point-to-point position-
ing, electronic gearing, cam, and
contouring
Dedicated inputs for home,
abort, and limits
7 uncommitted inputs and 3
uncommitted ouputs
High-speed position capture
Programmable event triggers
I/O functions and timers for
executing PLC tasks
126 symbolic variables, 1000
element array space, 126
symbolic labels, 250 line
program memory
Two daisy-chainable RS232 ports
on DMC-1412
Non-volatile parameter storage
Non-volatile program, variable
and array memory for
DMC-1412
Software tools for autotuning,
interface to Visual BasicTM, DOS,
Windows 3.1, 95, and NT
Chip-set solutions available for
high volume
The DMC-1410 is a high-performance
motion control card for 1 axis that
installs directly into the ISA bus. The
DMC-1411 is the equivalent in
PC/104 bus format. The DMC-1412 is
a stand-alone card with two RS232
ports. Using a 32-bit specialized micro-
processor, the controller provides high
performance without sacrificing ease of
use and cost effectiveness. The DMC-
141X is also flexible and can control
either servo or step motors.
The DMC-141X achieves superior
precision for servos through use of a
16-bit motor command output DAC
and a sophisticated PID filter that
features Kp, Ki, Kd, velocity feedfor-
ward, and acceleration feedforward
and integration limits.
The DMC-141X can be used for