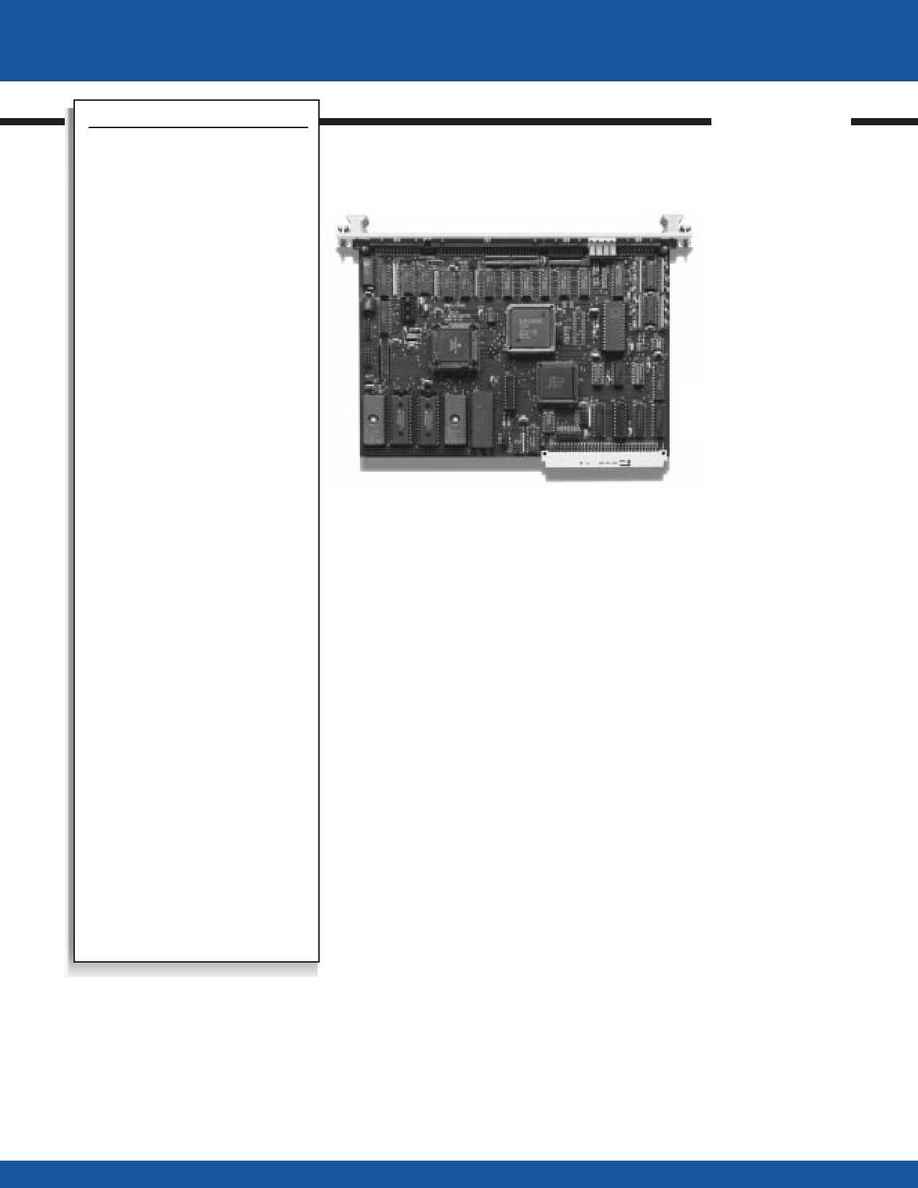 M O T I O N C O N T R O L L E R S
DMC-1300 VME Bus Controllers
The DMC-1300 Series are high-perfor-
mance motion control cards that
install directly into the VME bus.
Using a 32-bit specialized microproces-
sor and a custom submicron gate array,
the controller provides DSP perfor-
mance without sacrificing ease of use
and cost effectiveness. The DMC-1300
features advances in flexibility, preci-
sion, and speed.
The DMC-1300 is available with
1, 2, 3, or 4 axes per card, and up to
8 axes of control are available with
an attachment card. The card can
also be used with step motors, servo
motors, and hydraulics, providing
further flexibility.
The DMC-1300 achieves superior
precision through use of a 16-bit
motor command output DAC and a
sophisticated PID filter that features
Kp, Ki, Kd, velocity, and acceleration
feedforward and integration limits.
Advances in speed include 8 mil-
lion counts/sec encoder feedback, a
125 µsec sample rate per axis, and
dual-port RAM for high-speed com-
munications with vectored interrupts.
Designed to solve complex
motion problems, the DMC-1300
can be used for applications involving
jogging, point-to-point positioning,
vector positioning, electronic gearing,
multiple move sequences, and con-
touring. The controller eliminates jerk
by programmable acceleration and
deceleration with profile smoothing.
For smooth following of complex
contours, the DMC-1300 provides
continuous vector feed of an infinite
number of linear and arc segments.
For synchronization with outside
events, the DMC-1300 provides
uncommitted I/O and operator input
prompts, including 8 optoisolated dig-
ital inputs, 8 digital outputs, and 7
analog inputs for interface to joy-
sticks, sensors, and pressure transduc-
ers. Dedicated optoisolated inputs are
provided for forward and reverse lim-
its, amplifier enable, abort, home, and
definable input interrupts.
The DMC-1300's intuitive program-
ming language is easy to use and
includes 126 user-defined variables, plus
arithmetical operations and functions.
Multiple arrays provide real-time data
capture without host intervention.
Commands can be sent in either ASCII
or binary format.
Up to 8 axes of motion control
Dual-port RAM for high-speed
communication with vectored
bus interrupts
125 µsec per axis servo update
rate
Binary or ASCII modes
Controls servo motors, step
motors, and hydraulics
16-bit motor command DAC
8,000,000 counts/sec encoder
feedback for servos
2,000,000 steps/sec for stepper
control
Auxiliary encoder inputs for
dual loop
Non-volatile program memory
Multitasking of four independent
programs
Jogging, point-to point posi-
tioning, linear and circular
interpolation, electronic gear-
ing and cam, and contouring
Optoisolated inputs for home,
abort, limits
8 uncommitted, optoisolated
inputs and 8 programmable
outputs
7 analog inputs with 12-bit
ADC (16-bit optional)
High-speed position capture
Programmable event triggers,
symbolic variables and arrays
I/O functions and timers for
executing PLC tasks
EEPROM for storing parame-
ters and programs
DMC-1300
Motion Controller