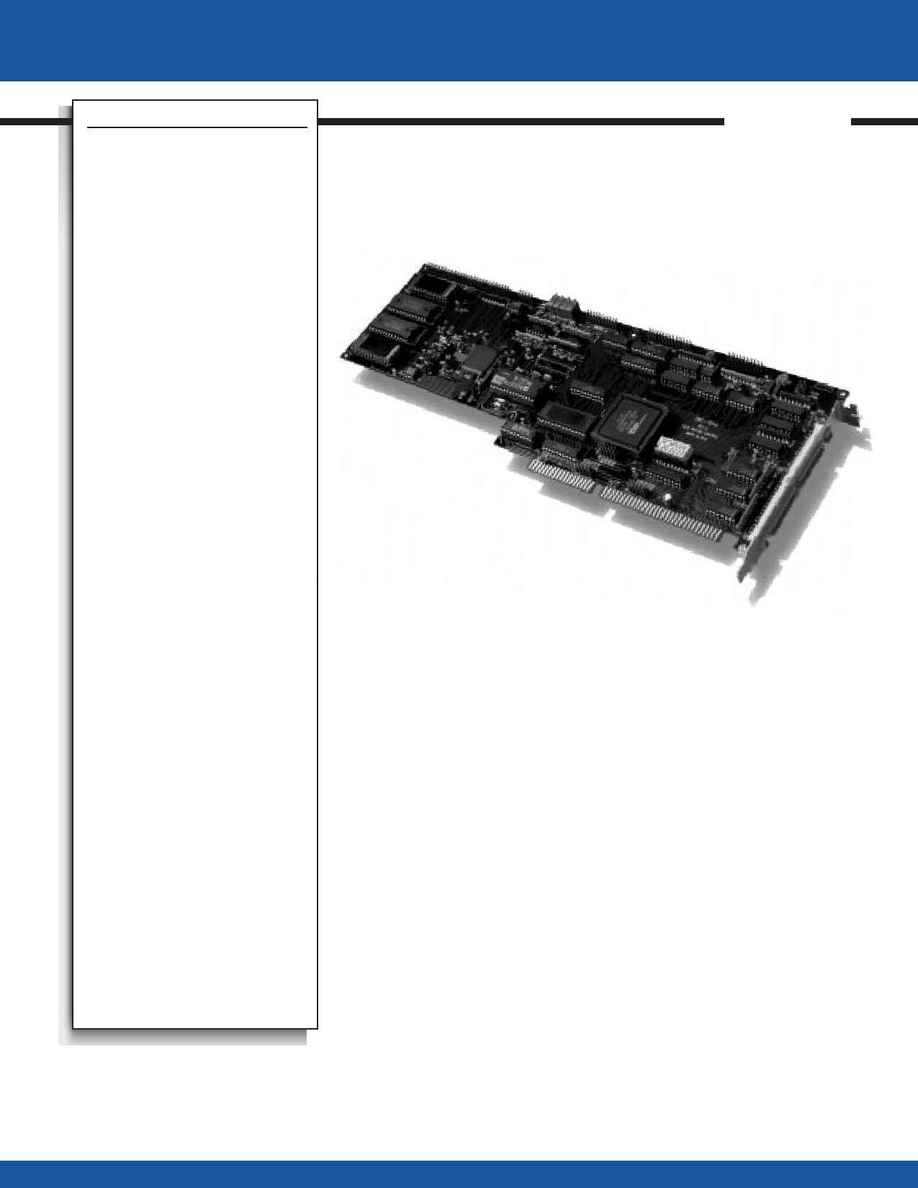 M O T I O N C O N T R O L L E R S
DMC-1000 ISA Bus Controller
The DMC-1000 Series are high-per-
formance, state-of-the-art motion con-
trol cards that install directly into the
ISA bus. Using a 32-bit specialized
microprocessor and a custom gate
array, the controller provides DSP
performance without sacrificing ease
of use and cost effectiveness.
The DMC-1000 is available with 1,
2, 3, or 4 axes per card, and up to 8
axes of control are available with an
attachment card. The DMC-1000 can
also be used with step motors, servo
motors, and hydraulics on any combi-
nation of axes.
The DMC-1000 achieves superior
precision through use of a 16-bit
motor command output DAC and a
sophisticated PID filter that features
Kp, Ki, Kd, and velocity and accelera-
tion feedforward and integration limits.
Advances in speed include 8 mil-
lion counts/sec encoder feedback, a
125 µsec sample rate per axis, and bi-
directional FIFO for high-speed bus
communications with PC interrupts.
Designed to solve complex motion
problems, the DMC-1000 can be used
for applications involving jogging,
point-to-point positioning, vector posi-
tioning, electronic gearing, multiple
move sequences, and contouring. The
controller eliminates jerk by program-
mable acceleration and deceleration
with profile smoothing. For smooth
following of complex contours, the
DMC-1000 provides continuous vec-
tor feed of an infinite number of linear
and arc segments.
For synchronization with outside
events, the DMC-1000 provides
uncommitted I/O, including 8
optoisolated digital inputs, 8 digital
outputs, and 7 analog inputs for inter-
Up to 8 axes of motion control
FIFO-based communication
with bus interrupts
125 µsec per axis servo update
rate
Controls servo motors, step
motors, and hydraulics
16-bit motor command DAC
8,000,000 counts/sec encoder
feedback for servos
2,000,000 steps/sec for stepper
control
Auxiliary encoder inputs for
dual loop
Applications program memory
Multitasking of four independent
programs
Jogging, point-to point posi-
tioning, linear and circular
interpolation, electronic gear-
ing and cam, and contouring
Optoisolated inputs for home,
abort, limits
8 uncommitted, optoisolated
inputs (5-28 VDC) and 8 pro-
grammable outputs
7 analog inputs with 12-bit
ADC
High-speed position capture
Programmable event triggers,
symbolic variables and arrays
I/O functions and timers for
executing PLC tasks
Flash EEPROM for parameter
storage
Many software tools available
for servo tuning, interface to
Visual Basic, and interface to
DOS, Windows 3.1, 95 and NT.
CE certified
DMC-1000
Motion Controller