ETA-USA mdt 42 fwx pr Page 1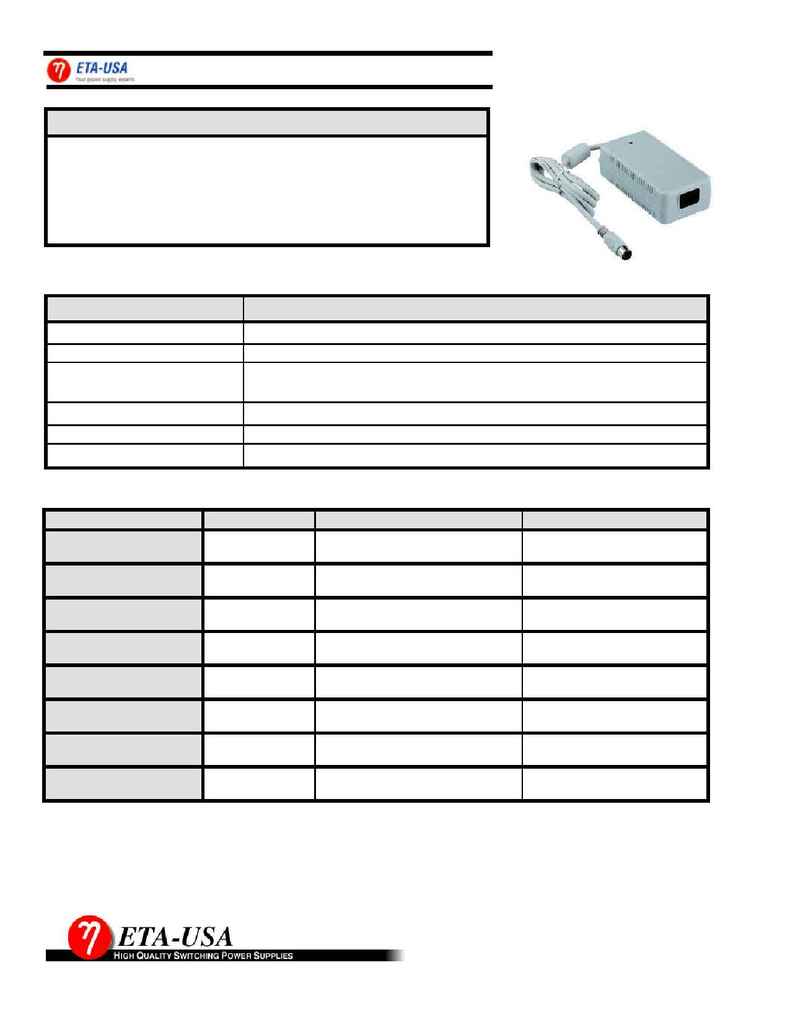 ETA-USA Tel: 408-778-2793 Fax: 408-779-2753 e-mail: sales@eta-usa.com
1) INPUT
Description
The input AC Current @90V with rated output load =< 1.35A
No load input current and watts
The Input AC current @230V without output load =< 200Ma
True RMS input power @230V without load at the output =< 4W.
The inrush current will not exceed 30A at 230VAC input, cold start, 25░C.
The efficiency is minimum at least 80% while measuring at nominal line and rated load.
2)
OUTPUT
2.1)Line Regulation:
The line regulation is less the 1% while measuring at rated load and ▒10% of input voltage
2.2)
Ripple Test condition
:
All voltage measured at the output connector, which should connect with a 47uF
capacitor. The ripple is measured from peak to peak with a bandwidth-limit of 20MHz (By passed at the an
additional 0.1uF ceramic disk capacitor).
GENERAL SPECIFICATION
MDT42-FWX-PR series of AC/DC switching mode power supplies
50watts of continuous output power. All supplies are UL 94V-0
compliant include IEC-320-C14 input for worldwide applications.
All models meet FCCPart-15 classes B and CISPR-11EN5501 class
B emission limits and are designed to comply with UL, C-UL, CB
and CE requirements. All units are 100% burned in and tested.
Model No.
Output Voltage
Max. Output Current
Total Regulation
5.00
2.00
5%
5%
5.00
1.50
5%
6%
5.00
1.00
5%
5%
3.00
1.00
5%
5%
2.00
1.00
5%
5%
5.00
1.00
5%
5%
+5.1
+7.2
5.00
2.60
5%
5%
2.00
2.00
5%
5%
42 WATT
Desktop type switching power
supplies for Medical Equipment
MDT42-FWX-PR SERIES