ETA-USA mda 26.5 fwx pr Page 1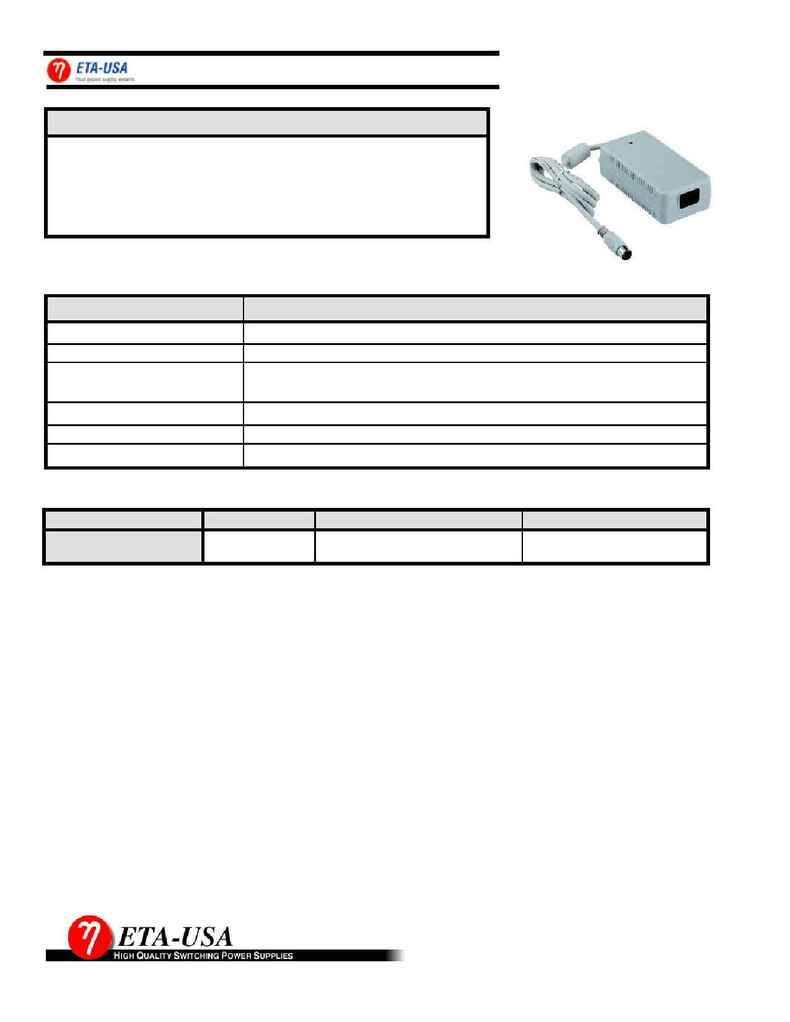 ETA-USA Tel: 408-778-2793 Fax: 408-779-2753 e-mail: sales@eta-usa.com
1) INPUT
Description
The input AC Current @90V with rated output load =< 1.35A
No load input current and watts
The Input AC current @230V without output load =< 200Ma
True RMS input power @230V without load at the output =< 4W.
The inrush current will not exceed 30A at 230VAC input, cold start, 25°C.
The efficiency is minimum at least 80% while measuring at nominal line and rated load.
2)
OUTPUT
2.1)Line Regulation:
The line regulation is less the 1% while measuring at rated load and ±10% of input voltage changing.
2.2)
Ripple Test condition
:
All voltage measured at the output connector, which should connect with a 47uF
capacitor. The ripple is measured from peak to peak with a bandwidth-limit of 20MHz (By passed at the an
additional 0.1uF ceramic disk capacitor).
2.3)
No Load Regulation:
2.4)
Continuous output power:
2.5) Hold-up time:
The hold-up time is longer than 16mS at nominal line (110VAC) input at rated load, which is
measured from the end of the last charging pulse to when the main output drops down to 95% output voltage.
3) PROTECTION:
OVER VOLTAGE PROTECTION(OVP):
Over voltage protection is available on output(112%~132%), The
output will auto recovery at once after removing the circuit.
SHORT CIRCUIT PROTECTION:
With input at high line voltage (260VAC) and output terminals
short circuit, there shall be no risk of fire and no live parts shall become accessible. The output shall be
able to sustain a short circuit for 10 minutes without damage. The output will auto recovery at once after
OVER LOAD PROTECTION:
Overload at the output will not cause damage the adapter; The output will
auto recovery at once after removing the circuit.
GENERAL SPECIFICATION
MDA26.5-FWX-PR series of AC/DC switching mode power supplies
50watts of continuous output power. All supplies are UL 94V-0 compliant
include IEC-320-C14 input for worldwide applications. All models meet
FCCPart-15 classes B and CISPR-11EN5501 class B emission limits and
are designed to comply with UL, C-UL, CB and CE requirements. All
units are 100% burned in and tested.
Model No.
Output Voltage
Max. Output Current
Total Regulation
5.00
2.00
7%
5%
26.5 WATT
Desktop type switching power
supplies for Medical Equipment
MDA26.5-FWX-PR