ETA-USA mda 26.5 fwx pr Page 2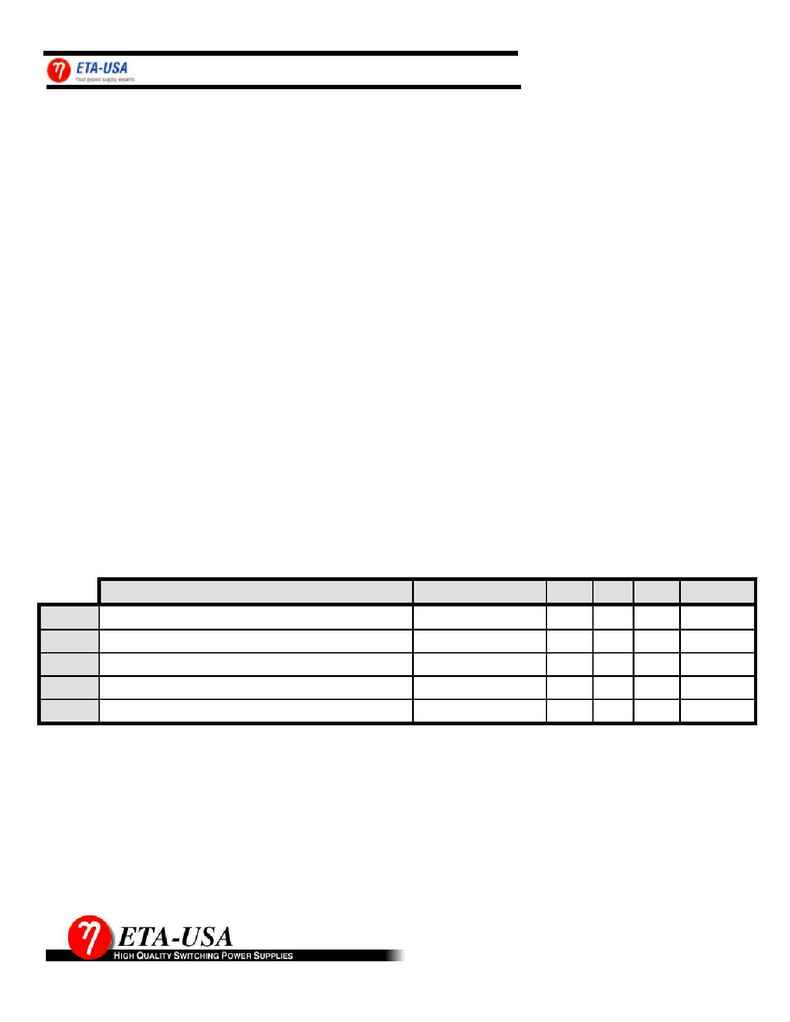 ETA-USA Tel: 408-778-2793 Fax: 408-779-2753 e-mail: sales@eta-usa.com
4) INSULATION
Dielectric strength:
From input live and neutral to output should be 5600VDC for 60 seconds (trip
From input live and neutral to output should be 2828VDC for 60 seconds (trip current 5mA).
Leakage current:
The leakage current flowing from input to output or any external accessible parts will
be less than 0.1mA for any admitted value of line voltage.
INSULATION SYSTEM
Circuit topology:
Fixed-frequency, Flyback circuit.
5)
SAFETY AND ELECTROMAGNETIC COMPATIBILITY REQUIREMENTS:
5.1) Safety requirements:
The adapter comply with the following safety and electromagnetic compatibility approvals:
Meet safety approval UL and C-UL based on U.L.2601 and C.S.A C22.2
Meet CE declaration of conformity.
Meet safety approval EN60601 with C.B. Certificate
5.2)Radiated and conducted electromagnetic interference from the adapter not exceed the limits of:
Meet FCC part 15 and class B Verified
Meet European Standard EN 55011 CLASS B requirement
5.3)The Power supply is in accordance with the immunity requirements specified by:
Meet EN50082-1. Inside the EN50082-1 there are the compliance to following standard.
Meet EN60555-2.EN61000-3-2.EN61000-4-11.
Meet IEC 801-2;IEC 801-3;IEC 801-4.
6) ENVIRONMENT
6.1)MTBF(theoretical)
at 25°C ambient temp and nominal load, according to MIL-217F:100,000hrs above.
6.2)The adapter must be able to withstand the following environment:
Operating conditions:
Temperatures: 0°C to +70°C
Remark : Derate linearly from 100% load at 50
Relative humidity (without condensation): 10% to 95%
Dielectric withstanding Voltage for primary to secondary
Dielectric withstanding Voltage for primary to ground
CISPR EMI requirements for CISPR-11
EMI requirements for FCC Part-15