ETA-USA dtd 110 sx w f Page 1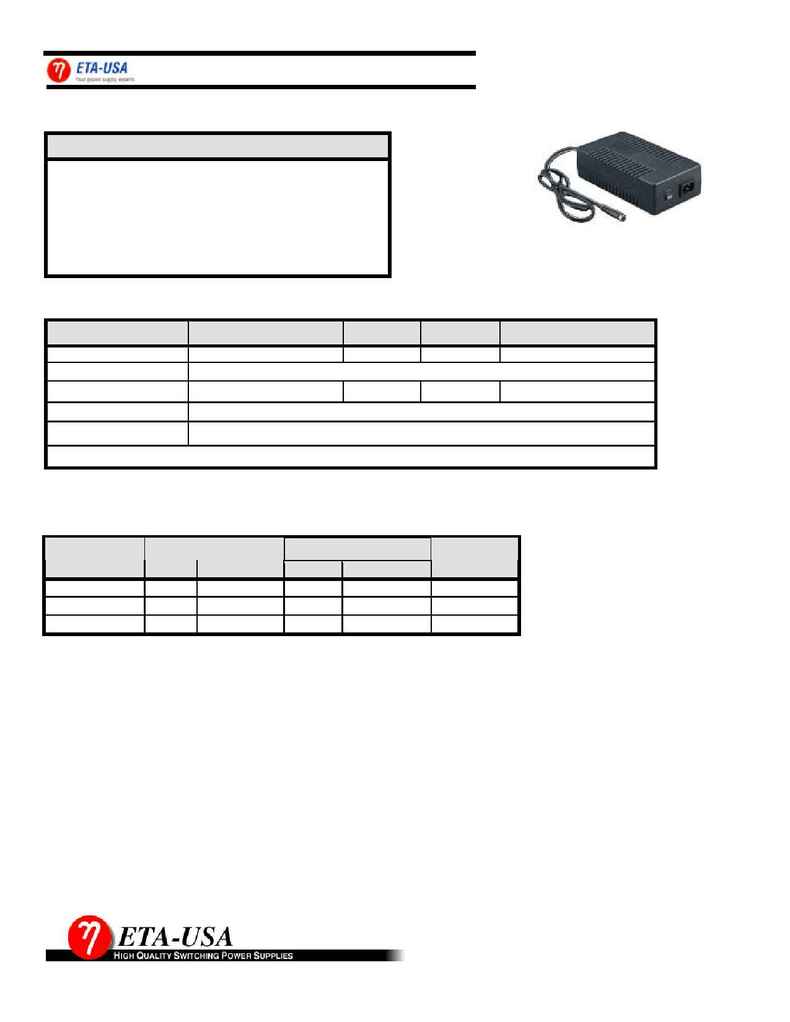 ETA-USA Tel: 408-778-2793 Fax: 408-779-2753 e-mail: sales@eta-usa.com
1) INPUT
Description
Min.
Nominal
Max.
Condition
1A@264Vac 2.5A@90Vac MAX.
>80% at full load, 115VAC (DC Conversion)
EMI: FCC Class B; CISRP22 Class B; EN 55022 Class B, EN61000-3-2 Class D
2) OUTPUT
*Hold up time:
16ms typical at full load @ 115VAC
*Voltage Regulation:
NOTE: 1. Peak to Peak with 20MHz bandwidth and 10uF in parallel with a 0.1uF capacitor.
3) PROTECTION:
OVER VOLTAGE PROTECTION(OVP)
AC RECYCLE SHORT CIRCUIT PROTECTION
OUTPUT SHORT CIRCUIT PROTECTION
AUTO RECOVER MODE
4) ENVIRONMENT
Operating Temperature
Storage Temperature
100'000 hours at full load and 25
GENERAL SPECIFICATION
This specification describes the performance
characteristics of a grounded, single phase, 110 Watts,
Single Output Switching Adapter, with active PFC
function and with a internal cooling fan. In addition, it
defines a worldwide safety requirement and
electromagnetic compatibility requirement for desktop
110WATT
SINGLE OUTPUT SWITCHING
ADAPTOR
DTD110-SX-W-F SERIES