ETA-USA pfe hsx fan Page 1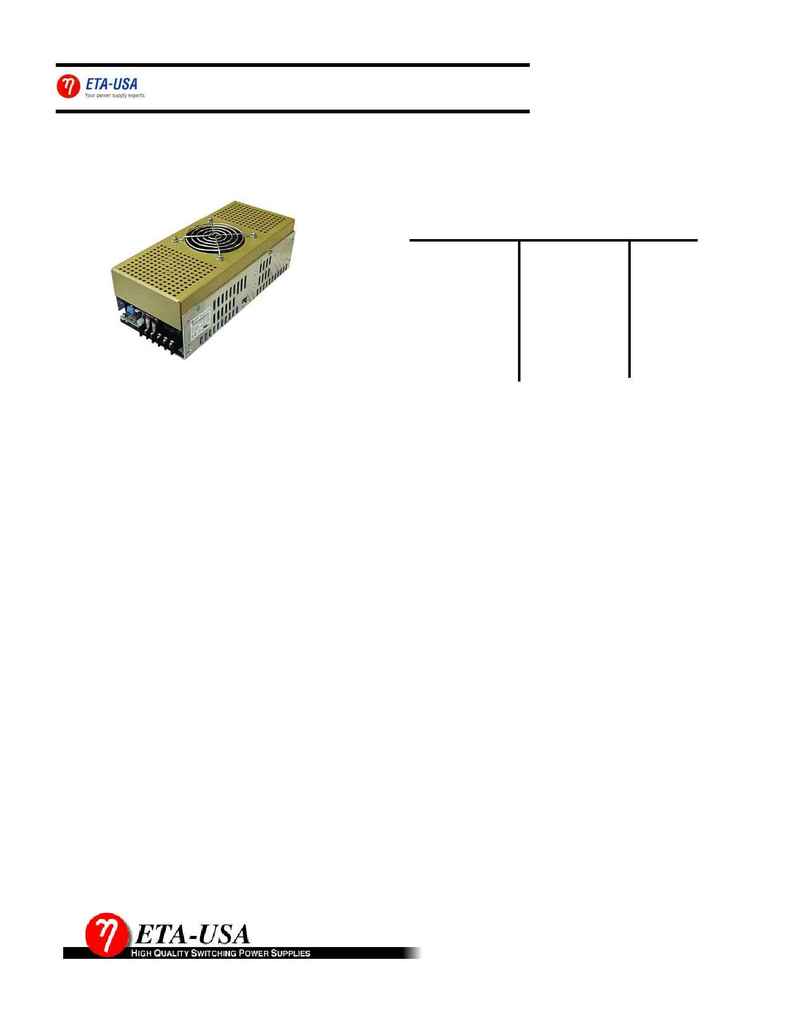 Model Output
Efficiency

PFE24-20

PFE36-13
480 WATT
AC/DC CONVERTER
DESCRIPTION

The single output PF series
with convection cooling is a Power
Factor Corrected compact in size open frame power supply.
The PF series with convection cooling is capable of peak loads up
to 200% of rated current. This power supply series has a wide
input range with low EMI and optimized pulse-load response.
This model will deliver 480 watts max. power with convection
cooling with 25CFM air while maintaining excellent line
FEATURES

-10 C to +70 C at full load
Standard 4.33" x 9.68" x 3.55" envelope
Meets UL, CSA and VDE Safety
Meets EMI EN55022 Level B
ELECTRICAL SPECIFICATIONS

INPUTS

RANGE: Full input Range 85 to 264 VAC.
FREQUENCY: 47 to 63Hz.
INRUSH CURRENT: 18A peak for the first four AC cycles
PHASE: Single
HOLD UP TIME: At least 20msec from loss of input.
OUTPUTS

VOLTAGE: 12V, 24V, 36 and 48 VDC
CURRENT: See Tables
ADJUSTMENT RANGE: +/-10% of nominal output voltage.
POLARITY: Output is isolated. It may be referenced plus/minus as
required.
LINE REGULATION: 12V 60mv, 24V 120mv,36/48V 180mv Max.
LOAD REGULATION: 12V 120mv,24V240mv,36/48V360mv Max
DRIFT: 12V 75mv. 24V 135mv, 36/48V 195mv Max.
DYNAMIC LOAD REGULATION: 12V 360mv, 24V 720mv,
36/48V 1080mv Max.
RECOVERY TIME: 0.5ms typ. (output current change 50% to
150%)
RISE-UP TIME: 500ms typ.
TEMP COEFFICIENT: +/-0.03%/ C
P-P RIPPLE AND NOISE: 150 mv Max.
MINIMUM LOAD: Not Required.
OVER VOLTAGE PROTECTION: 125% +/-5% of nominal. OVP
shutdown is latched until the input line is removed for 5 secs and
then reapplied.
OVERCURRENT PROTECTION: Current Limit Point: 110% to
120% of full load.

OPTIONS

-
Input and Output Connector Pigtail Cables
Constant 200% load operation
Tel: 408-365-7723 Fax: 408-365-7513 e-mail:
and load regulation characteristics.