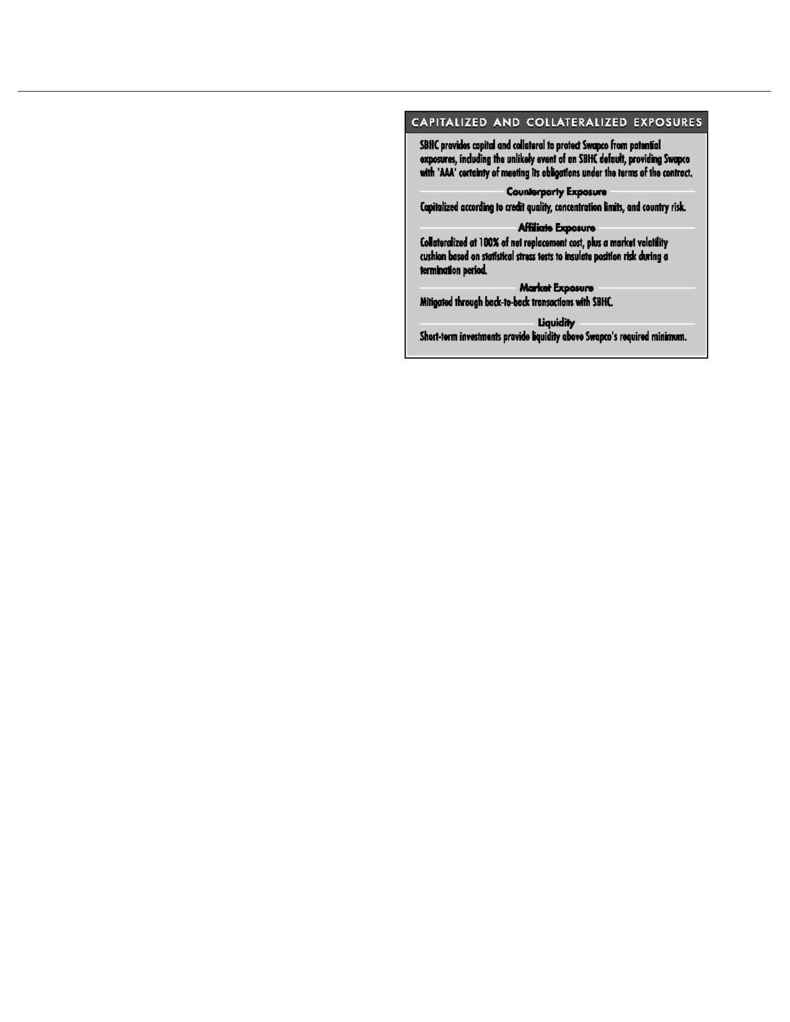 agreements are structured so that payments due to Swapco
are made in advance of Swapco's payments to counterpar-
ties, which serves as an additional liquidity cushion.
Swapco has the ability to issue short- and long-term debt
to fund collateral posted under bilateral agreements. Fitch
has indicated that it would rate up to $250 million in senior
long-term debt and short-term debt 'AAA' and 'F-1+',
respectively.
Capitalization
At Sept. 30, 1995, Swapco had $356 million of capital to
support $691 million replacement value of counterparty
receivables with an average 'AA' rating. Capital require-
ments are calculated daily using a dynamic approach that
incorporates counterparty credit quality, portfolio diversi-
fication, and sovereign risk. The company is required to
maintain $175 million as a minimum level of capital.
Dividend payments may be made only if they do not result
in a capital shortfall.
Financial Strength
Swapco generated net income of $21.0 million for the
nine-month period ending Sept. 30, 1995, compared with
$10.1 million for full-year 1994. For 1995's first three
quarters, total revenues (net of interest expense) were
$45.5 million, compared with $27.8 million for all of
1994. Net interest income accounted for 42% of revenues
in 1995, with the balance from intermediation, guarantee,
and management fees charged to affiliates. Operating
expenses consist of management fees and affiliate sales
commissions, compensation, professional services, occu-
pancy, and other. Operating expenses totaled $14.7 million
for 1995's first three quarters, compared with $15.8 million
for all of 1994.
Copyright © 1995 by Fitch Investors Service, L.P., One State Street Plaza, NY, NY 10004
Telephone 1-800-75 FITCH, (212) 908-0500, Fax (212) 480-4435
Byron D. Klapper, Publisher; John Forde, Editor-in-Chief; Madeline O'Connell, Director, Subscriber Services; Paula M. Sirard, Production Manager;
Linda Trudeau, Production Assistant; Diane Lupi, Managing Editor; Nicholas T. Tresniowski, Managing Editor; Terry Peters, Associate Editor; Karen Cantor,
Director, Publishing Technology; Kelly Briney, Sr. Desktop Publishing Specialist; Martin E. Guzman, Desktop Publishing Operator; Richard L. Farruggio,
Desktop Publishing Operator. Printed by American Direct Mail Co., Inc. NY, NY 10014. Reproduction in whole or in part prohibited except by permission.
Fitch ratings are based on information obtained from issuers, other obligors, underwriters, their experts, and other sources Fitch believes to be reliable. Fitch
does not audit or verify the truth or accuracy of such information. Ratings may be changed, suspended, or withdrawn as a result of changes in, or the unavailability
of, information or for other reasons. Ratings are not a recommendation to buy, sell, or hold any security. Ratings do not comment on the adequacy of market
price, the suitability of any security for a particular investor, or the tax-exempt nature or taxability of payments made in respect to any security. Fitch receives
fees from issuers, insurers, guarantors, other obligors, and underwriters for rating securities. Such fees generally vary from $1,000 to $750,000 per issue. In
certain cases, Fitch will rate all or a number of issues issued by a particular issuer, or insured or guaranteed by a particular insurer or guarantor, for a single
annual fee. Such fees are expected to vary from $10,000 to $1,500,000. The assignment, publication, or dissemination of a rating by Fitch shall not constitute
a consent by Fitch to use its name as an expert in connection with any registration statement filed under the federal securities laws.
FITCH INVESTORS SERVICE, L.P.