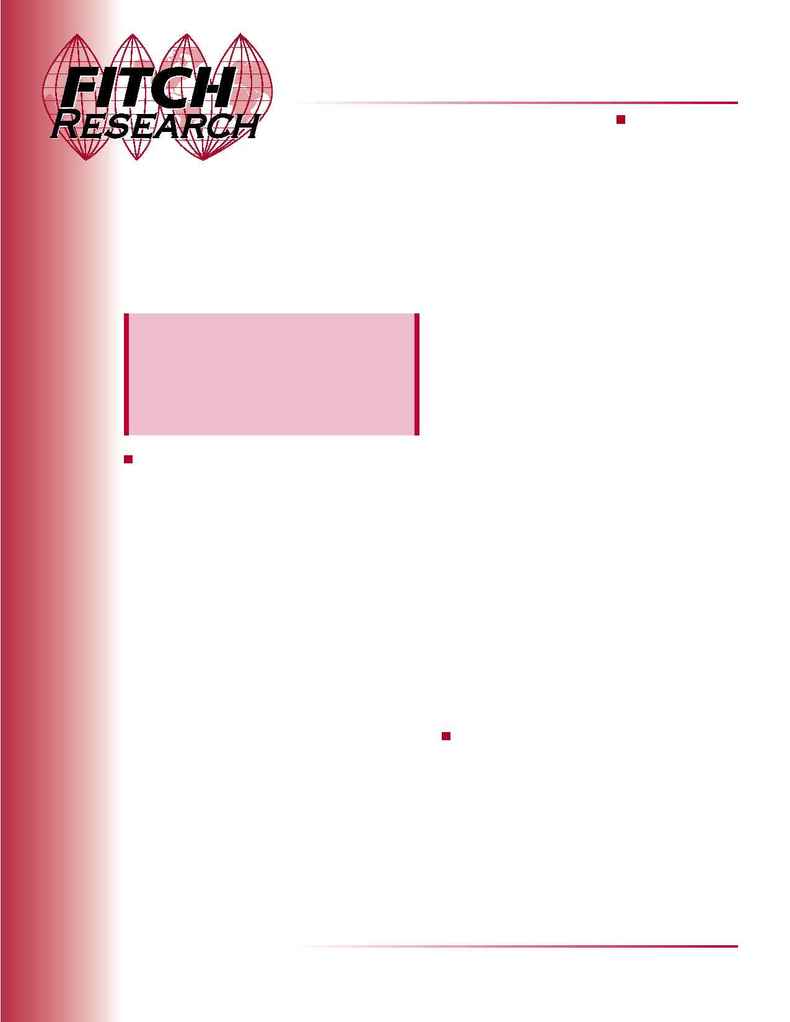 Salomon Swapco Inc
Gregory T. Siegel, CPA
Roger W. Merritt, CPA
Helene L. Moehlman, CFA
(212) 908-0622
(212) 908-0636
(212) 908-0606
gsiegel@fitchinv.com
rmerritt@fitchinv.com
hmoehlman@fitchinv.com
Summary
Salomon Swapco Inc's (Swapco) counterparty risk rat-
ing is `AAA'. Swapco is a wholly owned subsidiary of
Salomon Brothers Holding Co. (SBHC), which, in turn,
is wholly owned by Salomon Inc. Swapco is a bank-
ruptcy-remote, stand-alone derivative product com-
pany established to intermediate certain derivative
transactions between highly rated counterparties and
SBHC. The counterparty risk rating is based on a strong
capital base and high counterparty credit quality; con-
servative risk management, investment, and operating
guidelines; and a termination structure that requires
cash settlement of all Swapco contracts following a
trigger event.
Swapco intermediates various over-the-counter (OTC)
derivative transactions, including swaps and options on
interest rates, currencies, and equities with highly rated
counterparties. As of June 30, 1997, the notional amount
of Swapco's total portfolio was $200.9 billion, up from
$166.3 billion at year-end 1996. Based on notional
amounts, most transactions involve swaps or options on
various interest rate indexes. At June 30, the average
maturity of Swapco's derivative portfolio was 4.8 years.
Swapco determines capital requirements daily on the
basis of portfolio size, counterparty credit quality, and
portfolio diversification. At June 30, 1997, Swapco's
total capital (as computed for adequacy purposes) was
approximately $278 million. Swapco incurs no market
risk, since all counterparty transactions are offset with
identical, matching transactions with SBHC. As a result,
counterparty credit quality is a critical factor in assessing
capital levels and the ability to meet all obligations at
an `AAA' confidence level in the event of termination.
Swapco minimizes counterparty default risk and capital
requirements by transacting with investment-grade
counterparties rated `BBB­' or higher. If a counterparty
is subsequently downgraded below investment grade,
the exposure is fully capitalized by Swapco. In practice,
most counterparties are highly rated. At June 30, 1997,
more than 85% of counterparties were rated `A' or
higher based on notional amounts. Affiliate risk is mini-
mized through daily posting of collateral in an amount
that exceeds affiliate payables to Swapco.
Swapco was established as a "termination vehicle" to
ensure that all trades are settled on a cash basis if certain
trigger events occur. Trigger events include SBHC
bankruptcy, a downgrade of Swapco below `A­', or
Swapco's inability to meet capital, collateral, or liquidity
requirements. In such a scenario, all trades would be
cash settled using midmarket prices.
Organization and Management
Swapco is a bankruptcy-remote, stand-alone subsidiary of
SBHC, which, in turn, is wholly owned by Salomon Inc.
Salomon is a full-service, global securities firm with more
than $5.9 billion of equity (including preferred securities)
as of June 30, 1997. Fitch currently rates the short-term
and senior long-term debt of Salomon `F-1' and `A­',
respectively. The `AAA' rating assigned to Swapco reflects
its bankruptcy-remote status and strong ability to meet
obligations in accordance with its termination structure.
www.fitchinv.com
Rating
Counterparty Risk . . . . . . . . . . . . . . . . . . . AAA
Company Contact
Douglas J. Lucas
Co-Chief Executive Officer
(212) 783-0607