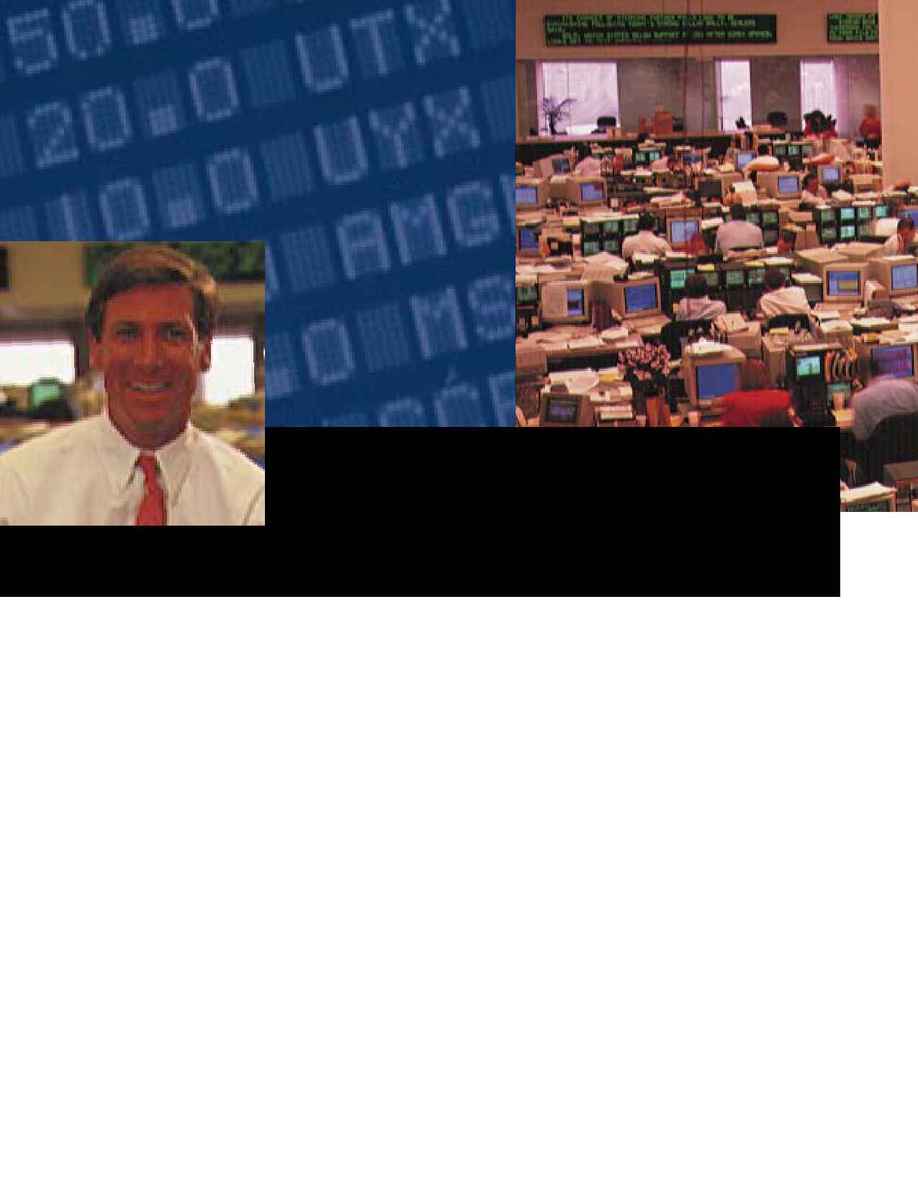 Salomon Brothers is the oldest of the active Primary
Dealers who currently trade with the U.S. Federal
Reserve. The Firm provides sales and trading services to
a wide variety of customers from around the world and
conducts proprietary trading activities in many financial
instruments. The Firm's willingness to put its own
capital at risk and to provide liquidity to our clients has
earned us a reputation as the preeminent market maker.
WHY WOULD SOMEONE CHOOSE A CAREER IN
SALES OR TRADING
?
People who thrive in Sales or Trading enjoy working in a
fast-paced, stimulating -- high energy -- environment.
Life on the trading floor is hectic and challenging because
you are constantly presented with challenges and forced
to stretch to discover ways to solve them.
WHAT IS THE DIFFERENCE BETWEEN SALES
AND TRADING
?
Traders risk the Firm's own capital. They make markets,
whether buying or selling a security. Traders must also
be quick decision-makers who work well under pressure.
Salespeople serve as the liaison between our customers
and the trading desks. Salespeople on the Capital Markets
Desk serve as the liaison between our investment banking
clients and the trading desks. They provide Traders, issuers,
and customers with a constant flow of information.
Salespeople and Traders share many common traits. They
must be analytical people, assimilate information quickly
and have good memories. Salespeople also need excellent
interpersonal and communication skills. They need to be
able to distinguish themselves -- and the Firm --
through the ideas that they give their customers.
WHAT PRODUCTS DO THE TRADERS TRADE
?
Traders typically focus on one of several maturity ranges,
within a particular product area, facilitating concentration
on the particular trading pattern and the volatility of
"Salomon combines the best of two worlds. The empowering approach to management allows
individuals to build businesses as if entrepreneurs, but to do so with the resources and capital of a
large corporate organization."
John Macfarlane is Treasurer of Salomon Inc and Salomon Brothers and a Managing Director of Salomon Brothers.
He is responsible for the Firm's Global Liability Management and for its Global Derivatives Infrastructure. He is also
Chairman of the Firm's triple-A derivative products subsidiary, Salomon Swapco Inc, and is a member of the Firm's
Business Practices Committee and its Risk Management Committee. John joined the Firm in 1979, was named Vice President in 1982, Director in 1985, Managing Director in
1988 and Treasurer in 1989. John earned a B.A. in classical studies from Hampden-Sydney College of Virginia in 1976 and an M.B.A. from the University of Virginia in 1979.
Sales and Trading