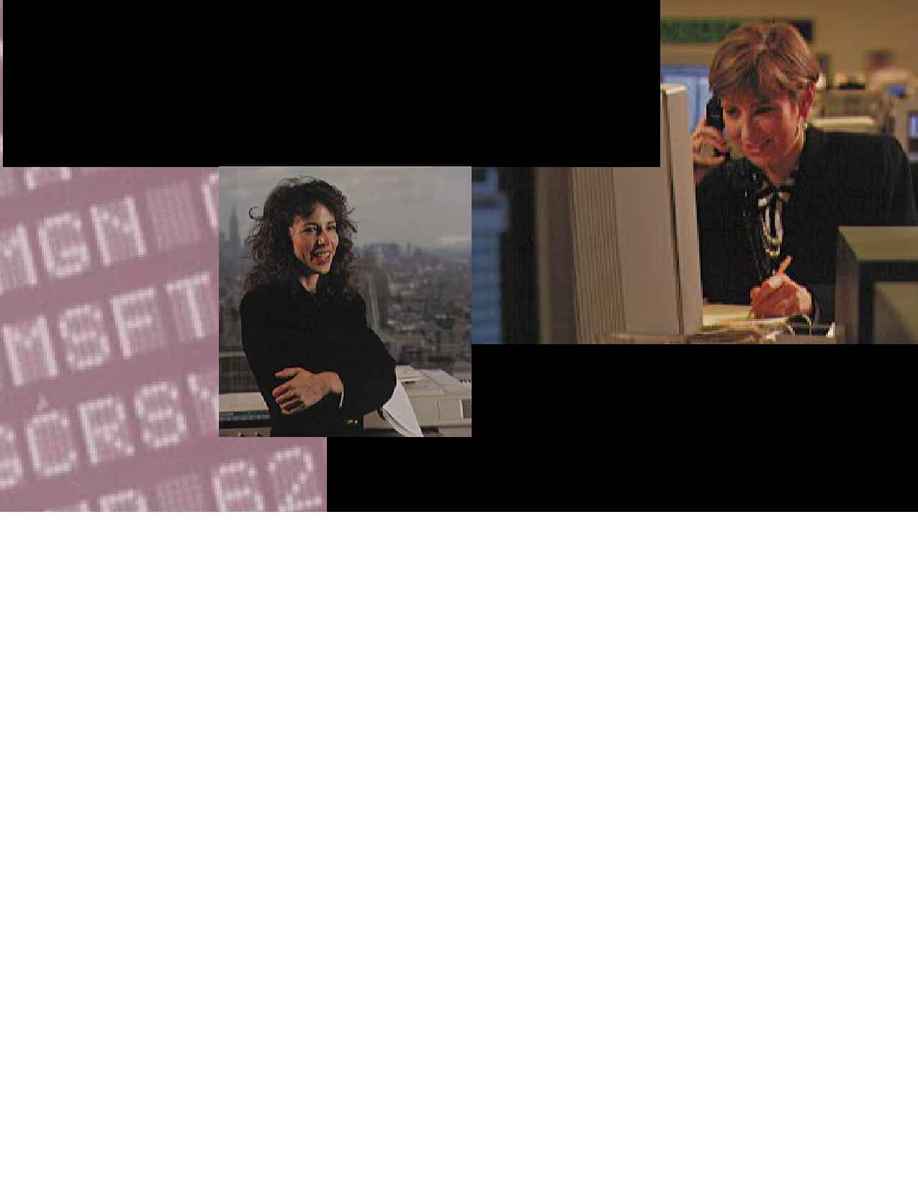 "Each day a professional faces new challenges. Having such a vast pool of
resources at Salomon creates an opportunity to learn new ways of solv-
ing those challenges for our clients."
Susan Bakewell (above right) is a trader on the Syndicate Desk of Salomon Brothers.
She joined the Firm in 1988 and was named a Vice President in 1992. Ms. Bakewell graduated from the University of
Colorado in 1983 and received an M.B.A. from the University of Texas in 1988.
varying assignments. Generally, in addition to other pro-
jects, Interns will conduct research, and spend time fielding
telephone calls on the various desks and learning what our
business is all about. Question-and-answer sessions, discus-
sions with key product managers and business luncheons
scheduled throughout the summer give interns a deeper
understanding of the securities business in general and our
business in particular.
OPPORTUNITIES IN SALES AND TRADING FOR
UNDERGRADUATES
The Firm hires undergraduates with high academic
standing into our Sales and Trading Two-Year Analyst
Program. After completion of the 2-year program, the
undergraduate is eligible for the full-time Sales and
Trading Program.
SALES AND TRADING TWO-YEAR ANALYST PROGRAM
After a brief rotational period on various Sales and Trading
desks, you are assigned to join a desk as a junior represen-
tative to help the group in the conduct of its business.
WHAT'S INVOLVED IN THE RECRUITING PROCESS
?
The first step is an on-campus interview. After that, you may
be called to come to New York or a branch office to interview
with various Sales and Trading professionals. The final round
of interviews involves senior members of the Firm, from both
the fixed-income and the equity sides of the business.
WHAT IF YOU ARE INTERESTED IN WORKING ABROAD
?
Our European and Asian offices handle their own staffing
requirements but you should make your initial contact
through New York. We will forward the resumes of
appropriate candidates.
WHAT DO WE LOOK FOR IN OUR CANDIDATES
?
There is no one kind of "Salomon person." We have hired
engineers, lawyers, architects, doctors, physicists, athletes,
undergraduates and Ph.D.'s. Whatever their background,
Salomon employees are smart, highly motivated team
players who want to be challenged and who want to suc-
ceed. Primary consideration will be given to men and
women who have distinguished themselves academically
and who demonstrate leadership ability, outstanding entre-
preneurial capabilities and excellent communication skills.
23
"Salomon Brothers uniquely combines world-wide resources with an atmosphere of entrepreneurial spirit."
Leslie Perkins (below left) is a Vice President in the Equity Institutional Sales Department. She joined the firm in 1986. After com-
pleting Salomon's Sales and Trading training program, Ms. Perkins became a member of the Equity Institutional Sales group, and became
a Vice President three years later. She received a B.A. from Emory University in 1977, a Masters in Psychology from the University
of Chicago in 1980 and an M.B.A. from the University of California, Los Angeles in 1983.