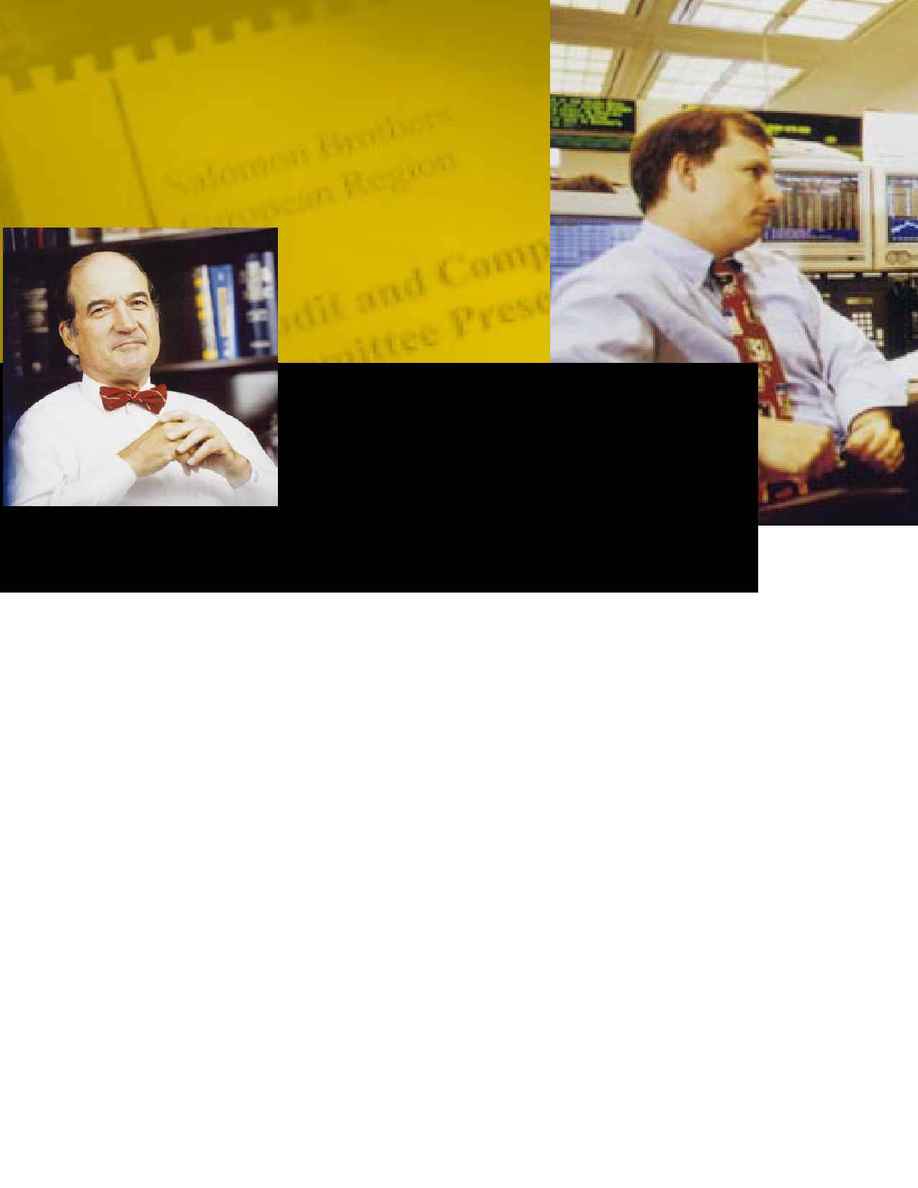 WHAT ARE MANAGEMENT CONTROLS AND
WHY DO WE NEED THEM?
"...in the world of commerce and finance it is thought quite
remarkable if a man is both clever and honest."
­Demosthenes, defending the banker Phormio, circa 350 B.C.
"Salomon is committed to being an industry leader
in compliance and control."
­Salomon Brothers Inc, Internal Control and
Compliance Task Force Report, May 1992
Modern financial institutions are facing rising levels of
risk, due to significant increases in the size and complexity
of financial instruments and financial transactions, and the
speed with which they are conducted. As a major player and
innovator in the industry, Salomon Brothers is driving
many of the changes in the modern financial marketplace:
· as a leader in sales and trading, investment banking, advisory
services and an emerging presence in asset management
· as a designer of new financial instruments and ways of
transacting business, both for the Firm and its clients
Our role at the forefront of a complex and rapidly changing
industry necessarily exposes the Firm to a complex array
of risks, including:
· market risk
· credit risk
· technology risk
· legal and regulatory risk
· financial reporting risk
· operational risk
Controlling risk is everybody's business at Salomon,
and minimizing undue exposure to risk is a primary focus
of management controls. The mission of the Internal Audit
department is to assist the management and business
units of Salomon by identifying the risks faced in the
Firm's activities, and evaluating and strengthening the
systems necessary to control those risks.
28 Management Controls / Internal Audit
Management Controls /
Internal Audit
"At Salomon, the nerve center of the Firm's control system--the one place
that is consistently looking over the entire spectrum of the Firm's activities--
is here in Internal Audit. For the right person, it's the best possible place to
get an understanding of the securities industry at its best."
Simon M. Lorne is a Managing Director of Salomon Brothers Inc, Director of Internal
Audit of Salomon Inc worldwide, and a senior member of the Salomon control team.
Formerly he served as General Counsel of the United States Securities and Exchange
Commission, a position to which he was appointed from 1993 to 1996. He is a frequent
panelist and lecturer, and the author of the multi-volume treatise, Acquisitions and Mergers: Negotiated and Contested Transactions, part of the
Clark Boardman Callaghan Securities Law Series. Mr. Lorne is a 1967 Phi Beta Kappa graduate of Occidental College, and earned his J.D. degree,
magna cum laude, from the University of Michigan law school in 1970.