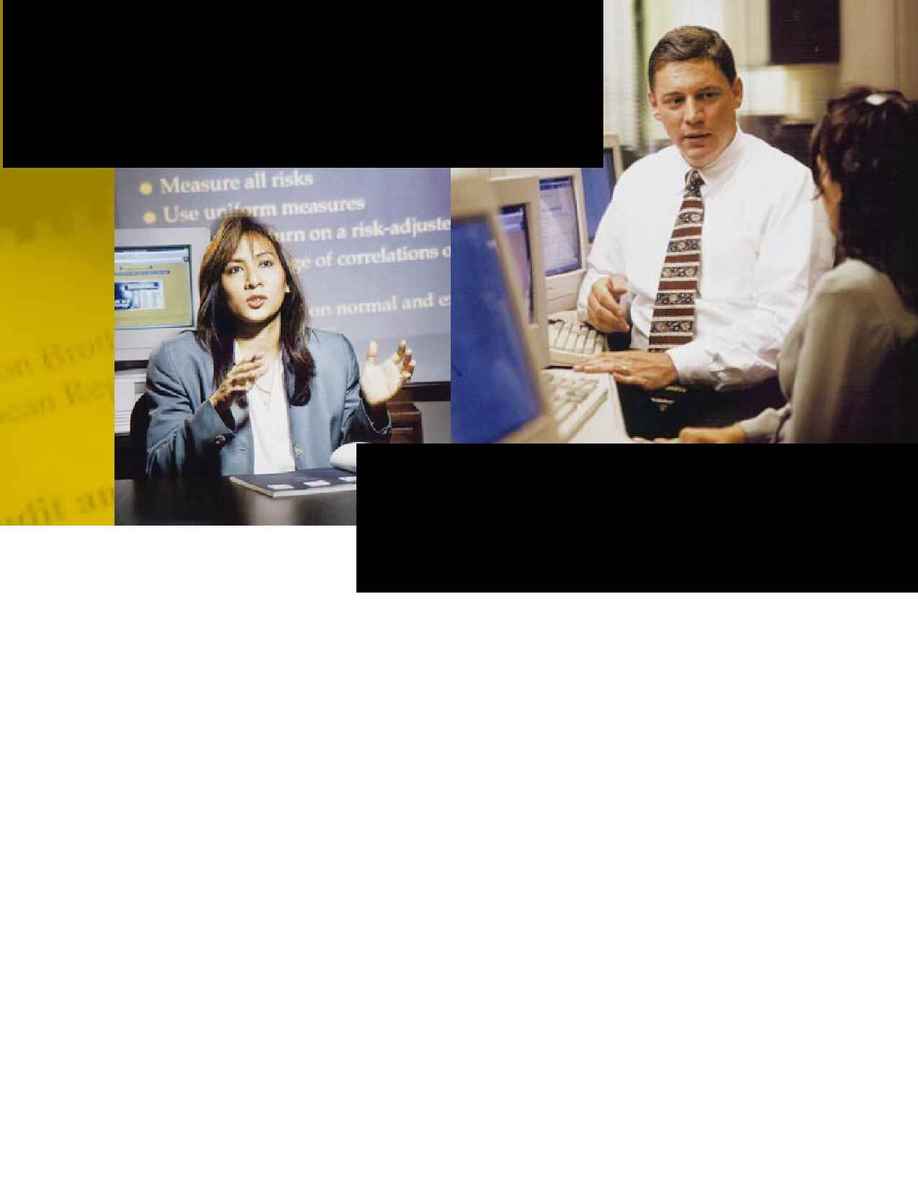 WHAT TYPE OF WORK DO PEOPLE INVOLVED IN
INTERNAL AUDIT TYPICALLY PERFORM?
Professionals with a wide array of education, training,
and experience work on project teams to assess the risks
and evaluate the controls in Salomon's various business
and support units. They gather the necessary information
through face-to-face interviews, direct observation, evalua-
tion of the design of internal controls, and testing of their
effectiveness. They subsequently prepare reports to senior
management identifying the areas of highest risk and
recommending enhancements to management controls.
In many cases our people advise management in developing
the necessary policies, procedures or systems that will
implement the needed controls.
WHAT TYPE OF SKILLS AND EXPERIENCE ARE
NEEDED TO WORK IN INTERNAL AUDIT?
Analytical capability, initiative, and excellent interpersonal
and communication skills are critical to a successful career in
Internal Audit. We have found that strong academic creden-
tials in Accounting, Finance, and technical or quantitative
fields such as Computer Science, Engineering, Mathematics,
or Operations Research provide a solid foundation for much
of the work we perform. We also value consulting and audit-
ing skills, and experience or special expertise in one or more
areas of the securities industry.
Management Controls / Internal Audit 31
"Our focus is to work closely with management and the business units on the proactive design and
development of risk controls."
Susan Villanueva-Hayward is a Vice President in our Controls Advisory Services group, which provides controls
consulting assistance to the management and business units of the Firm. She joined Salomon in 1996 from Knight-
Ridder Financial, a major financial market data vendor, where she was the Global Strategic Marketing Manager for
Derivatives and Foreign Exchange products. Susan received her B.S. degree in Electrical Engineering from the
University of the Philippines, and her M.B.A. in Finance and International Business from the University of Chicago.
"State of the art technology,quality people,and senior management support make for a challenging
and rewarding work experience."
John P. O'Donnell is a Vice President responsible for managing audits of Salomon's technology infrastructure,
as well as for leveraging technology to improve the audit process. He joined the Salomon's Internal Audit
department in 1995 from CS First Boston, where he was an Assistant Vice President for technology auditing.
John received his B.A. degree from the State University of New York at Potsdam.