Fischer e powerbluemchen Page 1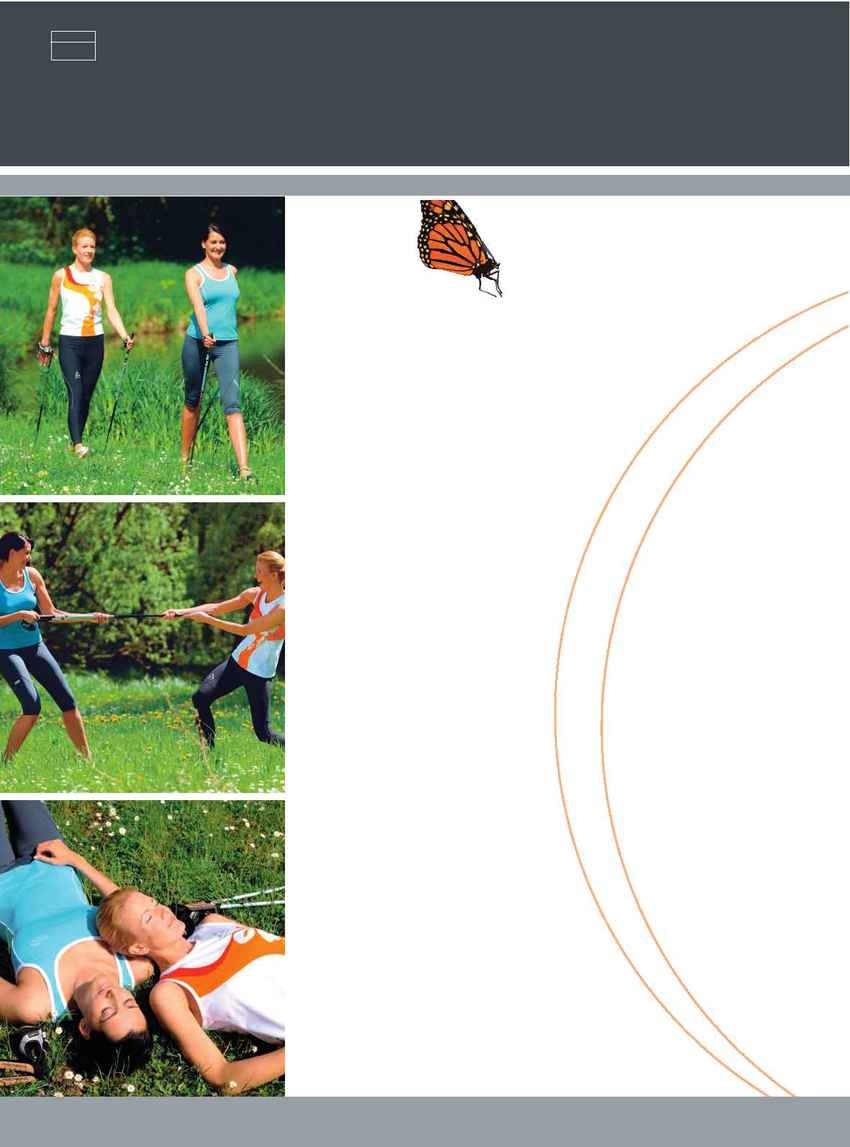 N O R D I C W A L K I N G
thought I would be too busy with my 20-hour
office job and my family with two kids. I have
always had enough to keep me occupied and
my kids always provide the laughs. That is why I
would never have thought of getting involved in
another leisure time activity ­ starting up my own
Strenuous sports like running or cycling were
never really the thing for me; I was never particu-
larly fit either. It was Cathy ­ my best friend ­ who
reckoned I was developing worry lines on my
forehead and putting on weight around my thighs.
She didn't accept my facing up to one's destiny
attitude. She went into action ­ gave me a pair of
super-light, trendy Nordic Walking poles ­ and
What really surprised me was that I was immedia-
tely impressed. It wasn't just the natural
movement that did me good. Talking about little
everyday worries and looming problems is what
really helped. After every training session I felt
completely refreshed. Now the fat on my thighs
has disappeared of its own accord and I feel
healthy and strong. Now I can easily take a
Sunday bike ride with my husband and our
energetic kids in my stride. My overall fitness has
improved beyond all recognition since I started
I feel happy about myself in every situation and
have really gained self-confidence. It has been
great to discover walking with others, conversing
without having to prove anything, the feeling of
I have become much more communicative.
Recently I decided to get trained up as a Nordic
Walking instructor. I now hold courses in which I
would like to pass on to others my fantastic
experiences with this sport. I have something to
say to women who juggle jobs and household:
leisure time is not a waste of time ­ it's positive
time: the relaxed movement of Nordic Walking gi-
ves you lots of energy for managing the rest of
your life. I would like to share this great feeling
with others, the feeling you get when you discover
the athletic side to your character. And I want to
demonstrate how fantastic it is to walk across a
cushioned forest floor on a rainy spring afternoon,
or on a cold crystal-clear winter's day, or in high
summer after a thunderstorm to clear the air.
One thing is certain: Nordic Walking is always
worth it ­ wherever you are!
The sun gradually dips over the horizon
to paint the sky red. Surrounded by meadows and a
flock of birds twittering happily. My best friend next to
me, telling me about what really made her day. No, we
aren't sitting on a balcony or in a café; we are walking
A couple of months ago Susanne M. discovered Nordic Walking for herself and is delighted with this
simple but very effective sport. She tells "Nordic World" about her discoveries:
FISCHER nordic world sports magazine
www.fischer-ski.com