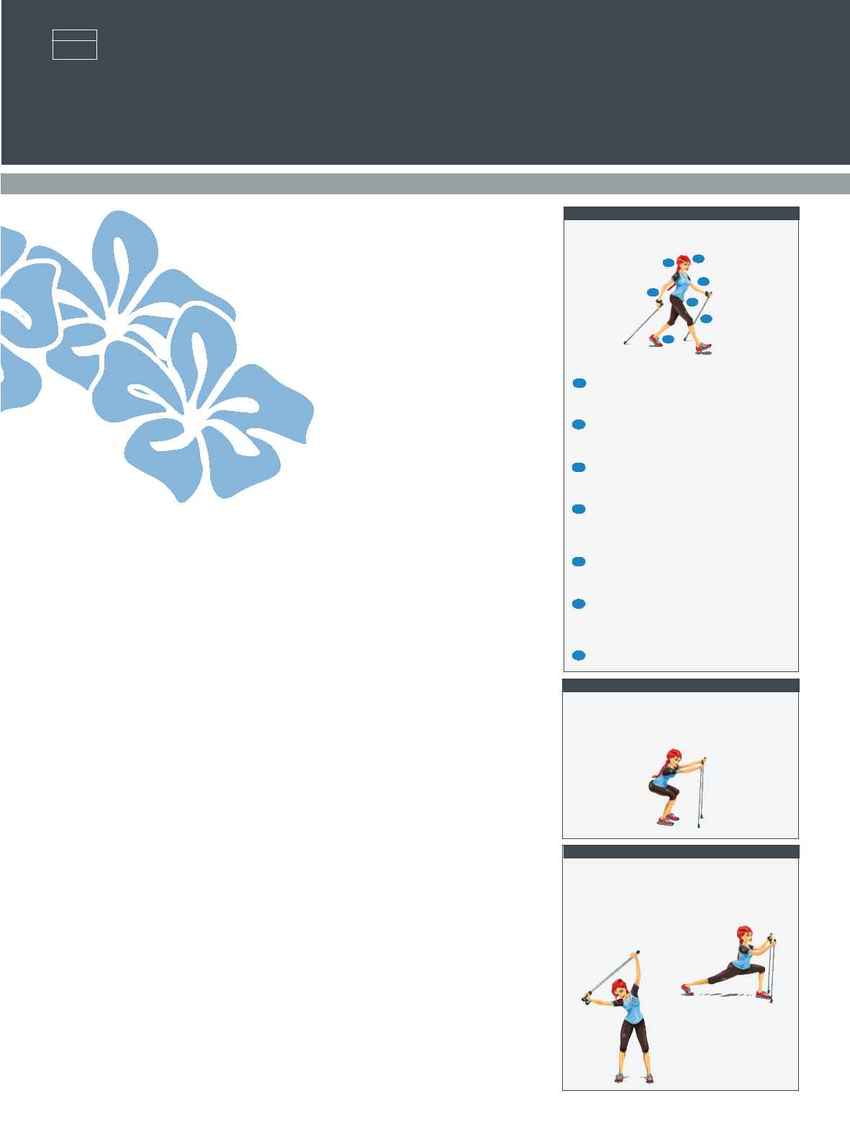 C O R R E C T T E C H N I Q U E
Shoulder rotation
The upper body leans slightly forward. This enables efficient arm work, long
strides and an effective kick from the ball of the foot.
Relaxed grip
Perfect in combination with large forward and backward arm and leg
movements.
Pelvis rotation
Shoulders and pelvis rotate rhythmically, continuously and alternately.
This counter-rotation is particularly effective for training back muscles.
Poles angled forward on impact
The poles are parallel to the body with the grips pointing forward on
impact; they move backwards and forwards in a direct line. The result
is efficient arm work and rhythmic arm and leg movements.
Heel-to-toe rolling motion in stride
Begin your stride with the heel and complete it with a clear 'kick' from
the ball of the foot.
Pole strike until passed by pelvis
Always pull the pole forward with the grip in front. In the pressure phase
of your pole action, open your hand slightly and complete the push with
the help of the strap.
Lean upper body slightly forward.
The typical Nordic Walker
forty. But that is not always the case, as Patrizia
Klein (27) describes. Nordic Walking: from the
fountain of youth to the young target group.
other's Day ­ and the question is the
same every year: What do I get for
It ought to be creative. And something really perso-
nal, of course. Straight from the heart.
Perhaps the presents in recent years were too
static, flowery or home-made for her. Anyway, this
year she has pulled rank, completely broken with
tradition and said what she would like before the
big day. "Patrizia," said mother, "you spend all your
time at the office ­ it's high time we did something
about that. Let's do a Nordic Walking course
together. That's what I'd like for Mother's Day."
That was that! And me? I forced a smile and
nodded, completely stunned. My sensitive mother
took that to be a sign of agreement. Nordic Walking
of all things! Going for a walk ­ with a difference.
Surrounded by women of advanced age. A mobile
To ease the shock somewhat I splashed out on a
cool and trendy orange-red Walking outfit. At least I
would feel better in that than in my old tracksuit
bottoms. I must admit, this Nordic Walking gear is
cool and really comfortable to wear. We women can
at least use it later on for other sports.
I didn't buy any poles of course. There's no way I
would need them after the course.
I then made a stylish appearance one Saturday
morning in the merry month of May at the course
"Nordic Walking Intensive for Newcomers." My
mother was waiting for me, all smiles.
I was somewhat taken aback by the fact that
besides the "elder stateswomen" (who I was
expecting) there were also two men around forty
taking part, plus three girls my age.
And then we started. Warm-up exercises, some
gymnastics with the poles. Not really my kind of
thing, but the atmosphere was a relaxed one from
the very beginning, which helped us to handle the
rather unusual movements.
I very soon got to grips with the actual Nordic
Walking - it's not that difficult. It was just the
opening of the hands that made me lose my
rhythm to begin with. Probably due to my habit of
clenching the poles tightly when they strike the slo-
pe in alpine skiing. I thought to myself: "Typical,
said you would never even touch Nordic Walking
poles and now you can't even let go of the things!"
But then I managed it and got into the rhythm of
pole strike, heel-to-toe rolling motion and kick. And
in all honesty: I had fun. I really enjoyed this active
weekend. Not only that, I'm now convinced that
Nordic Walking is much more than a leisurely stroll
with two "walking sticks". My arm and back mus-
cles were proof of that and a constant reminder of
these two Walking days. Good for me. After all, I've
done something for my body. Recharged the batte-
ries instead of burnt them out.
And the end to this story?
Mum got the Mother's Day present she wanted.
I had to alter my stance on a few things. And we
both had a fantastic mother and daughter weekend
and now have something new in common: looking
forward to our weekly Nordic Walking tour!
NORDIC WALKING-TECHNIQUE
1
1
2
2
3
3
4
4
5
5
6
7
We recommend the following exercise to warm up joints and muscles:
Squats
Lean on poles at the same time. Repeat 5 to 15 times.
W A R M - U P ­ E X E R C I S E
1.Stretch until you feel a slight tension in the muscle.
2. Hold this position for 10 seconds. Relax slightly.
3. Stretch for a further 20 seconds and then relax again.
T
Tw
wo
o e
ex
xa
am
mp
plle
ess o
off ssttrre
ettc
ch
hiin
ng
g e
ex
xe
errc
ciisse
ess::
S T R E T C H I N G ­ E X E R C I S E S
Stretching hip flexing muscles
N O R D I C W A L K I N G
FISCHER nordic world sports magazine
www.fischer-ski.com
6
7