Cannondale Bicycle Corp. SB 2003 02 Page 1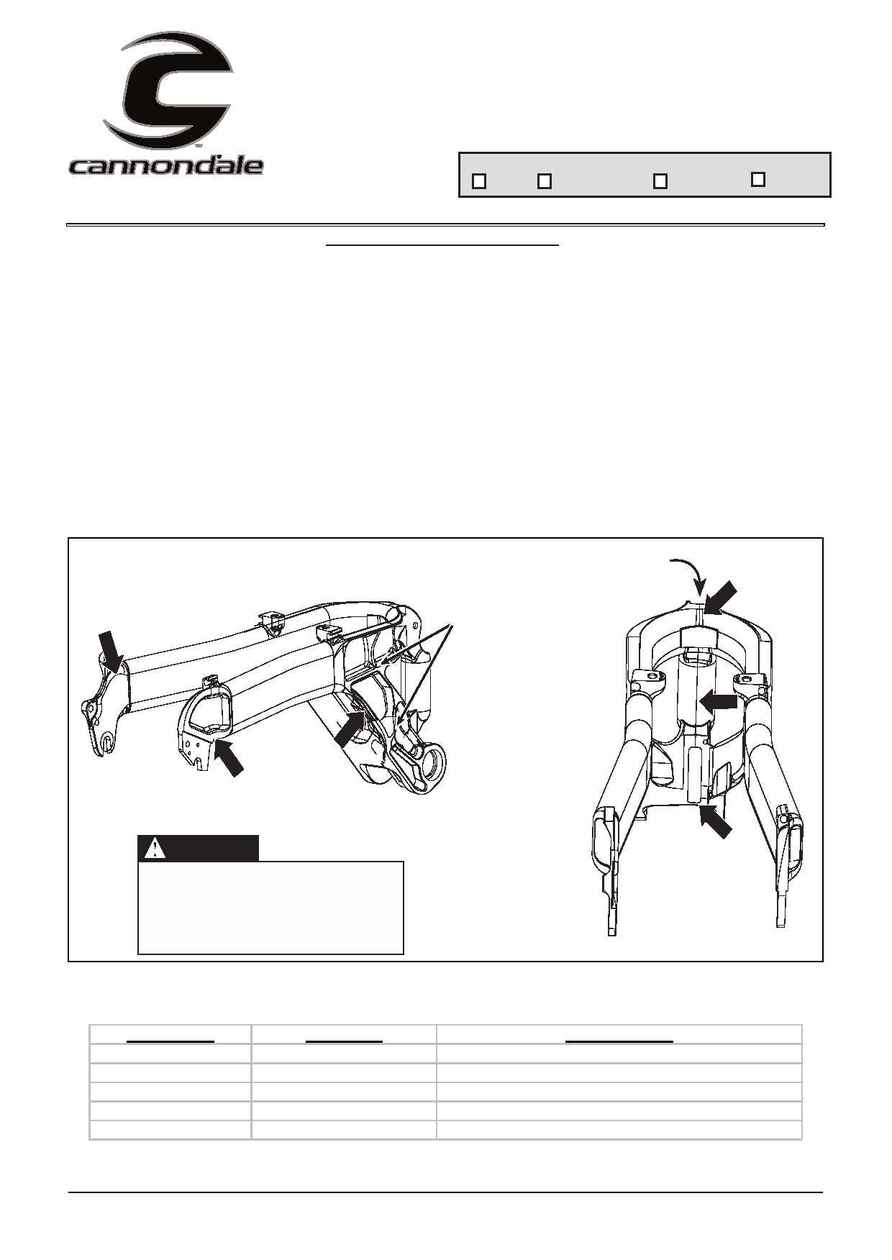 Service Bulletin
FILE SERVICE MGR. MECHANIC SALES
Copies of this bulletin to:
Questions, call: USA : 1-800-BIKE-USA, Europe B.V. : Tel: +31 541 573 580
No. SB2003-02.fm
© 2003 Cannondale Bicycle Corporation - All Rights Reserved
SB2003-02.fm
BONDED ALUMINUM SWINGARM INSPECTION
This is an important service bulletin affecting any Cannondale bicycle with a bonded aluminum swingarm.
See Fig. 1-1. This is not a recall. This type of swingarm was used on various model bikes in 1999 thru 2001.
Bonded aluminum swingarms can easily identified by the "egg crate" or "webbed" appearance of the cast front part
of the swingarm.
We are asking that anytime a Cannondale bike with a bonded aluminum swingarm comes into your shop for
service that you inspect it carefully for cracks. Cannondale has seen cases where these swingarms have cracked
at the areas indicated with arrows in the illustration. When inspecting any bicycle that is in for service, thoroughly
clean the swingarm and carefully inspect the ENTIRE swingarm for any crack. Be sure to inspect under bright
lighting.
Bonded aluminum swingarms were used on the following Cannondale bicycles, framesets, and warranty
swingarms:
Fig. 1-1. Identification
REAR VIEW
RIGHT SIDE VIEW
Riding with a cracked swingarm
could lead to complete failure with
risk of serious injury, paralysis or death.
WARNING
Model Year(s)
Model Nam e
Model Num ber(s)
600, 700, 700SX, 900SL, 1000SL
400, 500, 500 POLICE, 600, 700, 700SX, 800, 1000SL
Cannondale Service/Technical Bulletins at:
http://www.cannondale.com/bikes/tech/