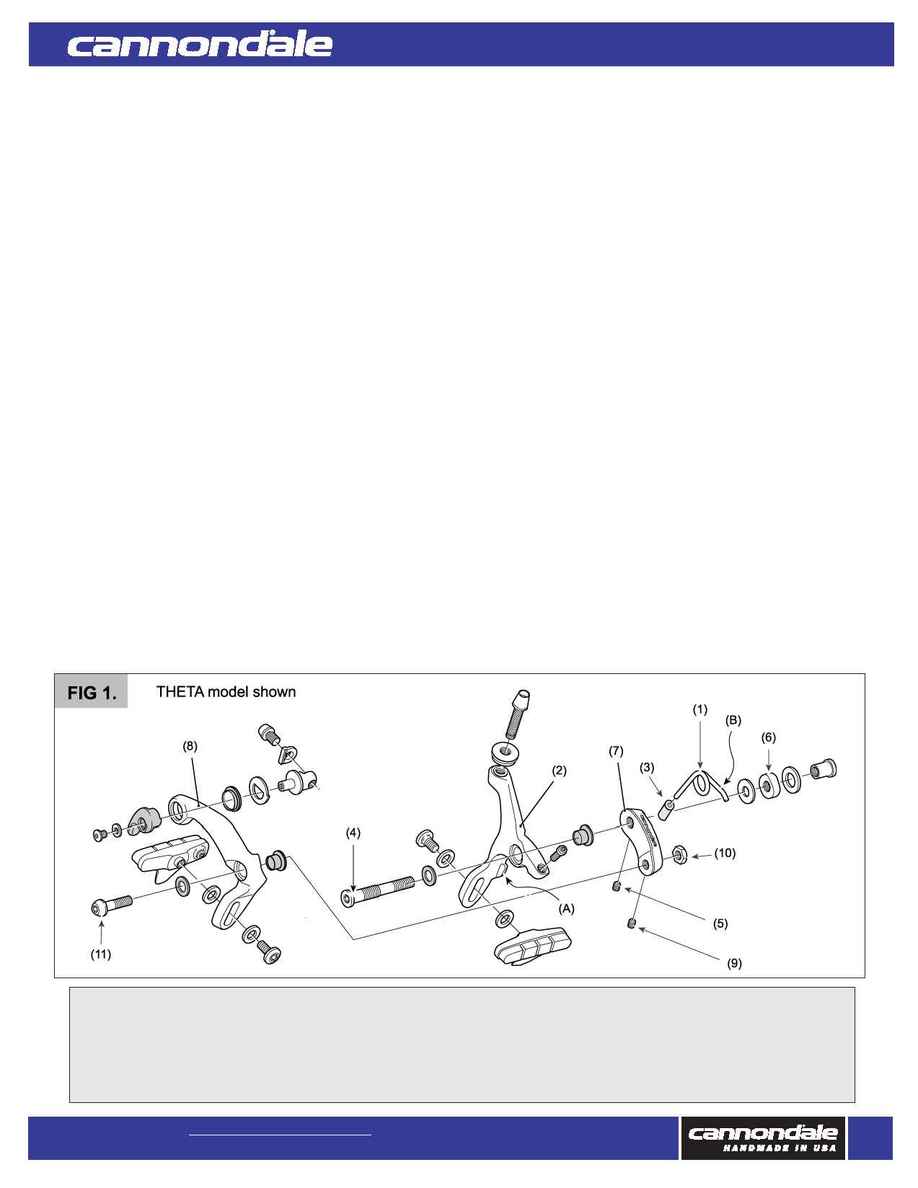 PIVOT ARM ADJUSTMENT
The adjustment steps which follow apply to front and rear road
brake caliper assemblies. The procedure can maximize the
spring response and lever feel by adjusting the pivot bolt
tightness for best pivot action. Before starting, be sure that the
problem is not in another area of the brake system (lever or
cable routing) and that all parts of brake system and caliper are
setup properly and work properly.
Please consult Fig 1. (THETA model shown) for the steps that
follow. Figure 1 is for reference to parts only.
1. Remove the caliper assembly from the bicycle.
2. Lift the return spring (1) end off the Y-arm (2) with a flat-
bladed screwdriver. Be careful not to scratch the caliper. Do
not lose the small spring guide (3) on the spring. Check the
condition of the spring guide and guide seat (A) on the Y-arm.
If the guide is worn out or missing, the spring leg will rub the
arm causing drag.
4. The Y-arm should pivot easily on the center pivot bolt (4)
but with no play. If play is present or it is too tight, loosen the
2 mm set screw (5). Then loosen, but do not remove the
center pivot nut (6).
6. Now, tighten or loosen the center pivot bolt (4) until the
Y-arm moves freely without play. When done, tighten the set
screw (5), but do not over tighten it.
7. Make sure the spring end (B) is seated in the center arm (7)
groove correctly and tighten the center pivot nut (6).
8. Now, to set the left arm (8), loosen the set screw (9) and
remove the left arm pivot nut (10).
9. Tighten or loosen the pivot bolt (11) until the left arm (8)
moves freely but without play. When completed, tighten the
set screw (9); reinstall and tighten the pivot nut (10).
10. Replace the spring guide (3) on the spring arm and reset
the spring. Make sure the guide rests and is centered on the
Y- arm seat (A).
11. Squeeze the caliper arms ends together to confirm the
spring action.
12. Remount and reset the caliper on the bike. Test the
brakes before riding.
ATTENTION:
Please read the important warning on page 2.
Cannondale Road Brake Arm Pivot Adjustment
(For Theta, Omega, Delta models)
Publication Title:
Publication No.
115898.PDF
This document online at: http://www.cannondale.com/bikes/tech/
© 2003 Cannondale Bicycle Corporation - All Rights Reserved
Contact Us:
Cannondale Bicycle Corporation
172 Friendship Road
Bedford, Pennsylvania 15522
(Voice): 1-800-BIKEUSA
(Fax): 814-623-6173
custserv@cannondale.com
Cannondale Australia
Unit 6, 4 Prosperity Parade
Warriewood N.S.W 2102
Australia
Phone(02)9979 5851
Fax(02)9979 5688
cannondaleaustralia@cannondale.com
Cannondale Japan
12-5 Harayamadai
5-cho Sakai City
Osaka, Japan 590-0132
(Voice): 011.81.722.99.9399
(Fax): 0722-93-6166
cjcustserv@cannondale.com
Cannondale Europe
mail: Postbus 5100
visits: Hanzepoort 27
7570 GC Oldenzaal
Netherlands
(Voice): +31 541 573580
(Fax): 31-5415-14240
servicedeskeurope@cannondale.com
Technical Bulletin