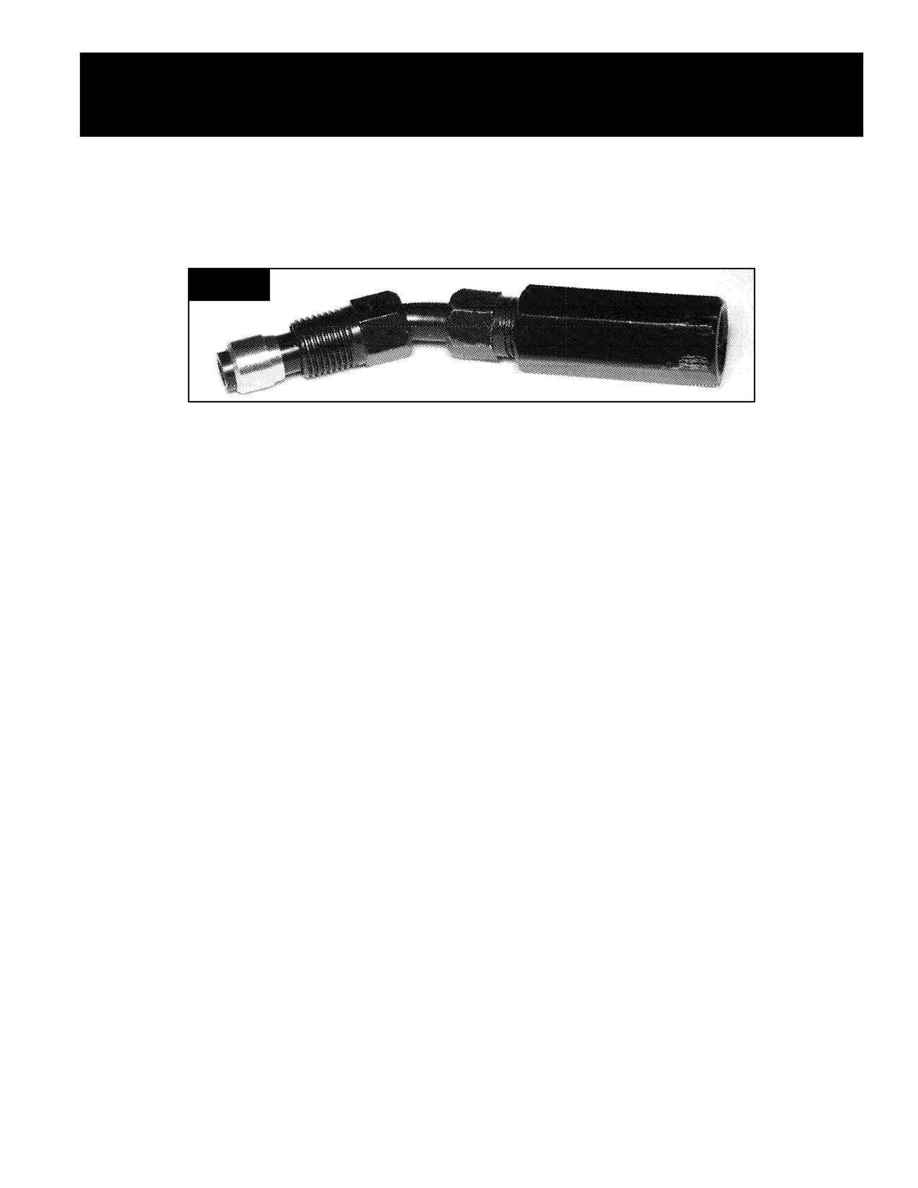 As part of Cannondale's constant product improvement, we have added the option of long-wearing sintered metal disc
brake pads to the CODA Expert Disc Brake system. These pads are designed for foul weather use in wet, muddy, snowy,
or acidic soil conditions where brake pad wear is extremely accelerated. Additionally, this kit contains one tubing
connection standoff as pictured below in Fig. 1. This standoff is a black metal tubing connector that is fit between the
brake line and the caliper.
WARNING:
WARNING:
The sintered metal brake pads must only be used in conjunction with the
tubing connection standoff! The sintered metal pads produce more heat than the all-
condition "blue" pads, and if the standoff is not used, the brake system could
overheat, resulting in brake system failure or loss of braking control which could
cause serious injury or death.
CAUTION:
CAUTION:
Be aware that the increased durability of the optional sintered metal pads
will also increase the wear on CODA disc brake rotors. As outlined in the CODA
Expert Disc Brake Owner's Manual, the rotors are 1.98 mm (.078") thick when new,
and should be replaced when they are 1.73 mm (.068') or thinner due to wear.
CAUTION:
CAUTION:
The sintered metal brake pads should not be used for downhill riding or
for long descents in which the brake will be constantly applied. Such dragging of the
brakes will produce enough extra heat to expand the brake fluid and cause "Pump",
a feeling that the brake lever engages the pads to the rotor earlier in the lever travel.
In extreme cases, the brakes may pump up enough to drag on the disc without any
pulling of the brake lever.
If you are not riding in wet, muddy, snowy, or acidic conditions, you should not use these brake pads and should instead
use the all-condition "blue" pads available as kit QBDPAD/BLU. The "blue" disc brake pads can be used with or without
the tubing connection standoff.
STANDOFF INSTALLATION
WARNING:
WARNING:
Brake systems are very important to the safety of any bicycle and
Cannondale strongly recommends that any work to them be performed by an
authorized Cannondale dealer or the Cannondale Factory Tech Room. The following
instructions are provided for persons who have a good knowledge of bicycle specific
mechanical procedures and who are equipped with the proper tools and equipment.
Incorrect installation or service may reduce braking performance, and could lead to
injury or death. If you have any doubts about your ability to perform the following
procedures, contact your local authorized Cannondale dealer.
CODA
«
SINTERED METAL DISC BRAKE PADS AND STANDOFF
Kit # QC140/
Fig.1
Fig.1