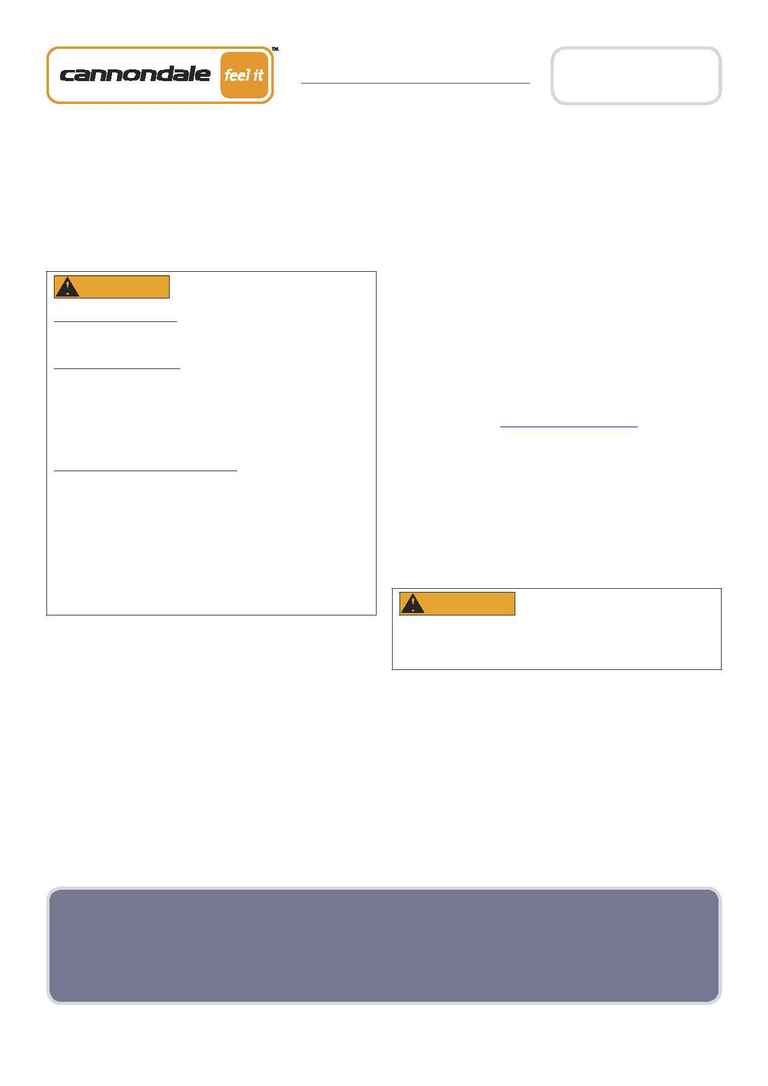 CANNONDALE USA (CUSA)
Cannondale Bicycle Corporation
Bedford, Pennsylvania 15522
URL: http//www.cannondale.com
CANNONDALE AUSTRALIA (CA)
Unit 6, 4 Prosperity Parade
cannondaleaustralia@cannondale.com
CANNONDALE JAPAN (CJ)
(Voice): 011.81.722.99.9399
cjcustserv@cannondale.com
CANNONDALE EUROPE (CE)
servicedeskeurope@cannondale.com
All information and specifications are subject to change for product improvement without notice.
© 2005 Cannondale Bicycle Corporation - All Rights Reserved
www.cannondale.com/bikes/tech
118630.PDF
Owner's Manual Supplement
INTENDED USE
The following warning information applies to both Cannondale
Track bikes and Cannondale Track framesets:
WARNING
POTENTIAL HAZARD
Serious or fatal injury from a crash or being hit by a motor
WHAT CAN HAPPEN
This is a track bicycle or frameset. It is not equipped with
reflectors, brakes, or a secondary retention device for the front
wheel. It has a fixed gear. These characteristics are specifically
designed for use exclusively on a track or velodrome, where
they are necessary and/or desirable. These characteristics add
significantly to the risk of riding on public roads.
HOW TO AVOID THE HAZARD
This is a track bicycle or frameset and must not be ridden on a
public road. You can minimize the risk of riding this track bike
by not riding it on public roads. The hazards of bicycle riding
cannot be completely avoided. They can be minimized with
training, good judgement, experience and use of a helmet.
Regardless of your current ability, there will be a learning
curve associated with riding your track bike. Reading and
understanding this supplement, the Cannondale Owner's
Manual, and all warning labels are essential and will help you
begin the learning process.
U.S. CONSUMER PRODUCT SAFETY COMMISSION
COMPLIANCE
Bicycles sold in the U.S. are required to meet 16 CFR part 1512 -
Requirements for bicycles. In the scope of these regulations Track
bicycles are specifically exempt from the regulations. Cannondale
has built, and you have purchased, a true competition-ready track
bicycle or frameset. The reason that track bicycles are exempt is
because they are built solely for use on the track. Please read and
comply with the warning above.
SOME TRACK BIKE SPECIFIC RIDING CHARACTERISTICS
Note that track bicycles have steep head tube angles and short
wheelbases. This frame geometry and these characteristics make
for a nimble, responsive racing machine. These same characteristics
make a track bicycle demanding to ride. This geometry, combined
with the inability to coast or backpedal while turning, will create
so-called "toe clip overlap" in some frame sizes, so please read
Section A. of the Cannondale Bicycle Owner's Manual. Spend time
and progressively learn the handling and feel of your new track
bicycle in training and practice sessions before you attempt to
race. Cannondale urges you to get involved with the USA Cycling
coaches, racers and officials at your local track.
USA Cycling and local tracks run training clinics and can assist you
with learning to ride on the track and to maintain, service, and
www.usacycling.org/track/
MECHANICAL ADJUSTMENTS
This section makes no attempt to be a comprehensive manual on
bicycle mechanics. If you are not an experienced mechanic we urge
you to bring your bicycle to an authorized Cannondale retailer
where a professional mechanic can do the job right. In addition
to putting yourself at risk, poorly done mechanical work may void
your warranty. This section covers design features unique to track
bikes, and is intended primarily for the Authorized Cannondale
Retailer performing the assembly and adjustments.
WARNING
ALL CANNONDALE BICYCLES MUST BE FULLY ASSEMBLED AND
ADJUSTED BY AN AUTHORIZED CANNONDALE RETAILER BEFORE
DELIVERY TO THE CUSTOMER.
Your Cannondale dealer should have correctly performed all
adjustments before the sale of the bicycle. If you feel that your
bicycle is out of adjustment, please take the bicycle to your
authorized Cannondale Retailer.