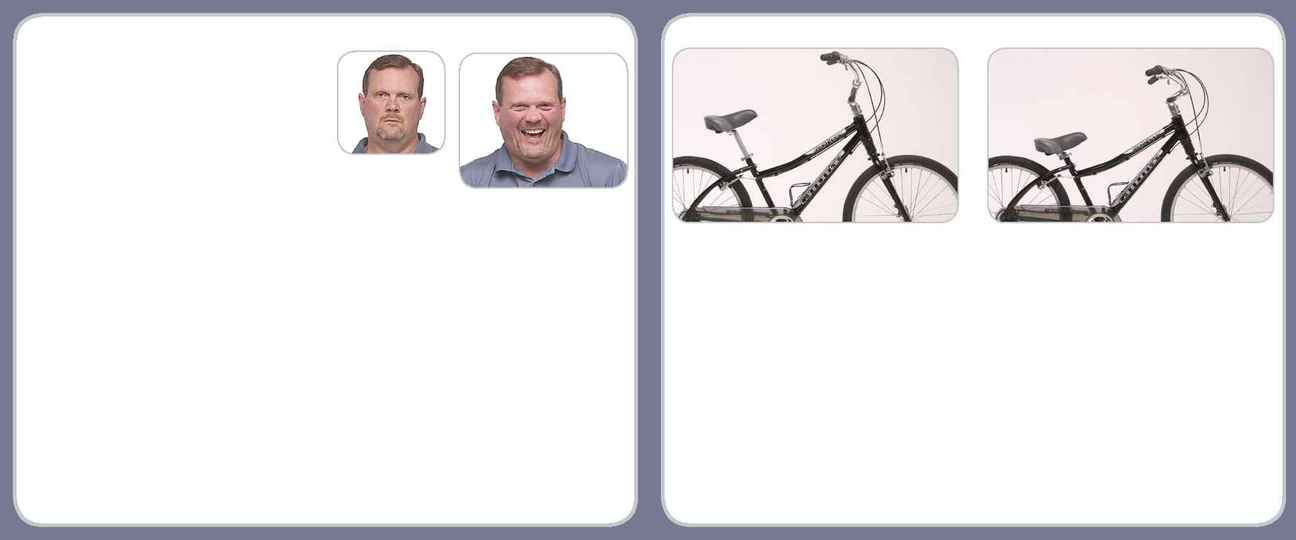 This guide is intended to make every DaytripperTM pedal
stroke the best it can be. It includes helpful hints on bike
fit, proper riding procedures and even attempts to prepare
you for the unprecedented levels of enjoyment you are likely
to feel while riding a Daytripper.TM And no, we won't blame
you if you drop the guide halfway through and demand that
your Cannondale dealer send you out for a test ride. It's just
One Size Fits All!
The single-size DaytripperTM was designed to fit a broad
range of men and women. Its low top tube makes getting
on and off easy, even for those of us who aren't so tall.
Daytripper's handlebars, stem, and seat have a wide range
of adjustment. See "Daytripper Features and Set-Up" later
in this guide for an illustration of the Daytripper's size
When to Ride Your Daytripper.TM
Not surprisingly, anytime is a great time to ride your
DaytripperTM! Ok, you may want to call off a DaytripperTM
outing if it's snowing, hailing, or otherwise unsuitable for
being outside. There are, however, some really good times
for getting out on your DaytripperTM:

Vacations
Quick trips around the corner
Riding with the family
When your boss turns his/her back
That morning coffee and bagel fix
WITHOUT
DaytripperTM
Where to Ride Your Daytripper.TM
We realize that finding a place to ride isn't so easy these
days. Our streets are busy, the pavement's in disrepair,
motorists aren't always understanding. Don't give up!
We suggest the following as potential spots for riding your
DaytripperTM:

Parks
Rails-to-trails
Quiet, residential neighborhoods
Sidewalks (watch out for pedestrians!)
Bicycle lanes
Boardwalks
Beach strands
For a quick fix, your driveway
(or your neighbor's if it's bigger)
What to Expect.
Welcome to Cannondale's
Daytripper.TM
DaytripperTM Set-Up for
Smaller People.
DaytripperTM Set-Up for
Bigger People.
DaytripperTM Features and Set-Up.
Seat Height.
Bike racers usually like to put their seats up as high as possible.
You've seen them, hunched over the handlebars as they speed
along, and they don't look awfully comfortable, do they?
What's important to note about their position is that it allows
them full leg extension, which maximizes their ability to propel
the bike forward, but with the unfortunate trade-off of not
being able to touch both feet to the ground when stopped. This
may be ok when speed is the top priority, but unacceptable
when comfort, ease-of-use, and just plain fun are the goal. In
short, as you may have guessed, this is not the correct seating
position for a DaytripperTM.
We designed the DaytripperTM around a seating position that
is both efficient and close to the ground, allowing you to ride
comfortably, and to stop with confidence. Finding the right seat
height on your DaytripperTM is simple. We recommend a height
that allows you to touch both feet to the ground when you're
stopped, and gives you moderate leg extension while riding.
Most importantly, set the seat at a height that feels good to you!
The Handlebar and Stem Adjust Too!
Much of the Daytripper's ability to fit a wide range of body types
is due to the highly adjustable stem and handlebar. The pictures
above illustrate how the seat, handlebar, and stem adjust
together to grow or shrink a DaytripperTM in order to meet its
rider's needs. We suggest working with your Cannondale dealer
to find the set-up that suits you best, but we'll give you a hint: set
the handlebar grip height no more than 16" above the top of the
seat. Raise the handlebar any further and you'll start having to
reach up to grab it, adding stress to your arms and shoulders and
making you look a lot like Peter Fonda in "Easy Rider". Something
less than 16" will put you in a comfortable, upright seating
position that's easy on your back, neck, arms, and buttocks...and
you can still wear a helmet emblazoned with the stars and stripes,
WITH
DaytripperTM