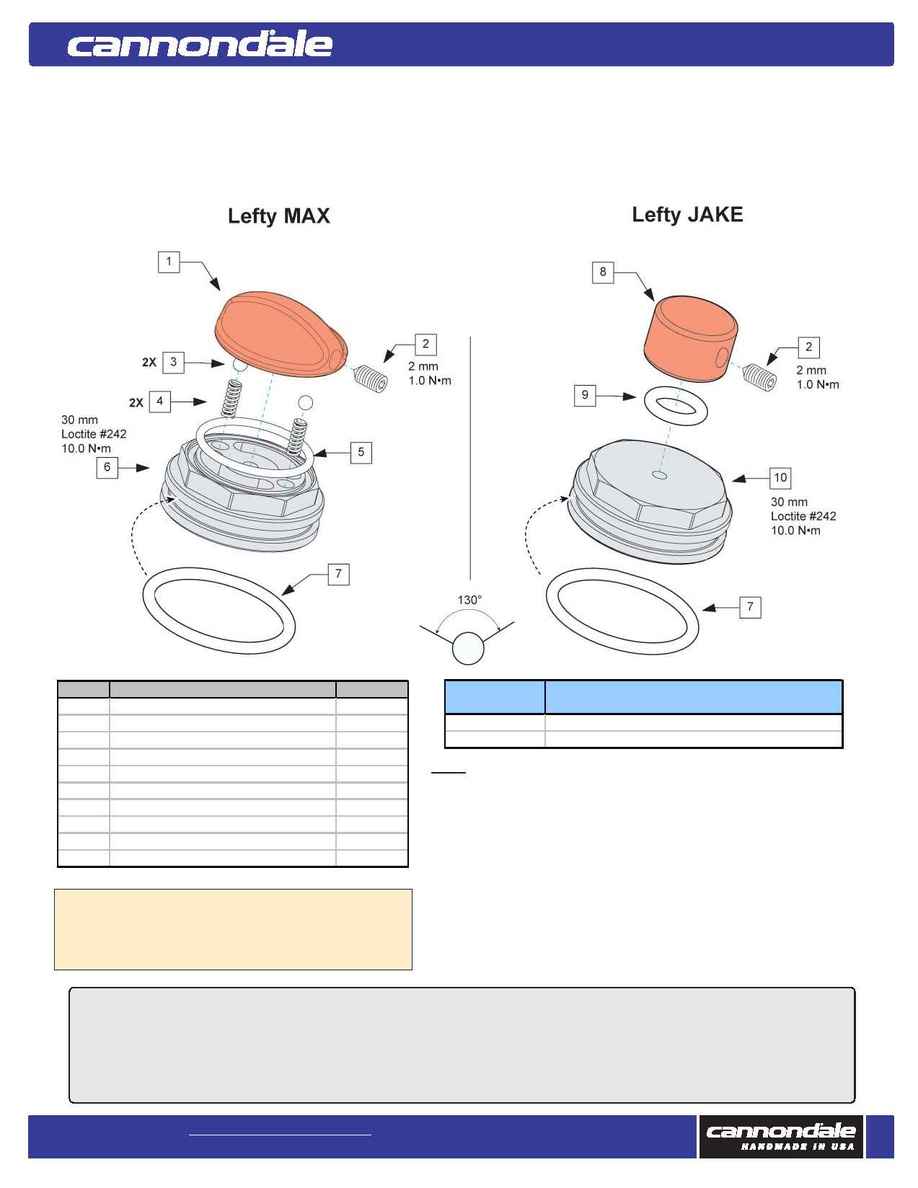 Headshok
®
Lefty MAX & JAKE
Rebound Knob Parts
Publication Title:
Publication No.
116052.PDF
This document online at: http://www.cannondale.com/bikes/tech/
© 2003 Cannondale Bicycle Corporation - All Rights Reserved
Contact Us:
Cannondale Bicycle Corporation
172 Friendship Road
Bedford, Pennsylvania 15522
(Voice): 1-800-BIKEUSA
(Fax): 814-623-6173
custserv@cannondale.com
Cannondale Australia
Unit 6, 4 Prosperity Parade
Warriewood N.S.W 2102
Australia
Phone(02)9979 5851
Fax(02)9979 5688
cannondaleaustralia@cannondale.com
Cannondale Japan
12-5 Harayamadai
5-cho Sakai City
Osaka, Japan 590-0132
(Voice): 011.81.722.99.9399
(Fax): 0722-93-6166
cjcustserv@cannondale.com
Cannondale Europe
mail: Postbus 5100
visits: Hanzepoort 27
7570 GC Oldenzaal
Netherlands
(Voice): +31 541 573580
(Fax): 31-5415-14240
servicedeskeurope@cannondale.com
Tech Note
ENGLISH
No.
Description
ID
Notes:
When removing MAX knob assembly, loosen set screw and lift off knob carefully.
Then, lift out the two balls (3) and spring (4) in the outer cap (6).
When reinstalling a MAX knob, apply a light oil to items 3,4,5, and 9.
Apply film of grease to item 7 for reassembly.
When reinstalling both knob types, lightly press and hold the knob down when
tightening set screw; this will slightly compress the O-ring seal.
To upgrade a Lefty JAKE fork to the MAX style rebound adjuster, order
Cannondale kit QC673/ .
Cannondale
Kit #
Includes (qty)
QC673/
1, 2, 3(2), 4(4), 5, 6, and 7
QC674/
CAUTION: Do not force knobs past stopping points. Knob
turning range is 130° stop to stop.
Do not power wash Lefty forks! Water and dirt will be forced
into this assembly as well as other fork parts.