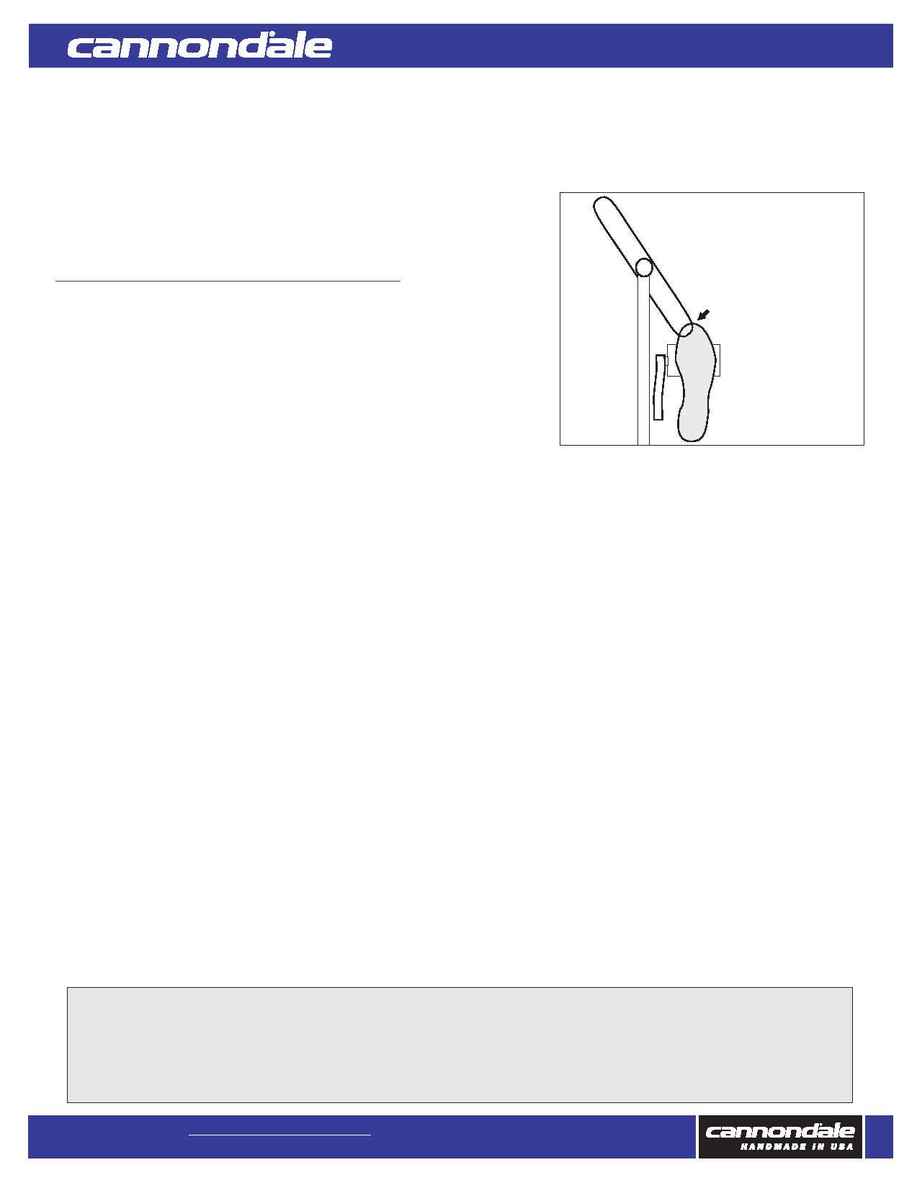 Toe Clip Overlap
115971.PDF
Tech Note
ENGLISH
WHAT IS "TOE CLIP OVERLAP"?
Toe clip overlap, or toe overlap is a condition where the toe of the riders shoe
overlaps with the front tire or wheel. See figure at right. Also, see Section F of the
Cannondale Bicycle Owner's Manual.
http://www.cannondale.com/bikes/tech/pdfs/2002_OM.pdf
WHEN CAN THIS HAPPEN?
Only when the front wheel is turned quite sharply and the rider has one of his feet
positioned forward. The steering angles that can result in overlap only occur at
very low speeds, about a walking pace. At any higher speed, such steering angles
would cause the rider to veer off course and/or crash.
WHAT CANNONDALE BIKES HAVE OVERLAP?
We cannot give you a comprehensive list because several factors, even on bikes
with 100% standard equipment, can affect clearance. Make certain changes to the components and you may create overlap on a bike
that did not have it, or eliminate overlap on a bike that had it.
We can tell you that small road bikes usually have overlap.
New bicycle orientation done by a professional retailer should cover this issue. It is part of fitting a customer to a bicycle. Shorter
customers have special fitting needs, and this is one of them. Insist on help.
DOES YOUR BIKE HAVE IT?
Work with your retailer to evaluate the bike you are considering buying or own today. Be sure you are wearing the biggest shoes you
will ride in. Be sure the cleats on your shoes are adjusted to fit you. Be sure the bike is set up as you will ride it with your choice of
pedals and tires, and if used, toe clips, toe straps, and fenders.
In a doorway or otherwise supported get on the bike. Rotate a crank arm forward so that your shoe and pedal are at the 3 o'clock
position. Now turn the handlebars to move the tire towards your shoe and look at the area where the tire or fender come closest to, or
hit your shoe. Move your forward foot slightly up and down as you turn the handlebars. Do the same exercise with your other foot.
If your shoe (or toe clip) hits the tire or fender, you have overlap.
IS OVERLAP A PROBLEM?
No. Overlap is a characteristic. It is one of many characteristics that you need to be aware of as you ride. It is a result of many design
choices made to properly fit a rider to a frame, and to make a frame suitable for certain performance goals. By following one common,
simple practice toe clip overlap will not affect you.
WHAT IS THAT PRACTICE?
You can certainly keep pedaling as you make the small steering corrections that are normal once you are up to speed. Next time you
are out road riding, glance down at your stem and see how very little the wheel is turned as you steer.
When riding slowly, and as you anticipate sharp turns at moderate or slow speeds, always rotate your inside foot up to the 12 o'clock
position as you prepare to turn. This is good practice, as in addition to preventing overlap, you will prevent the inside pedal from
striking the ground as you lean into the corner, and allow you to place weight on the outside pedal which is down in the 6 o'clock
position.
WHEEL
TURNED
SHARPLY
TOE CLIP
OVERLAP
PEDAL
FORWARD
Contact Us:
Cannondale Bicycle Corporation
172 Friendship Road
Bedford, Pennsylvania 15522
(Voice): 1-800-BIKEUSA
(Fax): 814-623-6173
custserv@cannondale.com
Cannondale Australia
Unit 6, 4 Prosperity Parade
Warriewood N.S.W 2102
Australia
Phone(02)9979 5851
Fax(02)9979 5688
cannondaleaustralia@cannondale.com
Cannondale Japan
12-5 Harayamadai
5-cho Sakai City
Osaka, Japan 590-0132
(Voice): 011.81.722.99.9399
(Fax): 0722-93-6166
cjcustserv@cannondale.com
Cannondale Europe
mail: Postbus 5100
visits: Hanzepoort 27
7570 GC Oldenzaal
Netherlands
(Voice): +31 541 573580
(Fax): 31-5415-14240
servicedeskeurope@cannondale.com
This document online at: http://www.cannondale.com/bikes/tech/
© 2003 Cannondale Bicycle Corporation - All Rights Reserved
Publication Title:
Publication No.