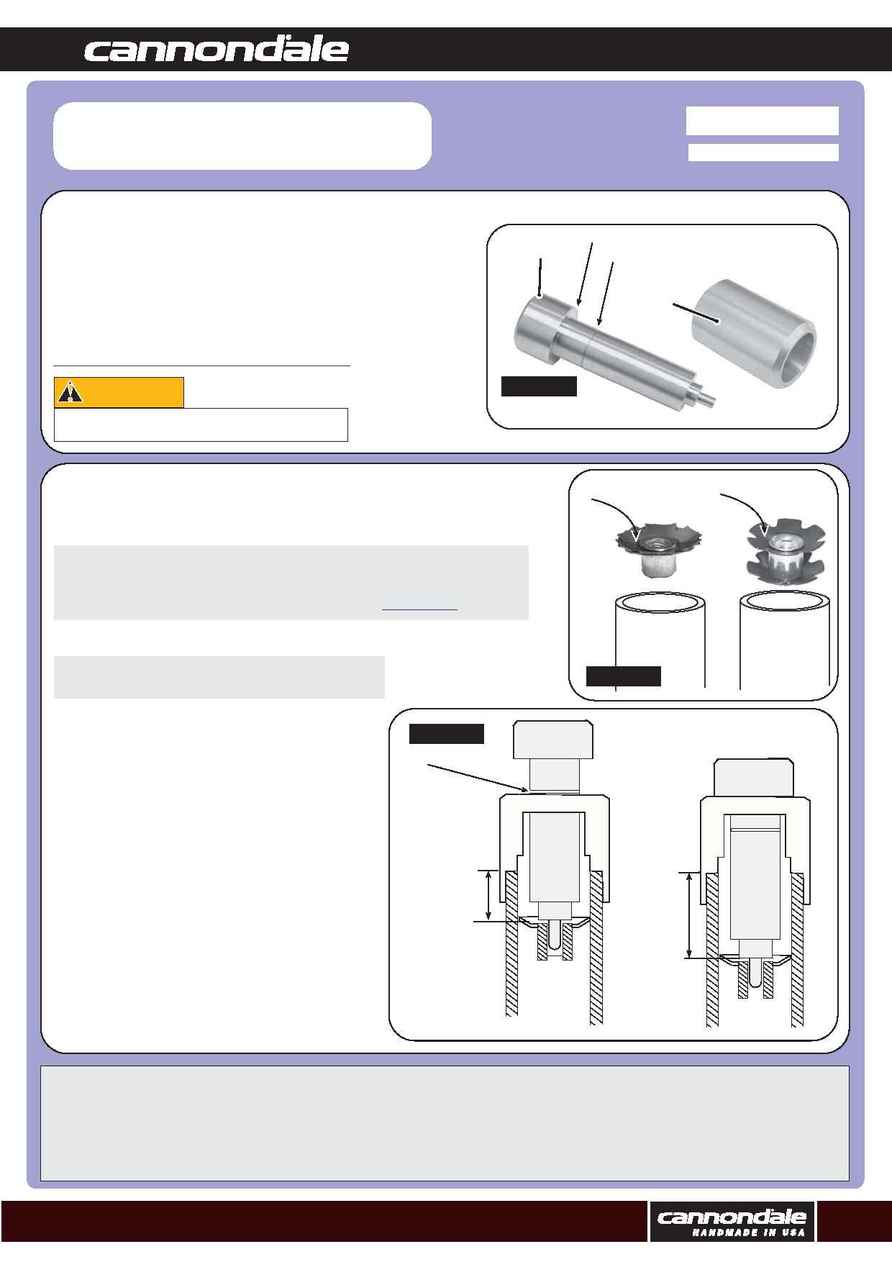 Publication Title:
Publication No.
112214.PDF
Cannondale Kit #KT014/ -
Star Nut Installation Tool
Product Instructions
About the Tool
The Star Nut Installation Tool, KT014/ can be used with any 1 1/8" out-
side diameter steerer tube to drive a single-flange or double flange star
nut. Star nuts can be set to a 25mm or 40mm depth inside the steerer
tube.
The tool consists of two parts : a driver (1) and a collar (2). See Fig 1.
To order this tool, call 1-800-BIKE-USA.
See our website for a complete list of Cannondale service tools :
http://www.cannondale.com/bikes/tech/kitlist.html.
Contact Us:
Cannondale Bicycle Corporation
172 Friendship Road
Bedford, Pennsylvania 15522
(Voice): 1-800-BIKEUSA
(Fax): 814-623-6173
custserv@cannondale.com
Cannondale Australia
Unit 2/6 Taronga Place
Mona Vale, N.S.W. 2103
Australia
(Voice): 011.612.9979.5851
(Fax): 61-29979-5688.
cannondaleaustralia@cannondale.com
Cannondale Japan
12-5 Harayamadai
5-cho Sakai City
Osaka, Japan 590-0132
(Voice): 011.81.722.99.9399
(Fax): 0722-93-6166
cjcustserv@cannondale.com
Cannondale Europe
mail: Postbus 5100
visits: Hanzepoort 27
7570 GC Oldenzaal
Netherlands
(Voice): +31 541 573580
(Fax): 31-5415-14240
servicedeskeurope@cannondale.com
How to Use The Tool
Before using the tool, you must make sure the fork steerer tube has been cut to the
correct length for the headset assembly being used. And, you must find out the cor-
rect star nut to use for the fork and the correct depth it must be driven.
1. Start by placing the fork into a fork vice or bench mounted quick release mount.
2. Place the star nut into the fork tube with the concave
side(s) (B) facing up. See Fig. 2.
3. Slide the large opening of the collar over the steerer
tube and star nut. The outer ridge of the collar is seat-
ed on the top of the steerer tube. See Fig. 3.
3. Slide the driver into the top of the collar slowly so
that the driver pin locates in the threaded hole of the
star nut.
4. Hold the collar and fork and carefully drive the star
nut to the specified depth by tapping the driver with a
hammer. See Fig. 3.
For 25mm depth, stop driving when the groove (a) on
the driver shaft meet the top of the collar.
For 40mm depth, drive until the driver head contacts
the top of the collar.
5. Remove the driver and collar from the steerer tube.
CAUTION : Do not drive the nut by placing the fork
on the floor, you can damage the dropouts.
CAUTION : Using the wrong star nut for the fork or driving it in backwards or
to an incorrect depth can severely damage the fork. Always consult the
fork/headset manufacturer's instructions. For information on Cannondale
System Integration
SINGLE
DOUBLE
F
Fiigg.. 22
40 mm
25 mm
F
Fiigg.. 33
F
Fiigg.. 11
WARNING:
Wear safety glasses when using the tool.