Cannondale Bicycle Corp. 06003 A SRM Page 1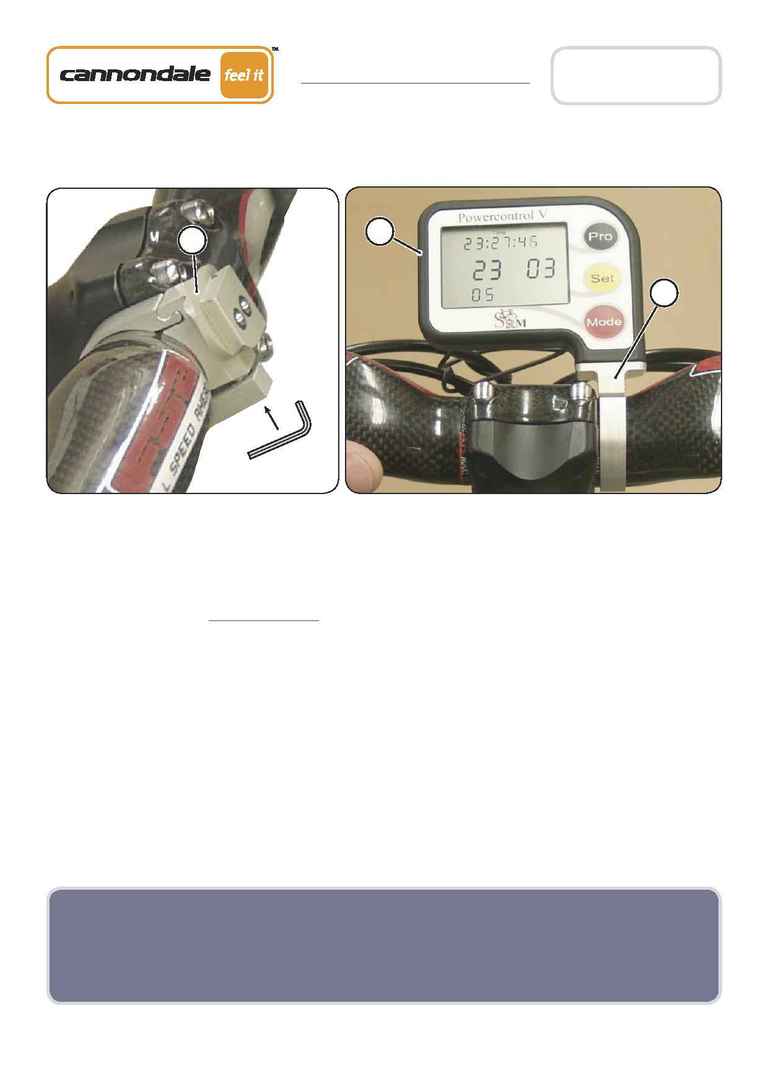 CANNONDALE USA (CUSA)
Cannondale Bicycle Corporation
Bedford, Pennsylvania 15522
URL: http//www.cannondale.com
CANNONDALE AUSTRALIA (CA)
Unit 6, 4 Prosperity Parade
cannondaleaustralia@cannondale.com
CANNONDALE JAPAN (CJ)
(Voice): 011.81.722.99.9399
cjcustserv@cannondale.com
CANNONDALE EUROPE (CE)
servicedeskeurope@cannondale.com
www.cannondale.com/bikes/tech
06003A.PDF
computer & sensor mounting instructions
All information and specifications are subject to change for product improvement without notice.
© 2005 Cannondale Bicycle Corporation - All Rights Reserved
technical & operation support
This supplement includes computer & sensor mounting
information only. For technical and support information
on using the SRM system, please consult the SRM owner's
manual which is included on "SRM Training System" titled
software CD in system packaging.
SRM manuals also available :
SRM Service Center Inc. USA
Colorado Springs, CO 80919
SRM Main Office Germany
installing the handlebar mount (1)
The mount included with the SRM kit only fit 31.8 mm
handlebars (FSA K-Force shown) Tighten to 2.25N·m
(torque. Do not modify the clamp or handlebar in any way.
Clamp systems for other handlebars are available through
When the computer is mounted, do not attempt to shift
the position while the clamp is tightened. Only move
the computer position when the clamp bolt is loosened
completely.
If you have a crash, be sure to inspect the handlebar under
the clamp carefully for damage. Cuts, scratches, gouges
or other damage can resulting in serious damage to the
The SRM Powercontrol V is compatible with non-coded
chest transmitter bands. See the "SRM Training System"
manual for more information.
4mm
2.25 N·m 20 In·lbs