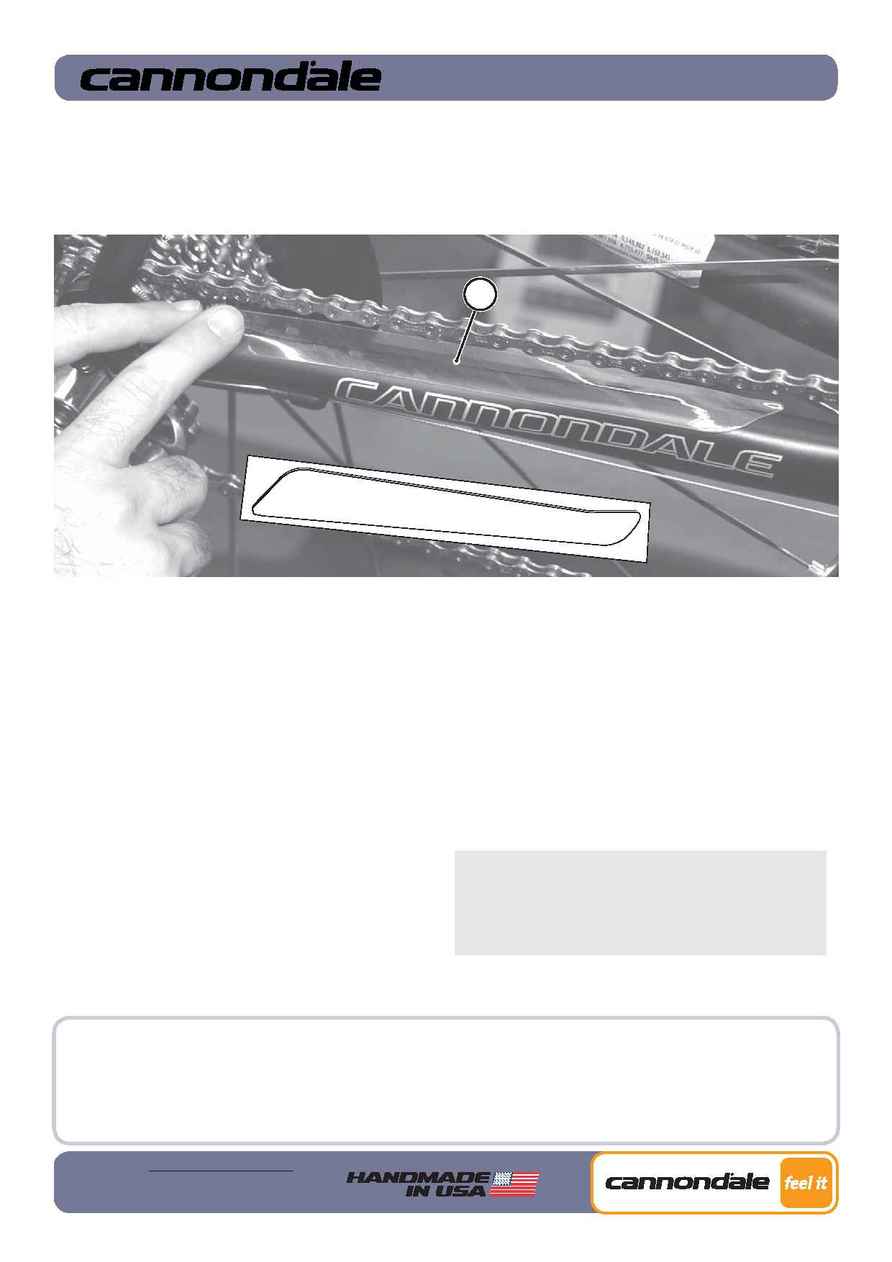 CANNONDALE USA (CUSA)
Cannondale Bicycle Corporation
Bedford, Pennsylvania 15522
custserv@cannondale.com
URL: http//www.cannondale.com
CANNONDALE AUSTRALIA (CA)
Unit 6, 4 Prosperity Parade
cannondaleaustralia@cannondale.com
CANNONDALE JAPAN (CJ)
(Voice): 011.81.722.99.9399
cjcustserv@cannondale.com
CANNONDALE EUROPE (CE)
servicedeskeurope@cannondale.com
This document online at: http://www.cannondale.com/bikes/tech/
All information and specifi cations are subject to change for product
improvement without notice.
© 2004 Cannondale Bicycle Corporation - All Rights Reserved
Publication Title
Publication No.
Road Bikes
Chainstay Protector
05031A.PDF
WHAT DOES IT DO?
The chainstay protector (1) provides limited protection against frame
or fi nish damage caused by "chain slap" - a moving chain striking or
rubbing the chainstay. [117015 - CHAINSTAY PROTECTOR,CLEAR]
Damage caused by chain slap is not covered by warranty, so the
polyester protector is a good protection.
The adhesive backed protector is removable and replacements are
available through a Cannondale Dealer.
For the best visual appearance and effectiveness, try to approximate
along the chainstay where the chain is likely to slap against it. Move
the chain into the smallest sprocket to do this then move it back to the
largest sprocket so it is out of the way. On some models, the protector
may cover over graphics. The protector will not damage the graphics if it
is applied and removed properly.
The protector is provided in a standard shape, but it can be trimmed
easily with scissors if necessary.
TO APPLY:
1. Shift chain onto largest front and rear sproacket. Clean the chainstay
with a mild soap and water solution. Dry with a lint-free cloth.
2. Remove the chainstay protector (1) from the backing (2).
3. Hold the protector over the top of the chainstay (large end toward
back as shown above). Align the midline of the protector edge just over
the top centerline of the chainstay and press to affi x.
4. Roll the protector side down evenly over the chainstay. Press fi rmly
on long the entire length to affi x.
TO REMOVE THE PROTECTOR:
1. Carefully, lift the edge of the old protector and peel away slowly!
2. Clean away any remaining adhesive with a clean towel dampened
with mineral spirits.
CAUTION:
Do not use a tool or shapr instruments to remove.
Do not use solvents or other chemicals to clean . Do not use
sharp tools to scrape it off.