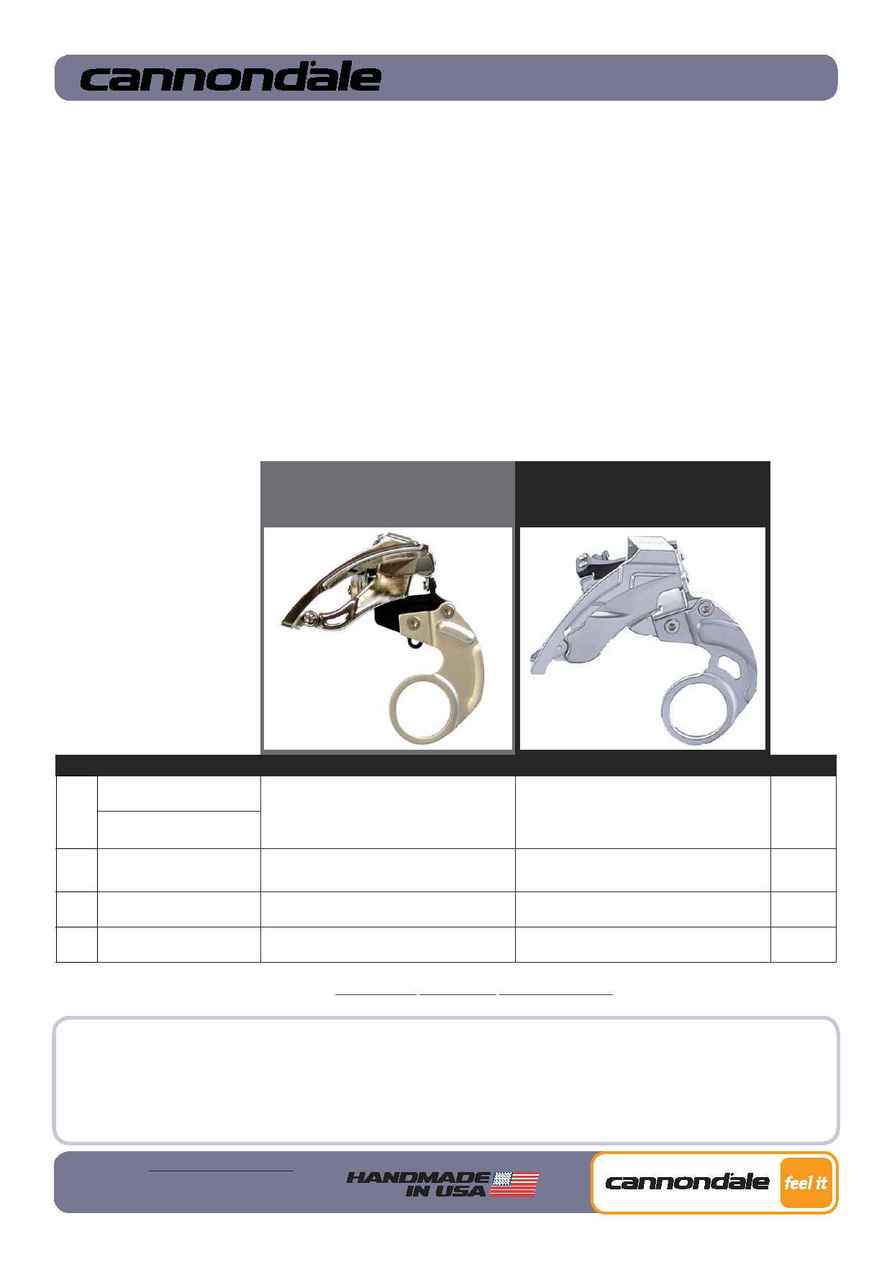 CANNONDALE USA (CUSA)
Cannondale Bicycle Corporation
Bedford, Pennsylvania 15522
custserv@cannondale.com
URL: http//www.cannondale.com
CANNONDALE AUSTRALIA (CA)
Unit 6, 4 Prosperity Parade
cannondaleaustralia@cannondale.com
CANNONDALE JAPAN (CJ)
(Voice): 011.81.722.99.9399
cjcustserv@cannondale.com
CANNONDALE EUROPE (CE)
servicedeskeurope@cannondale.com
This document online at: http://www.cannondale.com/bikes/tech/
All information and specifi cations are subject to change for product
improvement without notice.
© 2004 Cannondale Bicycle Corporation - All Rights Reserved
Publication Title
Publication No.
2005
Prophet
Front Derailleur
05029A
.PDF
2004 Shimano
2005 Shimano
4. Both derailleurs
must be mounted in the
lower plate position.
FD M570-E (Deore LX)
FD M750-E (Deore XT)
FD M580-E (Deore LX)
FD M760-E (Deore XT)
SEE FIGURE FOR BB SET UP
SEE FIGURE FOR BB SET UP
PROPHET
TRUVATIV BLAZE
A
B
600
(5ev6)
800
(5EV8)
TRUVATIV FIREX SL
TRUVATIV STYLO GXP
(w/ Giga X Pipe BB)
C
D
1000
(5EV1)
SHIMANO XT
(w/Hollowtech II BB)
E
F
2000
(5EV2)
FSA K-FORCE
G
H
4000
(5ev4)
* For convenience the PDF links above link directly to actual documents hosted on the manufacturer's website.
You can also access the manuals through the following main pages:
Set Up Information-Due to changes made by Shimano for the 2005 model year.
It is necessary to follow Cannondale's recommended front derailleur setup. Depending on the model and year of your front derailleur
set up will differ.
1. Set the Rear Shock into the FR Position- The FR shock position will mimic the position of the ch
ain as it will be when the bike is
ridden. When in the XC position, the chain may rest to low to catch the shift ramps on the inner and out plate of the front derailleur.
This will not be an issue when the bike is ridden.
Crank and BB Installation - For general installation instructions, required tools, and torque spec's, read the crank manufacturer's
instruction manual. See linked PDF's.
Spacers and O-Ring Placement - Determine the model and year of you front derailleur and use the appropriate arrangement of the
spacers and O-rings per Cannondale recommendation. This set up may vary from the crank manufacturer