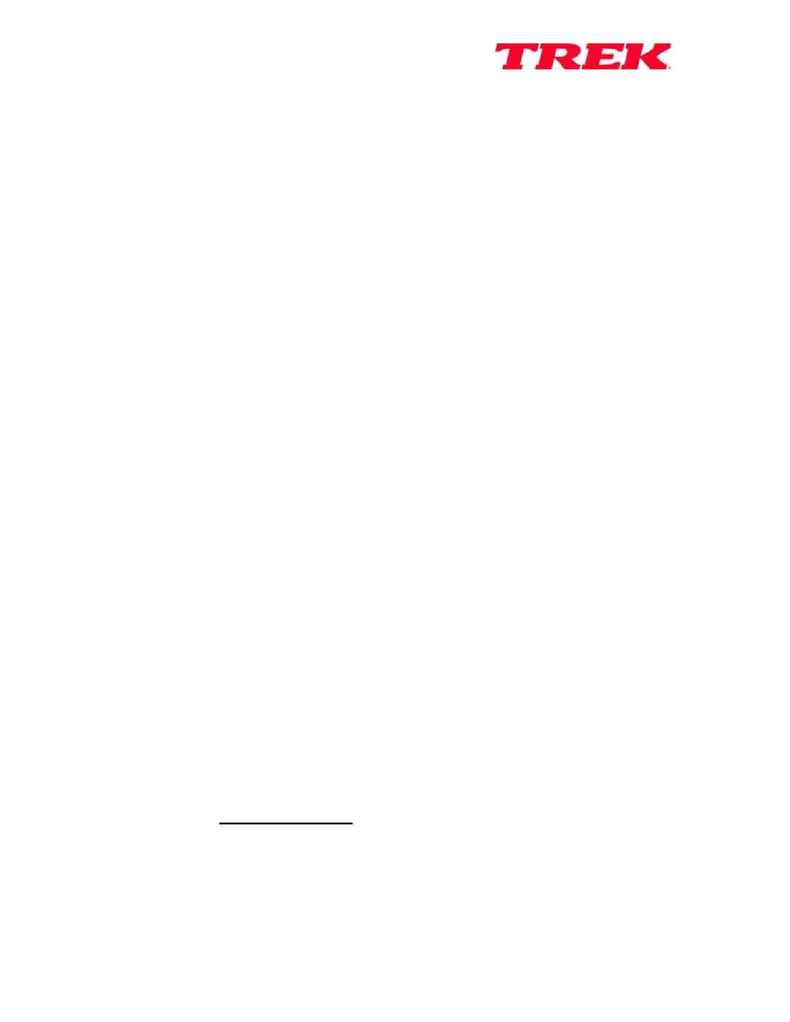 Customer Service Representative

Trek:
Trek Bicycle Corporation is the world leader in bicycle products and accessories with over 1,600 employees
worldwide. What began as a vision in an old barn in 1976 to handcraft the finest bikes in the world is today a
reality. Trek is dedicated to building bikes for the riders who inspire us, from the world's greatest cyclist to the kid
next door. We have been building these bikes for over 25 years, and we are still looking to improve. That drive
for new ideas and passion for building and selling bikes made us expand rapidly. Currently we have offices in the
States, Asia, UK, Germany, Spain, Switzerland, and the Netherlands. In the latest one mentioned, we have our
European Headquarters located in Amersfoort and our main European Warehouse in Wijchen. Part of the
European Headquarters is the Customer Service Department Benelux. This department offers service and support
to internal and external customers of the Benelux area.

Due to our extensive growth within the Benelux area, we are looking for several Customer Service
Representatives to help us exceed our current customer service standards and our current sales figures in
Europe.
Your job:
In this job you will do everything possible to offer the best service possible to all Trek dealers. Within our young,
dynamic, international team you will prevent and/or resolve all customer's issues in the most efficient,
professional and agreeable manner possible, hereby enhancing our sales. You will be responsible to build and
maintain good relationships with your dealers and your Territory Managers. To do so, you will contact your
Territory Managers on a frequent base for short updates and to follow up on their requests. You will proactively
contact your dealers: to update them on information (e.g. feedback on questions, product offers, etc), to offer
your service, and to write down orders. As a Customer Service Representative, you will respond to all incoming
phone calls, (e)-mailings and faxes from Dealers, Consumers, Territory Managers, Country Manager(s), your
supervisor and other (internal) customers within 1 day. You analyze these questions and issues, and forward (if
applicable) technical issues to the Technical Service Representatives. Most of the questions and issues will
involve administrative support: processing (credit) orders and dealer transfers, releasing back orders, sending out
information sheets and lists, assisting with invoicing and maintaining and updating the Customer Master
information. To answer questions and solve issues in a professional way, we expect you to remain up to date
with product and market information by reading available product and market magazines, by actively participating
in and following up on training courses/team meetings, and by frequent competitor and sales area analysis
together with your Territory Managers. You will function in a team of other Customer Service Representatives
Benelux, are located in our offices in Amersfoort and will report to the Customer Service Supervisor Benelux,
France & Denmark.

The ideal candidate:
You have a passion for bikes and are capable to work in a dynamic and flexible environment.
You have experience with MS Office software (mainly: Word & Excel).
You have strong written and verbal communication skills in Dutch and French (either native French with
good Dutch skills or native Dutch with excellent French skills).
You are a self starting, pro-active, and outgoing problem solver with a nose for sales opportunities.
You are service oriented, accurate, flexible, and immune to stress.

Trek offers...:
Trek offers an informal, challenging and motivating company culture, where initiative and pro-activity are
appreciated. We provide you with a stimulating work environment with enthusiastic colleagues, responsibility and
independence. We will compensate you with a competitive salary and benefits package, including an interesting
bonus scheme, pension & insurance schemes, training possibilities, child day care, and other benefits.
Contact:
If you have any additional questions please feel free to contact Patricia Engelen, Human Resources Officer at
Trek Bicycle Corporation, phone number: +31-(0)33 ­ 453-5324. You can send your application and recent
resume per email to recruitment@trekbikes.com or in writing to: Bikeurope B.V., to the attention of Patricia
Engelen, Basicweg 12, 3821 BR Amersfoort. Please mention `Customer Service Representative' as subject.
Or;
Joep Brouwer, Customer Service Supervisor Benelux, Denmark & France, phone number: +31 (0)33 450 90 48 or
via e-mail: joep_brouwer@trekbikes.com.