Trek Bicycle Corporation 04 trailer jogger om en Page 5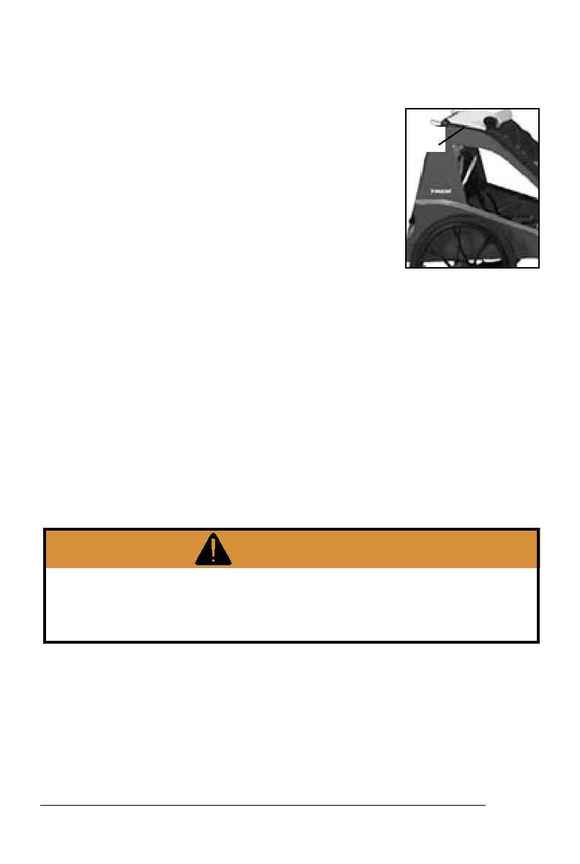 Guide to Safe Child Carrier Use
Make sure the child carrier fits properly.
Do not carry children who are too tall
The child's head, including any helmet, should
not project above the upper frame (Figure 1.1).
The child's feet should not reach the jogger front
wheel (do not allow children to place their feet
outside the child carrier seat area). Using the
child carrier with a child who does not properly fit
may cause damage to the child carrier, or possibly
Do not carry children who are too young
Very young children may not have sufficient neck strength
to safely ride in this child carrier. A child must be able to hold
their head up. Do not carry children under one year of age in
Do not exceed the maximum weight limits
The maximum capacity of a Trek child carrier in jogger or
stroller mode is 75 pounds (34 kg) including child and luggage
or other supplies. In bicycle trailer mode, the maximum
combined weight is 100 lbs (45 kg).
Some child carriers are equipped a storage pocket. The
maximum capacity of a storage pocket is 4 pounds (2 Kg). Do
not overload a storage pocket or attach additional carrying
bags or other items to the back or handlebar. Any additional
weight on the back of the child carrier could make it unstable.
Adjust the seat and handlebar.
Never place a car seat in the child carrier. Never place a pad
or a mattress under the child. The child must sit directly in the
child carrier seat. On some models, the angle of the seat back
can be adjusted. See page 34 for instructions.
On some models, you can adjust the stroller or jogger
handlebar to fit the person pushing the child carrier (this may
require optional equipment). Read pages 25-26 of this manual
before attempting to make these adjustments.
BEFORE YOUR FIRST USE
Figure 1.1- Child carrier upper
frame is limit of child size
Upper
frame
WARNING
Incorrect child carrier use or loading could make control
difficult, or cause the child carrier to break and fail, resulting
in personal injury. Follow the recommendations above to
make sure the child carrier is loaded properly.