Trek Bicycle Corporation 04 trailer jogger om en Page 2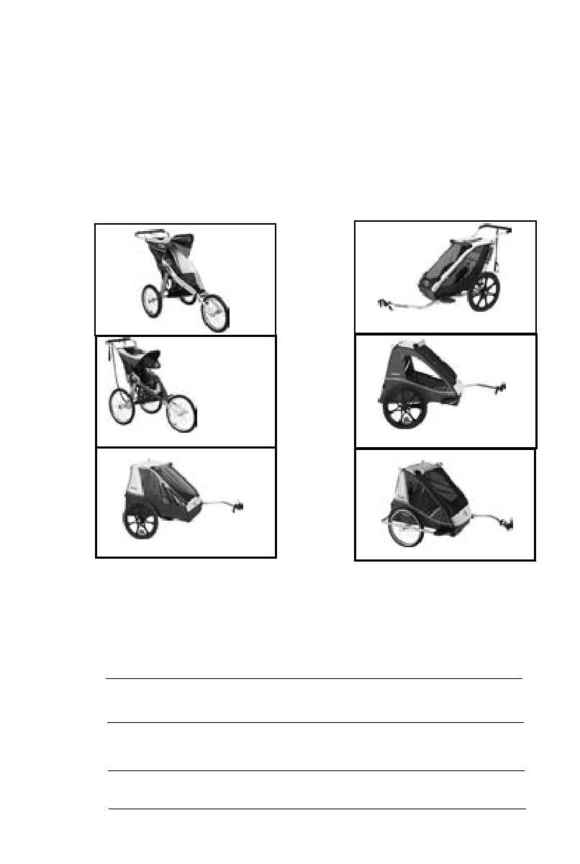 Thank you for buying a Trek child carrier. The child carrier
meets the highest safety and performance standards. You have
chosen the size and model that meets your needs, and your
Trek dealer has assembled and adjusted it.
Assembly and the first adjustment of a Trek« child
carrier takes special tools and skills, so this should
only be done by an authorized Trek dealer.
The Owner's Manual bag supplied with the child carrier
includes a warranty card. Complete this card, and send it to
Trek Bicycles. We must have this card before we can process a
THE TREK CHILD CARRIER
Model Name
Color
The child carrier's serial number is on the strut, or tube, holding the axle of the left wheel..
Your Trek dealer:

Your dealer's phone:
Figure 1- Names of models of child carriers
CC Ryder
Dash Pro
Dash
Rocket
Transit
Transit
Deluxe
Maximum: 1 child
Maximum: 1 child
Maximum: 1 child
Maximum: 2 children
Maximum: 2 children
Maximum: 2 children