Trek Bicycle Corporation 04 trailer jogger om en Page 15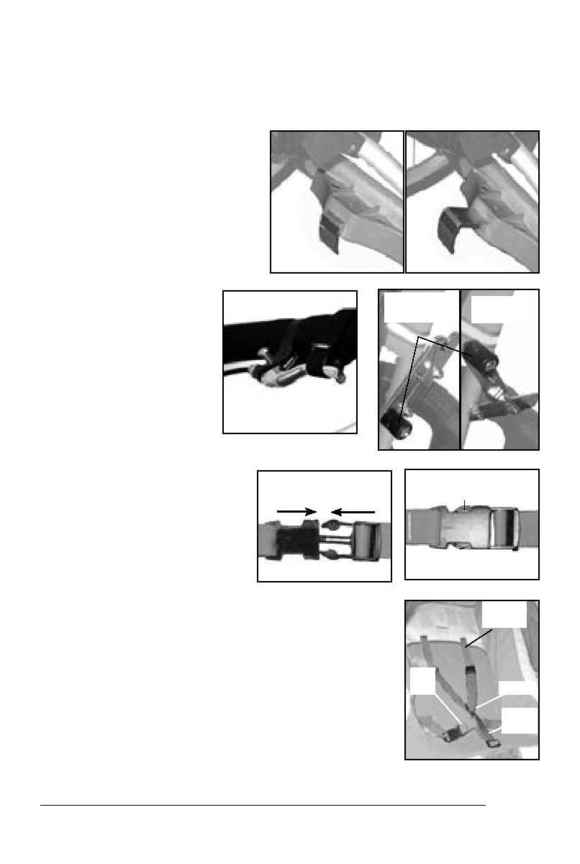 Guide to Safe Child Carrier Use
To prepare the child carrier for a child
1. Engage the parking brake
and test to make sure the
child carrier cannot roll.
For the
Dash Pro
, press in the
brake lever located on the rear
axle tube (Figure 1.18 and 1.19).
For the
Rocket
(or as optional
equipment on the
Transit
and CC Ryder
), rotate the
black handle of the parking brake
(Figure 1.21) into the Up
position until it snaps
into place. To unlock the
brake, rotate the handle
fully down so that the
brake arm no longer
contacts the tire.
For the
Dash
, firmly
squeeze the brake lever
and apply the brake lever
retaining strap (Figure
1.20).
Squeeze the sides of the buckle
(Figure 1.23).
3. Un-thread the strap from
the O-ring (Figure 1.24).
Figure 1.19- Parking brake OFF
Figure 1.18- Parking brake ON
Figure 1.20- Parking brake
lever ON
Handle
Figure 1.21 Parking brake positions
Handle down
(brake off)
Handle up
(brake on)
Press here-
And pull straps apart
Press here-
TO OPEN
TO CLOSE
Slide B into A
A
B
Figure 1.24- Child retention
system
Crotch
strap
O-ring
Lap
belt
Shoulder
harness