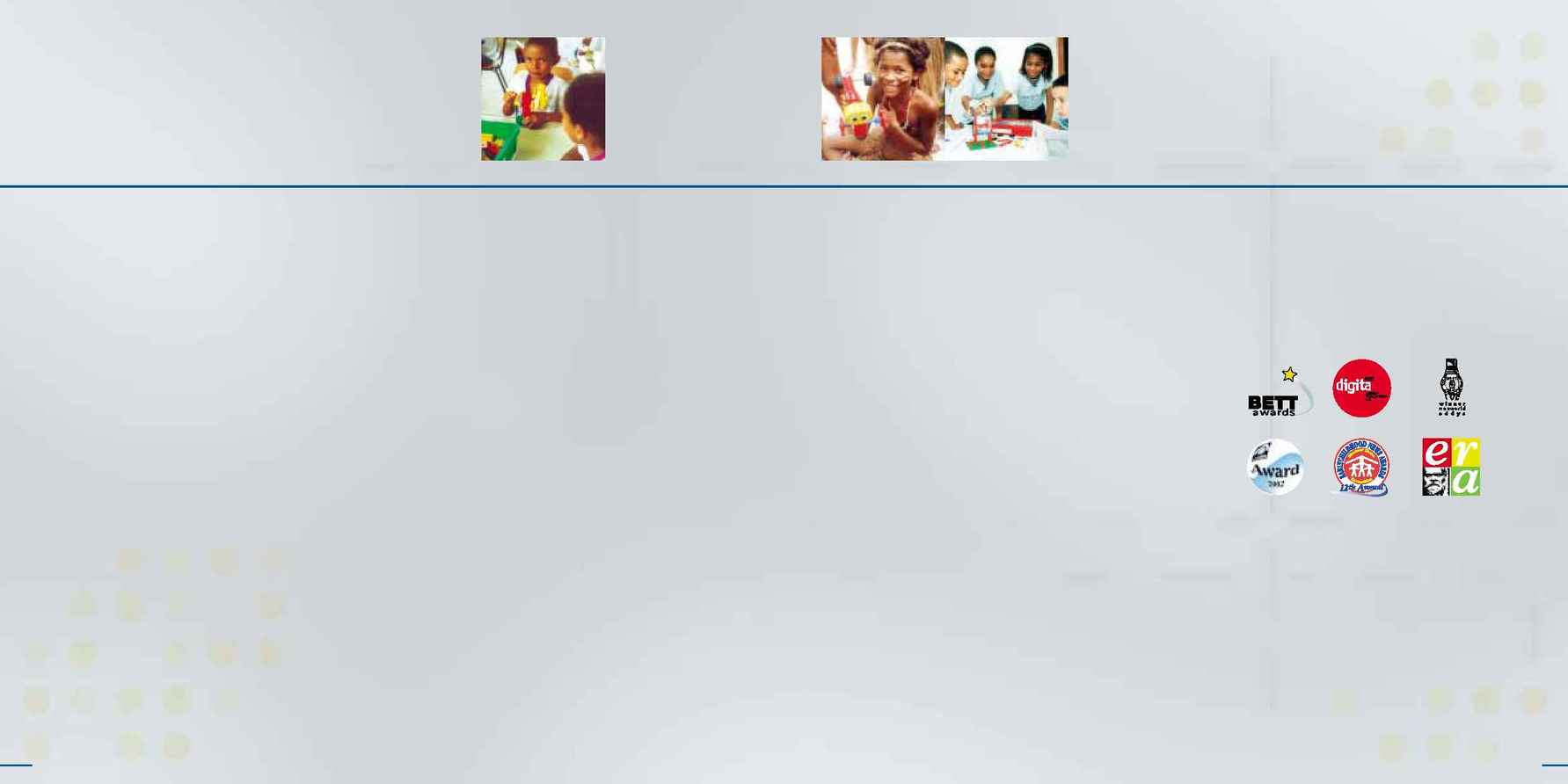 Documented impact
Studies and reports:
World Bank/MIT research program in Peru
"Significant improvement in self-esteem, educational skills and problem-
solving capabilities." These were the exceptional results of a fully docu-
mented 12-month research program carried out among students aged 6
to 11 in 130 Peruvian schools. The research program was developed for
the Peruvian Government and the World Bank, and was supported by the
Massachusetts Institute of Technology (MIT).
By introducing a new way of teaching ­ Learning by making ­ together
with LEGO Educational Division classroom solutions, Peruvian school-
children quickly made significant progress and came to understand
complex mechanical problems such as pneumatics, gears, and levers.
Through group problem-solving, hands-on experiences and the explo-
ration of possible solutions, the students' skills in mechanical construc-
tion more than doubled. The results of this program were also seen in
mathematical skills, which improved by as much as 60 per cent, in lan-
guage skills, and in students' overall self-esteem.
Finally, these positive learning experiences meant that education
became a pleasure, which resulted in significantly reduced rates of
absenteeism.
Monitoring motivation, engagement and achievement in a
school in the UK
Inspired by the research conducted in Peru, the DfES (Department for
Education and Skills) in the UK became interested in finding out whether
the same positive results and impact would be possible to achieve in a
British school. LEGO Educational Division was given the opportunity to
go ahead and investigate, monitor and measure the impact of using
LEGO educational materials in a school in Sheffield.
LEGO Educational Division materials were intro-
duced into the curriculum of a large English
junior school. The results indicate that the intro-
duction of these materials have been very suc-
cessful. Student and teacher motivation is high,
and the students have demonstrated high lev-
els of engagement and achievement. Their
achievements have exceeded those of stu-
dents taught in previous years using different
media. The National Curriculum areas in which
students were shown to have made progress
and to have achieved are: Design and
Technology, English, Mathematics and The
National Curriculum key skills and thinking
skills.
A notable feature of the project was the quality
of collaboration between students that was
engendered by the use of the LEGO materials.
The students worked in pairs when using the
kits and in small groups when using the
ROBOLAB software. This proved to be both
motivating and productive and led to
successful outcomes in the areas identified
above.
Around the world:
Government investments around the world:
Large-scale government investments in Russia
When furnishing a classroom it is natural to start with tables, chairs,
blackboards and computers. In Moscow, however, it has become a mat-
ter of course to think of LEGO educational materials as well. The city
council in the Russian capital has equipped 1,200 schools and 2,000
other public institutions in and around Moscow with LEGO Educational
Division products, including LEGO MINDSTORMSTM for Schools.
An integral part of the curriculum in thousands of Brazilian schools
Nine-year-old Joćo and many of his friends from the Brazilian state of
Bahia were fed up with school. In fact, many children in Bahia were skip-
ping classes to make a bit of extra money. This had become a threat to
the educational level of young people, and the local government there-
fore decided to place more focus on the problem. Today, solutions from
LEGO Educational Division have become an integral part of the curricu-
lum in thousands of schools across Latin America ­ primarily in Brazil,
Peru and Mexico. A total of more than 900 public and private schools
use LEGO Educational Division solutions for teaching science and
maths-related subjects.
Learning with LEGO bricks after school:
After school projects in Asia
In Japan and Asia, progressive parents recognise the value of using
LEGO materials to teach their children important skills for the future. A
growing number of children aged 4 to 16 learn problem solving, commu-
nication and science skills in LEGO Education Centers and related after-
school facilities using LEGO Educational Division materials.
Award winning products
LEGO Educational Division has won several
awards. In particular our educational solutions
are acknowledged for their pedagogical
innovation, the degree of interactivity possible
between the products, and the endless cross-
curricular possibilities they open up.
More information
LEGO Educational Division has initiated a
variety of studies together with universities,
public authorities and independent bodies to
gauge the effectiveness of our educational
solutions in schools.
To see summaries of these studies, visit:
www.LEGO.com/education