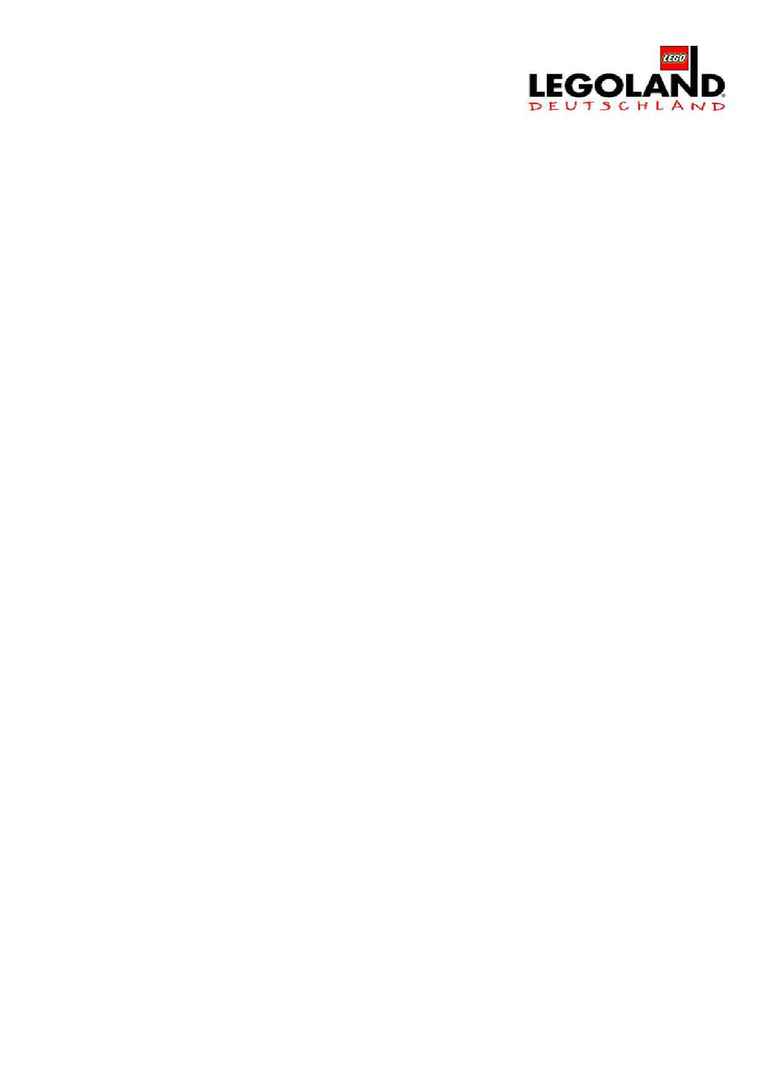 BACKGROUND INFORMATION 6
Partners of LEGOLAND
®
Deutschland
With a total of nine partners, LEGOLAND Deutschland has concluded long-
term cooperation agreements giving each of them exclusive rights within
their respective industries. Cooperation with our nine premium partners
from various sectors of the economy is based on a wide variety of marketing
measures. The products and services supplied by these partners have been
integrated in the various theme areas of the LEGOLAND Park, and they all
enjoy the special status of being an 'official partner' of LEGOLAND
Deutschland. Furthermore, our cooperation agreements also cover extensive
promotion projects and events.
AUDI AG
Even now, there are more than 77,000 small visitors of LEGOLAND Deutschland who
can boast of having passed their driver's test in an Audi TT Roadster! And it is true,
too, for at the Audi LEGOLAND Driving School, electrically-powered scale models of
Audi TT Roadsters displaying the typical LEGO
look are available for children aged
between seven and 13. After a brief introductory session, kids pass their driving test
and are rewarded with an Audi LEGOLAND driver's license of their own.
As a leading automaker AUDI AG believes the LEGO Group to be an ideal partner for
cooperation. 'Both our brands are associated with humane values, enthusiasm,
emotion, dynamism, and movement,' says Dr. Georg Flandorfer, AUDI AG's director in
charge of sales and marketing.
In addition, Audi has supplied a number of cars ranging from the A2 to the A6 to be
used by LEGOLAND Deutschland for official and shuttle-service purposes.
Bayer AG Kunststoffe
The stuff that bricks are made of ... The Plastics Division of Bayer AG produces and
supplies the tailor-made material from which LEGO bricks are made ­ a legendary
blend! At LEGOLAND Deutschland, visitors exploring the unique LEGO Factory are told