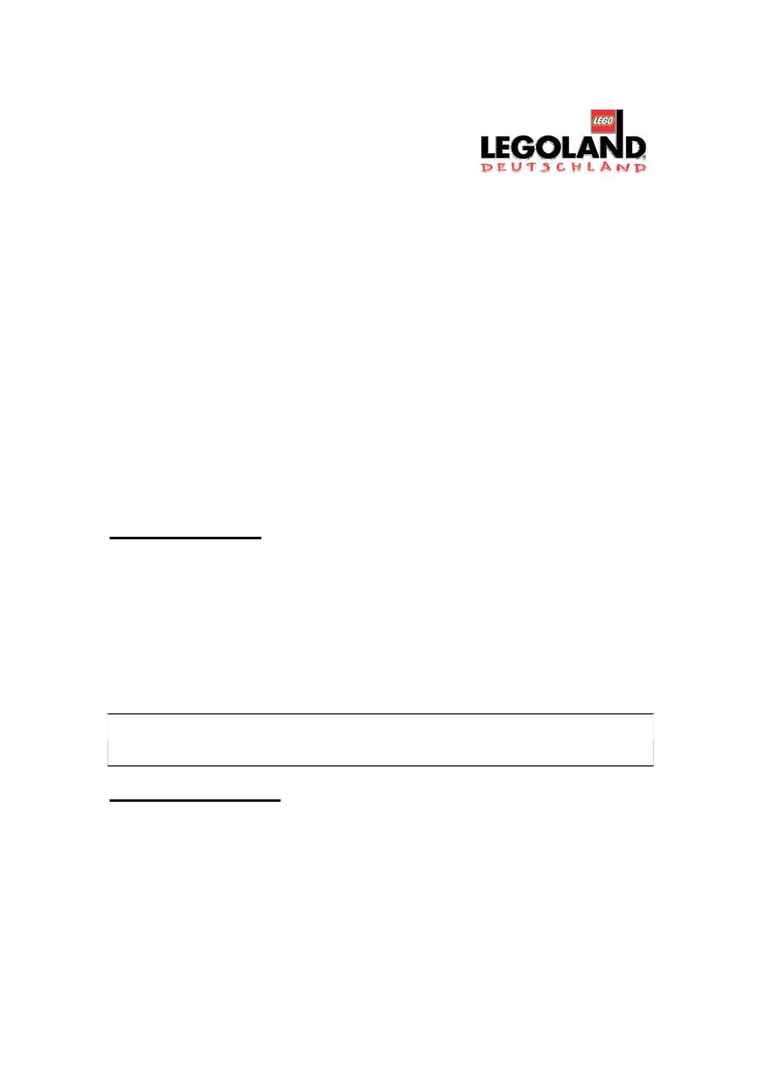 BACKGROUND INFORMATION 2
The Attractions at LEGOLAND
®
Deutschland

Exceptional amusement rides, thrilling shows and over 50 million LEGO
®
bricks await
families with children between the ages of three and 13 at LEGOLAND
®
Deutschland
in Günzburg, Bavaria. There is a lot to discover in the seven theme areas
(including the Park Entrance), your own creativity and imagination foremost
among them. To recover your strength, you are sure to find something to suit
your taste among our wide range of foods and beverages.
Some of our attractions in brief:

MINILAND Theme Area
Around 25 million commercial LEGO bricks have been used in MINILAND to create
models of nationally and internationally renowned buildings located in Berlin,
Frankfurt, Venice, the Netherlands, and Switzerland as well as the Port of
Hamburg, Munich Airport and a village landscape in Swabia. By pressing a button
or moving a joystick, visitors can actively control what is happening in the LEGO
New in 2005: The Allianz Arena, the superlative-status Munich stadium, is to be
built from over 400,000 LEGO bricks to a scale of 1:50.
LEGO City Theme Area:

The BIONICLETM Power Builder
The BIONICLE Power Builder is Germany's first programmable ride, where visitors
define the speed and dynamics of their ride on this passenger robot in advance.
All in all, each of the ten robot arms is capable of executing 70 different
movements at five levels, resulting in 1.4 billion possible combinations, so that no
two rides will be identical. Anything is possible, from butterflies in your stomach to
a rocket experience or even a brief moment of weightlessness.