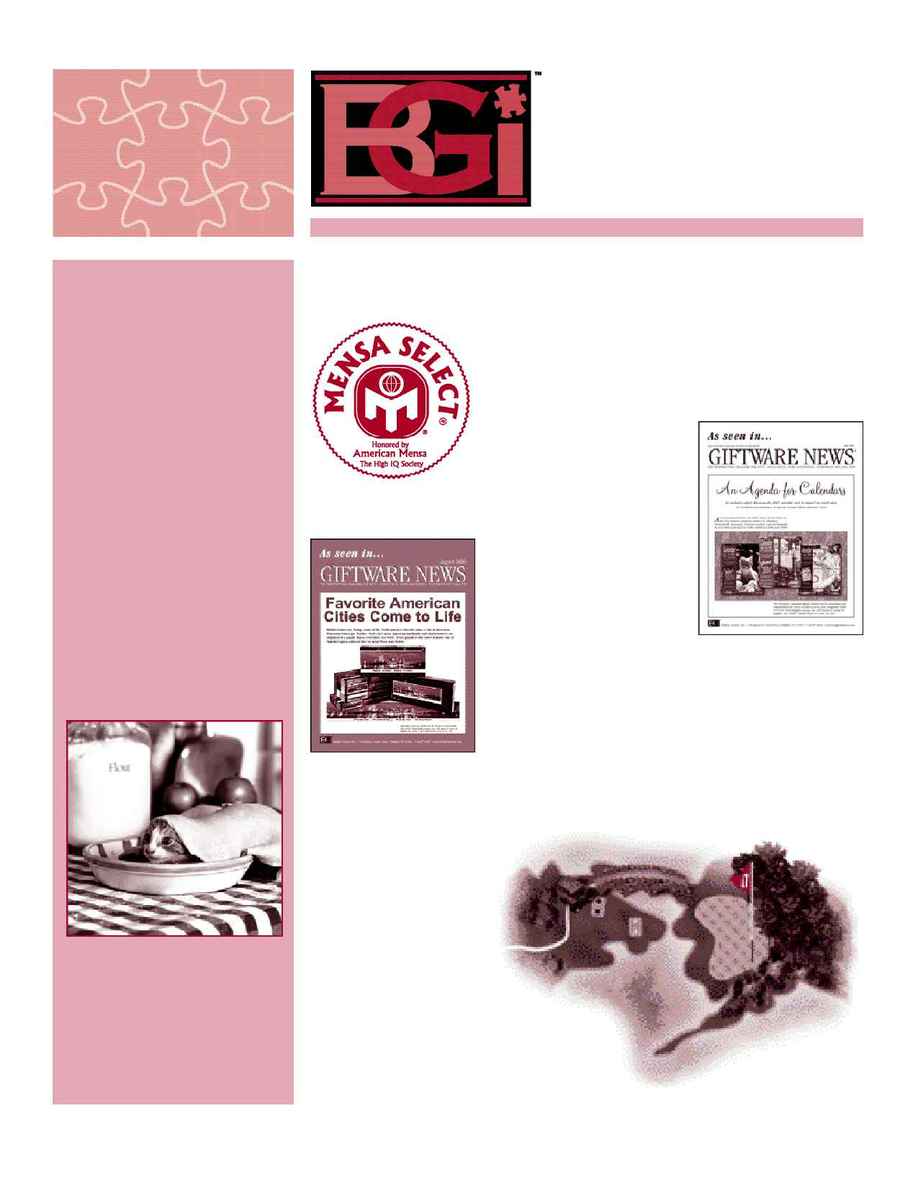 Time to Tee Up Golf Gift Sales
Looking for a way to spice up
4th quarter? How about
the
World of Golf 3D
Jigsaw Puzzle
TM
dimensions, 7 continents
and 44,000 miles of
tongue-in-cheek golf fun.
After assembling the 9.5"
diameter globe, imagine trying to
clear the Eiffel Tower with your
approach or play the slope of the Pyramids
with a chip.
(Fully assembled POP displays available, p. 22)
F ALL 2000
Accolades and Press for BGI Products
iMAgiNiff...
TM
the multiple award winning, best
selling party game has added MENSA Select 2000 to
its trophy case. However, it doesn't take a genius to
realize how uproariously funny and simple this game
is to play.
(pp. 6-7)
Giftware News, the gift
industry's leading
publication, featured our
perpetual
Calendar Jigsaw
Puzzles
TM
at the increasingly lucrative
calendar industry. These
customizable Calendar
puzzles are good for any year,
and with six editions to
choose from, there's one for
every Holiday shopper!
(pp. 3-5)
Also highlighted in Giftware News are
Panoramic
Cityscape Jigsaw Puzzles
TM
, spectacular 3-foot wide
photographs that capture the magnificence of North
America's best cities.
(pp. 42-45)
the Puzzle Press
B U F F A L O G A M E S , I N C .
Warning:
BGI Collectibles
TM
Disappearing
from Shelves
pc puzzle line has really taken off.
Utilizing finely crafted linen papers
and the thickest puzzle board
available seems to have really struck
a chord with puzzle buyers. Of
course, having today's hottest artists
and photographers helps too! All at
a cost of just $4.50. (pp. 32-41)
Lighthouses by Jean Guichard.
For years, these breathtaking images
have been mainstays atposter
shops and art houses. Nobody
captures the majesty oflighthouses
and the power of the sea like Jean
Guichard.
McEnery. Quite simply the most
popular and best recognized feline
photographs today. Four different
shots featuring cats at their most
play ful.
Good news about
great puzzles
and gifts
www.buffalogames.com
Put the filling in, please.
BUFFALO GAMES, INC. s 220 JAMES E. CASEY DR. s BUFFALO, NY 14 2 0 6 s w w w . b u f f a l o g a m e s . c o m s ( 8 00) 8 3 2 - 2331 s (716) 8 27-8163 FAX s EMAIL: bgames @ b uff a l o g a m e s . c o m
Can you clear the
Bering Strait in the
World of Golf?