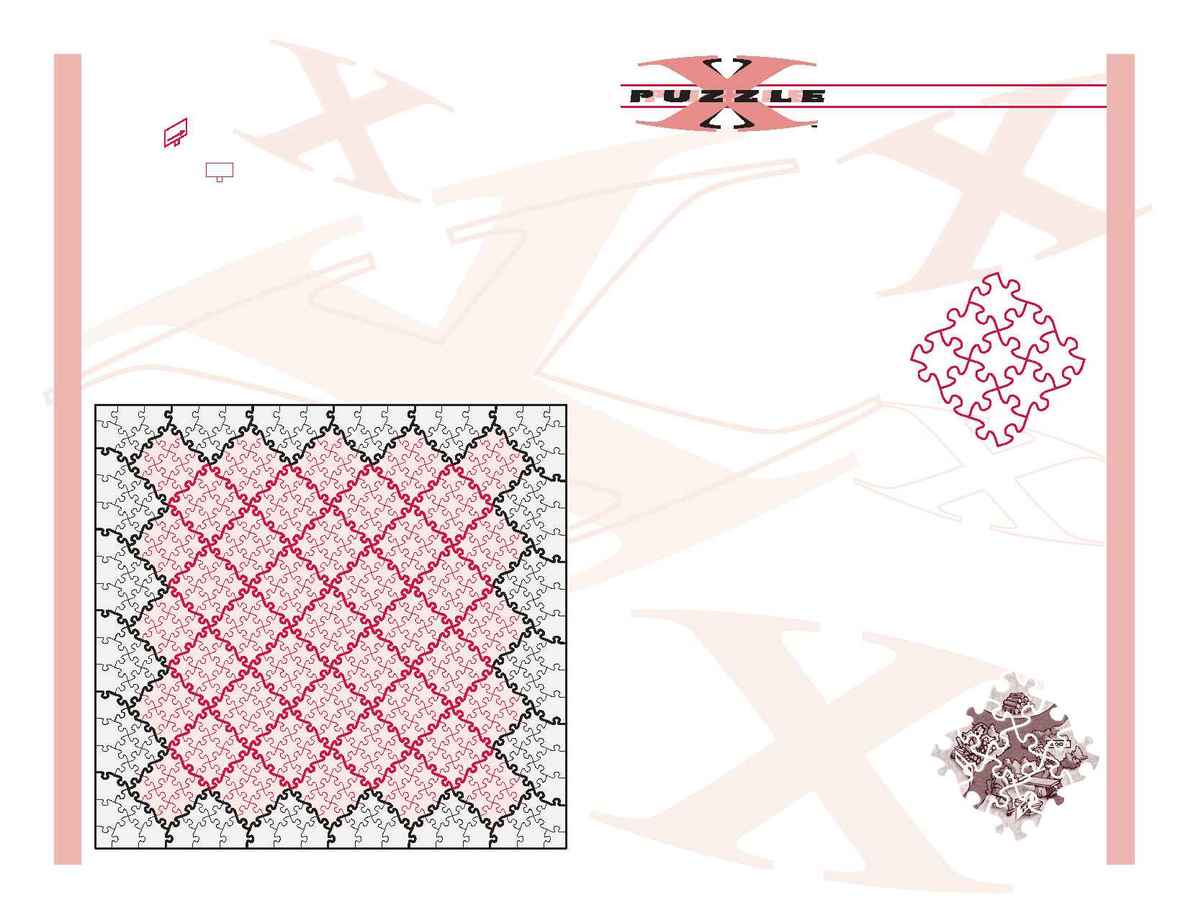 3.
Begin arranging X-SCENES. Refer to the FRONT of the
box to understand how the signs interact. For instance, if
you see , you know that the location "WOOD" will be
somewhere
in that diagonal row, ahead of the arrow. If
the sign said , you can be sure to find that
destination
exactly
2 intersections away ­ in any
4.
Each X-SCENE is viewed from the same perspective; in
other words, there are to be no "upside down" X-SCENES.
5. Only as a last resort, remove the staple and unfold
these instructions to reveal the solution.
Good luck ­ you're about to embark on a medieval jigsaw
journey through village and country. You will quickly
notice that madness and mayhem is the order of the day
as you piece together each of the zany scenes that
comprise this medieval setting. But wait!
Speaking of "madness and mayhem" this is
no ordinary jigsaw puzzle! In this
unique, diagonally-cut puzzle, not
only are the pieces cut in the exact
same size and shape, but in order
for this puzzle to be successfully
completed, each X-SCENE must be
properly positioned with respect to the
others. To accomplish this you must use
the clues within each X-SCENE to logically determine
where it belongs. There are over a million ways to
assemble this puzzle, but only one that proves correct!
Hints:
1.
outer edge
, although you won't know
exactly where each X-SCENE will be placed, there are
distinct right, left, top and bottom edge X-SCENES, so
group them together
first (refer to the gray-
shaded portion on the accompanying
puzzle diagram for a peek at the format
of the outer edge).
2.
interior
scene; each consists of a 9-piece block
depicting an event at the intersection of
two roads (the interior X-SCENES are
shaded in red on the same diagram).
Wa
it!
Don'
t open until you've solved the puzzle! Ther
e'
s a solution sealed inside!
Instructions
Act II:
Ye Olde Worlde
WOOD
WOOD
2 X
Interior X-SCENE
Puzzle Diagram
X-SCENE Pcs
Wa
it!
Don'
t open until you've solved the puzzle! Ther
e'
s a solution sealed inside!
Buffalo Games, Inc · www.buffalogames.com