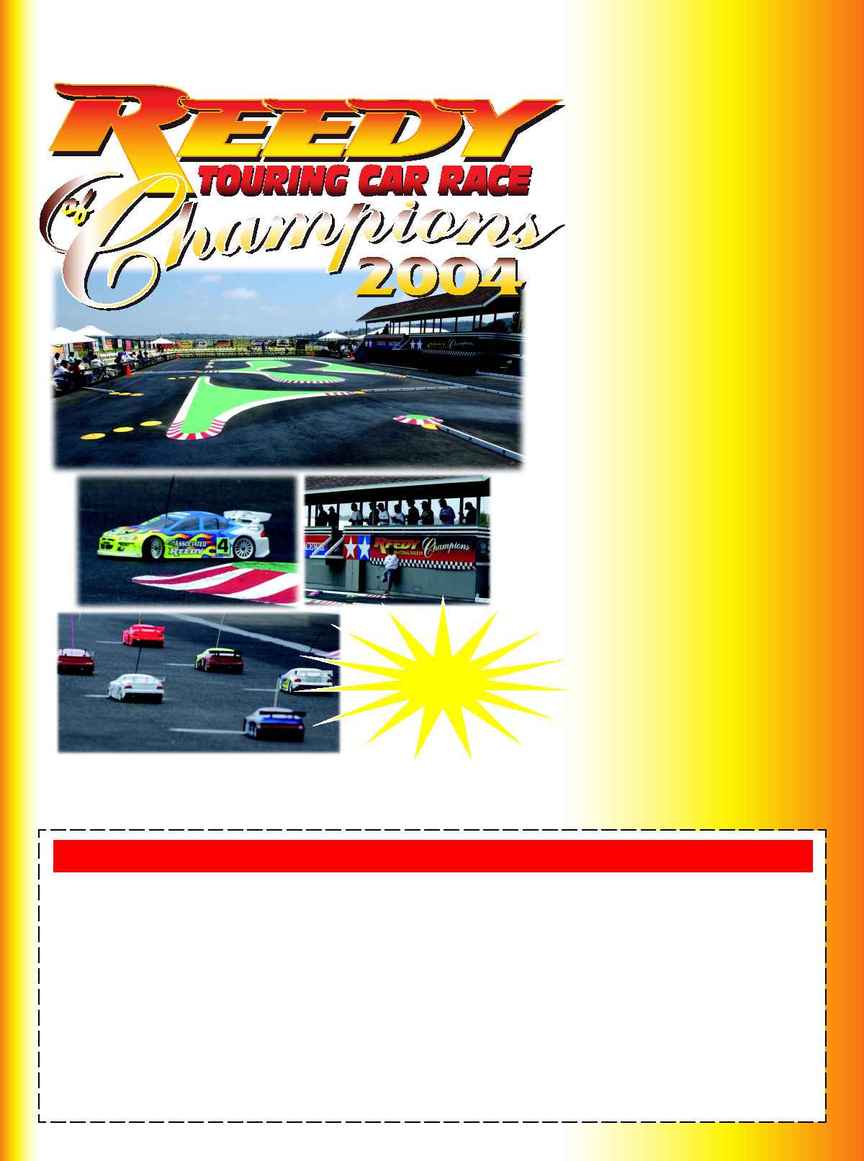 Reedy International Touring Car Race of Champions 2004
NAME _________________________________________________________________________________
ADDRESS ____________________________________________________________________________
CITY________________________________________ State ___________________ Zip _____________
Phone number _____________________ E-mail _____________________ Personal Transponder #___________
Touring Car 19 Turn ____ Freq.1 _______ Freq.2 ______ Freq.3 _____
Touring Car Mod. ____ Freq.1 _______ Freq.2 _______ Freq.3 _______
T-Shirt Size, (circle one): L XL XXL
Entries are non-refundable and non-transferable 2 weeks prior to the event.
OFFICIAL ENTRY FORM:
OFFICIAL ENTRY FORM:
TAMIYA AMERICA, INC.
TAMIYA AMERICA, INC.
800·826·4922
OPEN CLASS LIMITED TO 160 ENTRIES.
Entry deadline April 1. Entries will be selected by a lottery drawing from entries received
by April.1. Any entries not selected will be returned, along with their entry fee, by April 10.
SCHEDULE:
Thursday and Friday: Practice
Saturday:
Saturday: 3 rounds of Open qualifying,
4 rounds of Invitational
Sunday:
Sunday: 1 round Open qualifying,
all open Mains, 4 Rounds of Invitational
ENTRY FEE:
$60 Modified, $65 19 Turn
19 Turn Class Entries include one
Handout Reedy19 Turn (#513) Quad-Mag
Add'l Motors available for purchase.
CONTROLLED TIRE:
Controlled Tires will be used for all classes at
this event. Type of tire will be announced in
entry confirmation package. One set of
controlled tires will be included FREE with
your entry. Tires will be marked, additional
tires can only be purchased at the event.
Mail with check to:
Fred Medel c/o Tamiya America, Inc.
2 Orion · Aliso Viejo, CA 92656-4200