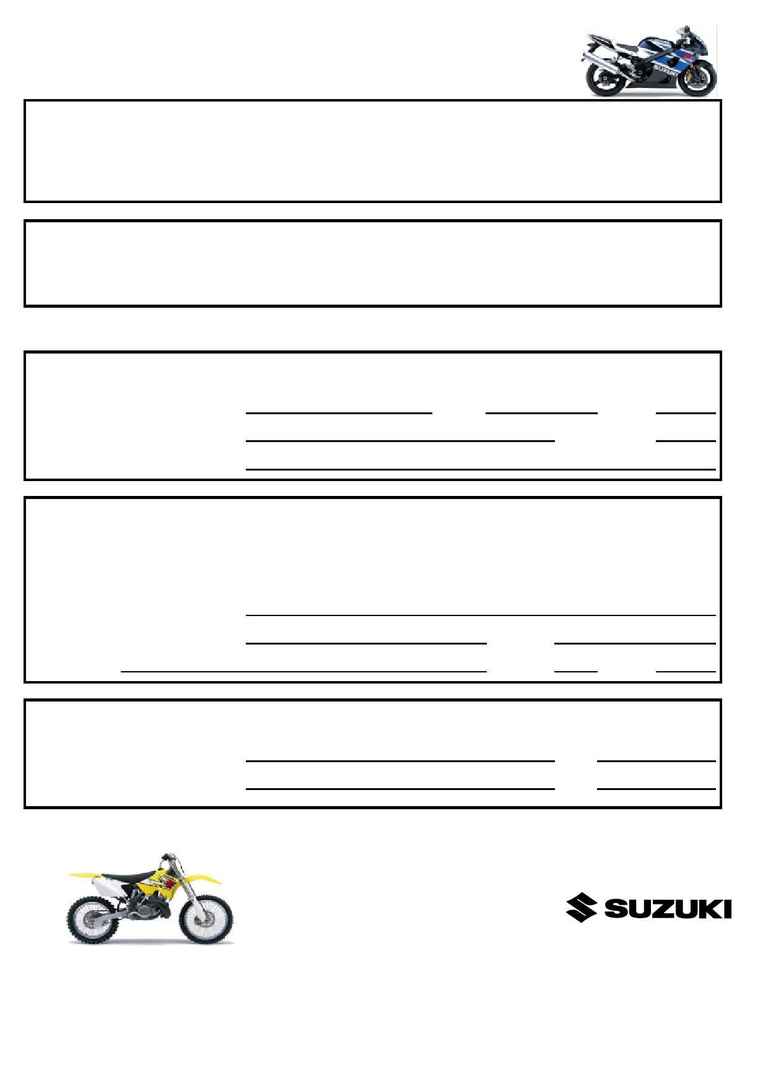 CIRCLE THE MODEL(S) YOU RACE
CIRCLE THE MODEL(S) YOU RACE
LAST 6 DIGITS OF THE VIN (FRAME) NUMBER (S)
LAST 6 DIGITS OF THE VIN (FRAME) NUMBER (S)
VIN # __ __ __ __ __ __
VIN # __ __ __ __ __ __
Please complete a new form if you buy any additional current model racebikes
RACING INFORMATION
RACING INFORMATION
SPONSORED RIDER DECLARATION
SPONSORED RIDER DECLARATION
I HAVE READ AND UNDERSTAND THE FOREGOING RELEASE
I HAVE READ AND UNDERSTAND THE FOREGOING RELEASE
SEND COMPLETED FORM TO:
SUZUKI AUSTRALIA
Attn: Motorcycle Marketing
PO BOX 84
LAVERTON
VIC 3028
RM250 RM125 DR-Z400 DR-Z400E DR-Z250 GSX-R1000 GSX-R750 GSX-R600
(If the motorcycle is owned by another individual, the "sponsor" must complete this section.)
I have agreed to sponsor the rider listed on this form. I am the registered owner of the vehicle and understand that no additional
persons(s) other than indicated will be paid contingency from Suzuki Australia.
(if racer is under 18 yrs)