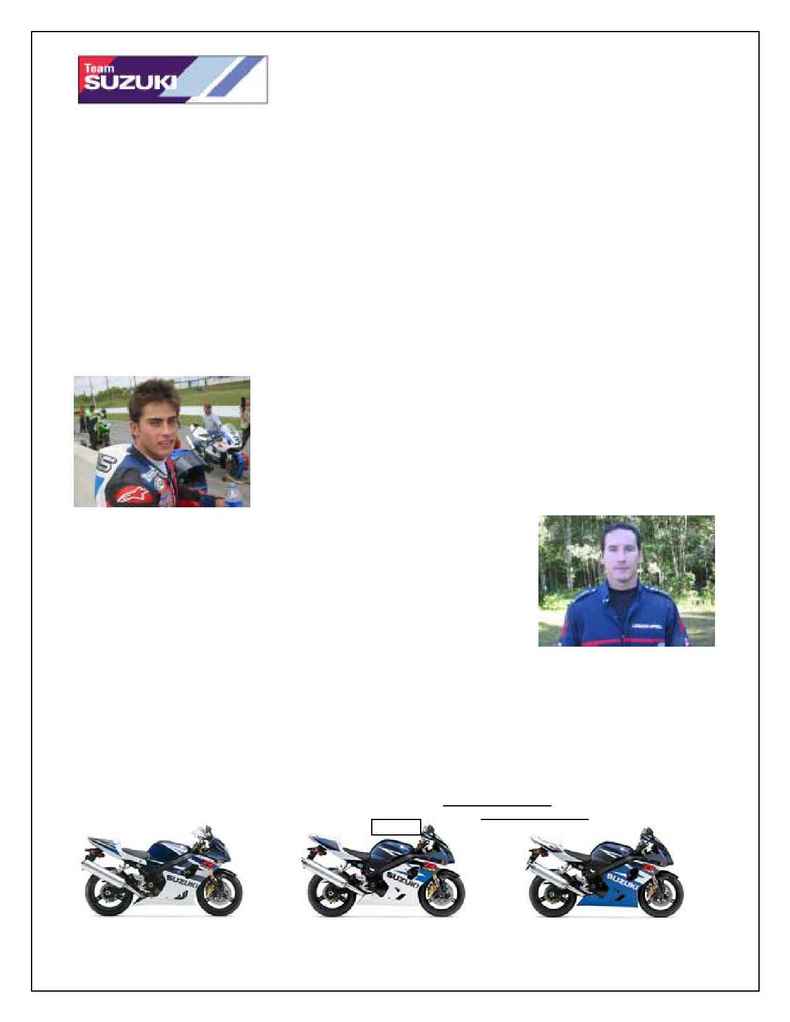 Press Release
100 East Beaver Creek Road, Richmond Hill, Ontario, L4B 1J6
Tel: (905) 889-2600 Fax: (905) 764-1574
Worldwide Suzuki GSX-R Cup Final
"Team Canada"
_________________________________________________________________________________________
Suzuki Canada Inc. is pleased to announce the 2004 Suzuki
GSX-R Cup Finalists.

Richmond Hill, Ontario ­
September 27th, 2004. Congratulations go out to Zenon Nelson
from Bowmanville, Ontario who qualified 1
in the Pro 600 Sportbike class and to David
Young from Woodstock, Ontario who was the 1
place qualifier in the Pro Superbike class.
Due to previous commitments, Mr. Young has advised us that he
will not be able to participate in this year's Suzuki GSX-R Cup
Final. Accordingly, Pro Superbike runner-up, Chris Peris from
Calgary, Alberta, will be taking David's place as Suzuki Canada's
alternate rider.

For the 2004 Suzuki GSX-R Cup Final the Canadian contingent
will be heading south of the boarder to the challenging Road
Atlanta course in Braselton Georgia,
. This 2.5 mile 12 turn track will
provide the perfect backdrop for riders from around the world to
compete for top honors in the Worldwide GSX-R Cup Final.

This will be Mr. Nelson's 3
appearance in the GSX-R Cup Final
and although this is the 1
appearance for Mr. Peris, he has had
previous experience with the Road Atlanta circuit. Zenon and
Chris are proud to be representing Canada in the GSX-R Cup
final and both riders are expecting great results.

Suzuki Canada Inc. is honored to be part in this prestigious event, which gives some of
Canada's top "privateer" road racing talent the opportunity to display their abilities on a
Worldwide stage.
For further information contact:
Nathan Naslund, General Manager, Corporate Communications Group nnaslund@suzuki.ca (905) 763-5017
Tylor Donnelly, Events/Marketing Supervisor, Motorcycle, ATV & Marine Sales tdonnelly@suzuki.ca (905) 889-2677 ext2209