Suzuki CCG 06 04 E Page 1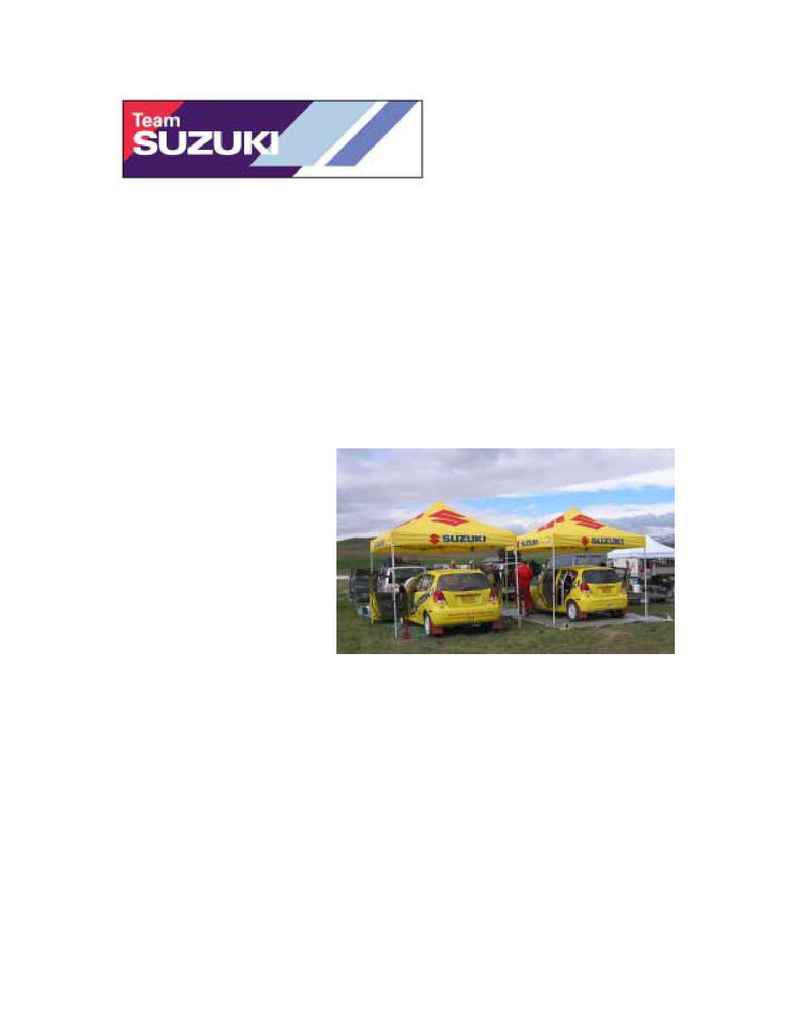 Press Release

Richmond Hill - June 1
st
, 2004. The Suzuki Rally Team debuts with a 1 ­ 2
victory in the P2 Class at the Rocky Mountain Rally in Calgary Alberta this
past weekend.

The 2004 Suzuki Rally Team's season began Friday evening, May 28th under
stormy skies in Calgary Alberta. The cars were instantly on the pace, both
finishing the first short spectator stage with identical times of 47 seconds. This
proved to be the fastest of all the production cars, including the more powerful P3
class cars.

Saturday morning the actual
rally started in the foothills in
the Pincher Creek area south
of Calgary. Again the cars
were performing well, trading
times with the more powerful
P3 cars. It was not until after
six competitive stages that the
P3 cars were able to utilize
their higher power to begin to
stretch a small lead over the
crowd favourite Suzuki Swift +
vehicles.

The first hiccup to the Suzuki progress occurred on Stage 8 when the
Ménégoz/Racette Swift + suffered a flat tire. Ménégoz chose to prevent further
damage and stopped in the stage to change the flat, setting him back several
minutes. Next to suffer problems was the Bacon/Watt Swift that bottomed out
over a rough cattle grid (Texas Gate) at the end of stage nine, sheering off the
front skid plate bolts and dropping the front skid plate on the ground. That same
cattle grid caused identical damage to two other cars including the Swift + of
Ménégoz/Racette. Bacon/Watt were able to remove the remaining bolts and,
with the plate inside the car, finish the next stage without time penalty and return
to service where it was reattached. The final four stages passed without incident,
although a hailstorm and torrential rains cause the last two stages to be muddy
and extremely slippery.