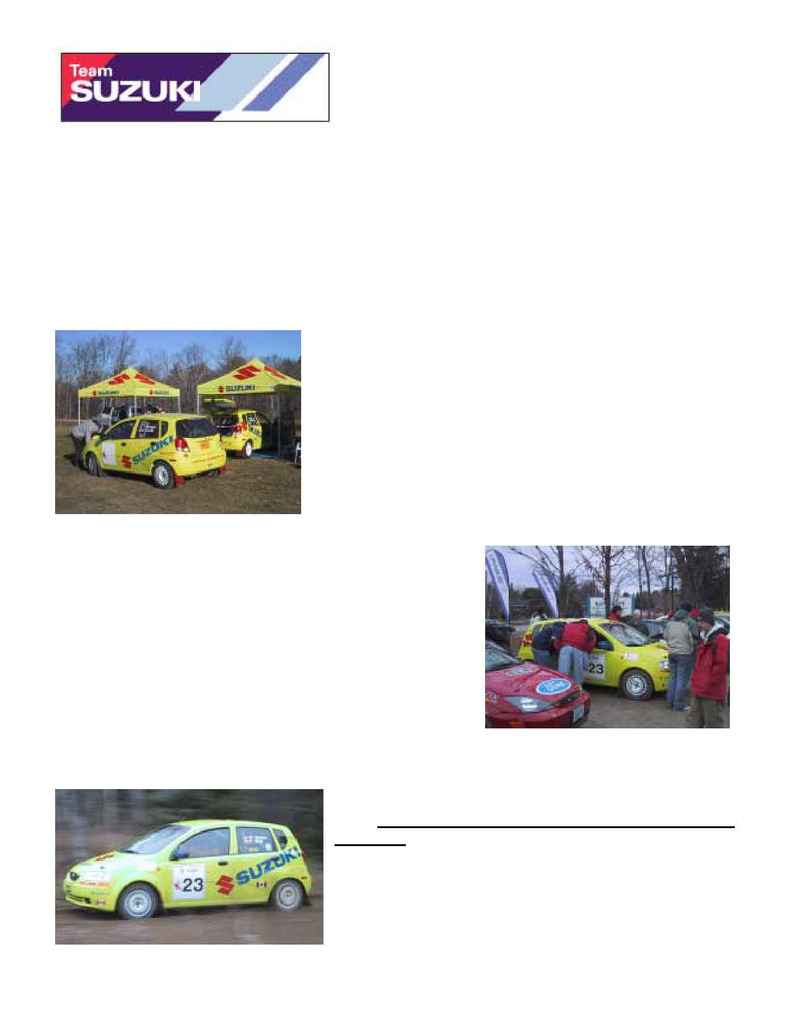 Press Release

Suzuki Racing News
Suzuki Rally Team surprises all at the "Rally of the Tall Pines" with a
Historical 5
th
& 6
th
place finish.
November 20
th
, 2004 - Bancroft, Ontario
running of the "Rally of the Tall Pines" once again lived up to its reputation of being one
of the most demanding and challenging rallies on the Canadian Rally Championship schedule.
The entry list was impressive with 44 cars registered from
across Canada and the USA ­ 15 of them running in the
"Open Class". Team Suzuki was easily identifiable with their
"Competition Yellow" Swift+ "P2" Rally cars (P2 ­
Production, 1.6 liter engine maximum).

Under chilly, overcast conditions, the cars headed off to the
1
of 14 stages around 9:00 AM. Returning to the service
area after the first 3 stages, it quickly became evident that
just surviving this rally would be an accomplishment as a
number of the "favorites" where already out of the running
due to mechanical failures or crashes.

Team Suzuki, with their two bright yellow cars soldiered on
under the skills of drivers Bill Bacon and Thierry Ménégoz
with their ever-alert co-drivers ­ Peter Watt and Elise
Racette providing directional guidance. As the day
progressed, conditions worsened as rain started to fall
making the course extremely slippery in sections. More and
more entrants were crashing out or experiencing mechanical
failures as the darkness of night approached.


Heading into the final stages under dark, rainy and now foggy conditions, the two Suzuki Swift+
rally cars continued to amaze the field as they navigated through the treacherous conditions
without incident. It was over 12 ˝ hours from the start of
the rally that the first cars started to show up at the finish
line. Team Suzuki driver, Bill Bacon with his co-driver,
Pete Watt stunned the crowd with an amazing 5
th
place
finish overall ­ the first time in history that a P2 rally car
has finished that high in the Canadian Championship
series. Bill & Peter's finish secured their P2 National
Driver & Co-Driver Championship and also put them in
a 2
nd
place "Podium Position" among the Regional
competitors at the "Rally of the Tall Pines".