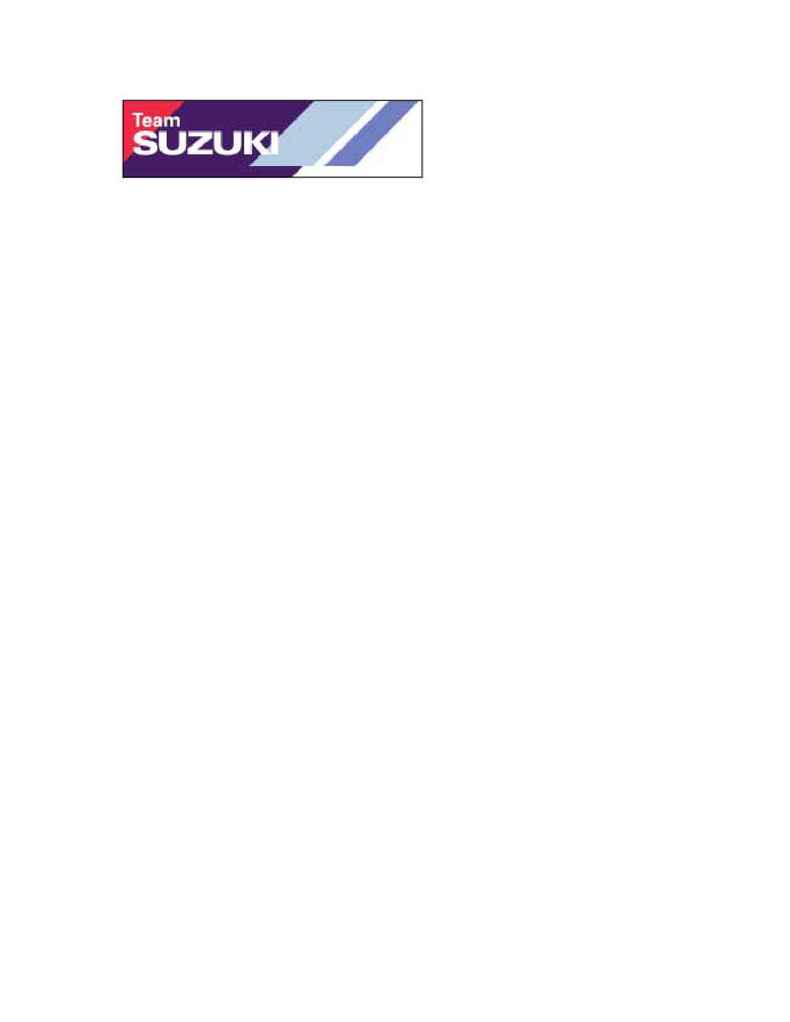 Poised for another sweep, Team Suzuki Riders
escape from the stormy Calgary round with valuable
points.
June 8
th
- Race City Speedway, Calgary Alberta
Suzuki riders Clint McBain, Francis Martin and Steve Crevier were looking at the
strong possibility of another sweep after Saturday's qualifying results in Round 2
of the Parts Canada Canadian Superbike Championship.

Qualifying on the pole and earning 4 valuable points was Clint McBain on his
Coors Light Racing Blackfoot Team Suzuki GSX-R1000. Next to Clint was first
round winner Steve Crevier on his Diab
lo Performance Racing Team Suzuki GSX-
R1000 with Pascal Picotte next to him on his R1. Finishing off the front row was
Coors Light Racing Blackfoot Team Suzuki rider Francis Martin on his GSX-R1000.
With three Suzuki Riders on the front row, the forecast for Suzuki on race day
was looking promising ­ but the weather forecast was another matter.

Race day brought a mixed bag of weather with more rain than sun. With the
weather showing signs of breaking prior to the start of the Superbike feature, all
the Teams were scrambling to determine tire choices. Heading out on the first
of a 2-lap warm-up, Coors Light Racing Blackfoot Team Suzuki Riders McBain
and Martin elected to go with full rains. After completing one lap, both Clint &
Francis switched to their GSX-R1000s that were shod with DOT tires. In the
Diablo pits, Steve Crevier elected to stick with his full rain Dunlops on his GSX-
R1000 betting on the track staying wet.

At the start of the race the track was quite wet giving an advantage to the riders
who went with the full rain set-up. With the laps counting down and the sky
darkening instead of breaking, it was clear that the DOT mounted riders would
not get the heat into their tires that they needed. The full-rain mounted riders
were also having issues, as the track wasn't totally soaked causing some riders
with the full rain tires to experience rapid wear due to excessive heating.